Last Updated:
May 29, 2023
Quick & Easy Honey Walnut Shrimp Recipe
Let's talk Panda Express Honey Walnut Shrimp, pretty much everyone whose ever been to this iconic quick service establishment, has had this menu item at one time or another. Probably one of the most favorite, and most highly requested Asian dishes we prepare for our clients has to be our Honey Walnut Shrimp recipe. Our quick & easy recipe for Honey Walnut Shrimp has the flavors turned up a notch, and can easily be made at home.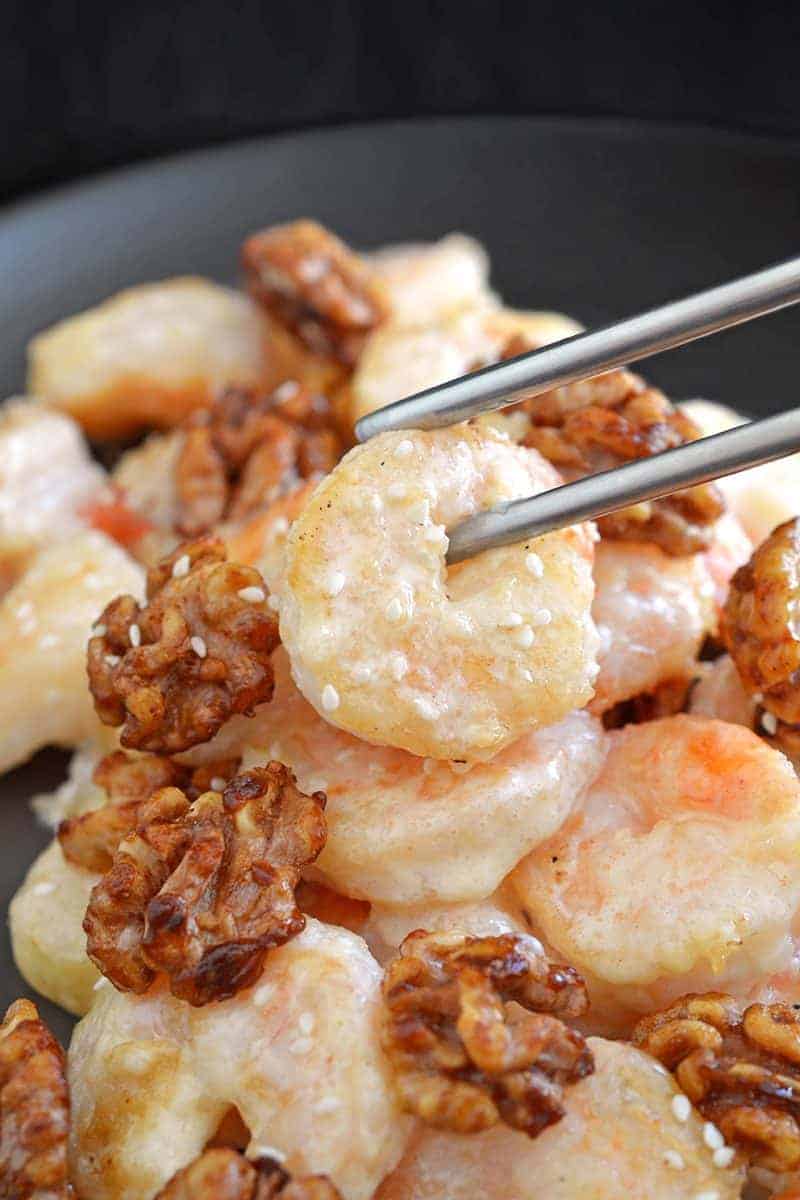 Ingredients for Honey Walnut Shrimp Recipe:
1 cup White Granulated Sugar
1 cup Water
1 cup Walnuts, shelled & skins removed
1 lb 36/40 Count Shrimp, Peeled & Deveined, Tails On or Off
Kosher salt
Freshly Ground Black Pepper
Granulated Garlic
1/4 cup Best Foods Mayonnaise or Hellman's if you are from the east coast!
1/4 TSP Chinese 5 Spice
2 TBSP Honey
2 TBSP Heavy cream
1 cup Cornstarch
2 large Eggs, Room Temperature
3 green onions
White or Black Sesame Seeds
Your favorite oil for frying (Grapeseed, peanut, rice bran, canola, etc)
How To Make Honey Walnut Shrimp Recipe
Step 1: Prepare The Walnuts
Place a small, high sided saucepan over medium high heat, and combine water and sugar. Bring the water and sugar and Chinese Five Spice to a boil. Be extra careful to regulate the heat to prevent boil over. This is not the time to walk away from from the stove. Add in your walnuts, and continue to boil the walnuts in the sugar syrup for a full 2 minutes, stirring with a slotted spoon. Remove the walnuts and let them cook on a silicone baking mat lined sheet tray. Sprinkle on your white or black sesame seeds on the walnuts right after they come out, then set aside the walnuts to cool down.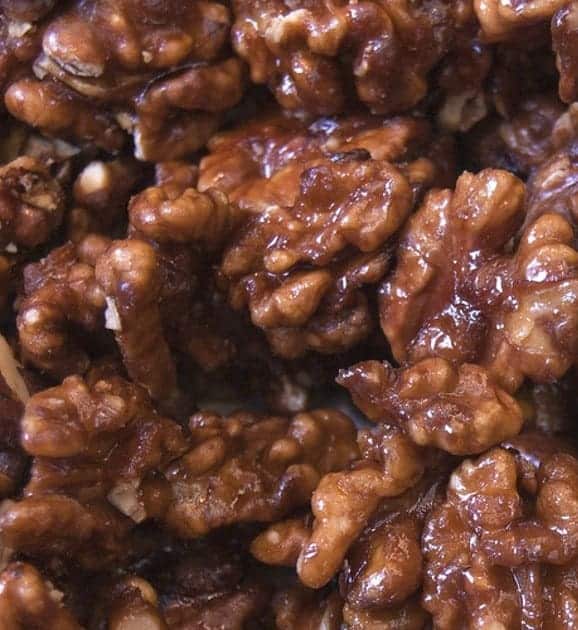 Step 2: Prepare & Coat The Shrimp
Rinse your shrimp until cold running water, then pat the shrimp dry with paper towels. Season with salt, pepper, and granulated garlic. In a small mixing bowl, crack two large eggs, and assault them vigorously with a fork until well beaten. In a another bowl, place your cornstarch, and also season the cornstarch with a little more granulated garlic. This will begin your shrimp coating procedure. First dip the shrimp in the eggs, toss to coat, then transfer to the cornstarch, toss to coat well on all sides.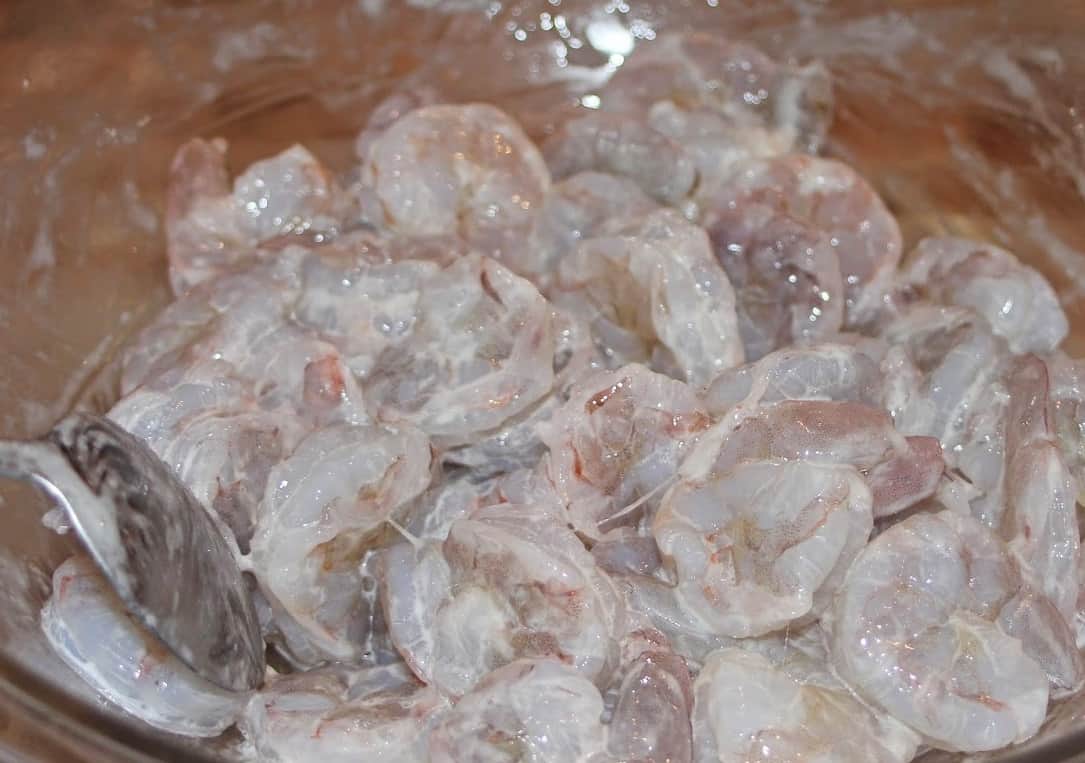 Step 3: Fry The Shrimp
Add approximately 1.5 inches of your favorite frying oil to a large skillet. Heat over medium heat until the oil is hot and begins to shimmer. Add the coated shrimp in small batches of no more than 10-12 shrimp at a time, fry for 3 to 4 minutes or until golden brown. Don't overcook the shrimp, they turn tough & rubbery when overcooked! Remove the shrimp with a slotted spoon, and transfer to a paper towel lined plate to drain.
Step 4: Prepare The Sauce
In a medium bowl, add the heavy cream, honey, and Best Foods mayonnaise. Whisk until well combined. Toss shrimp in the sauce until well coated.
Step 5: Plating
Serve the shrimp over a bed of your favorite steamed rice. I love to use either Basmati or brown rice. Sprinkle the walnuts over the shrimp. Finally, thinly slice green onions, and sprinkle over the top with a few more sesame seeds for garnish & crunch.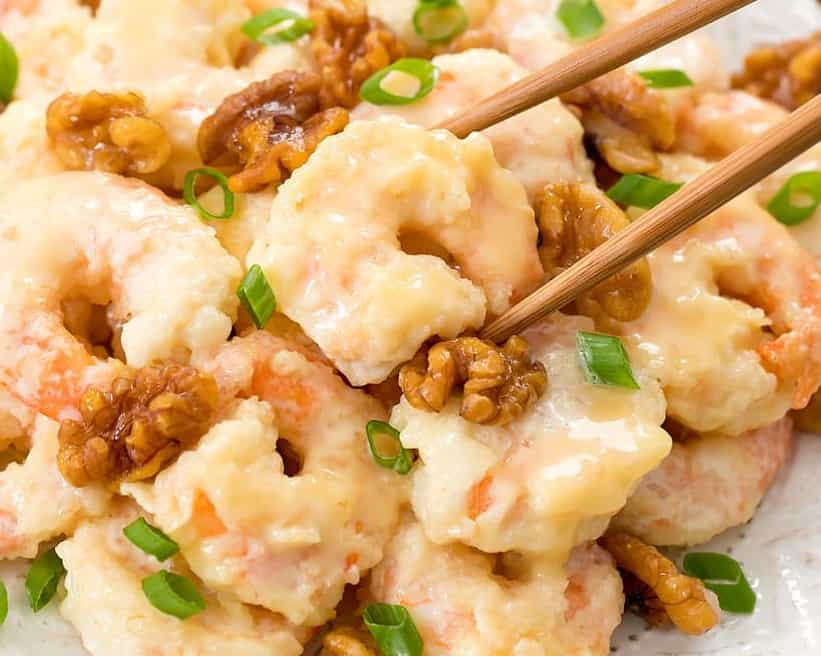 Variations for Honey Walnut Prawns:
If you're wanting a lower carb option for this recipe, skip the rice all together, and serve over a bed of steamed broccoli, lightly sautéed Napa cabbage, or flash sautéed Gai Lan. (Chinese broccoli).
From our kitchen to yours!
Happy Cooking!
---
Check Out Some Of Our Other Recipes from the AWG Private Chefs Certified Master Chefs!
About the Author:
Certified Master Chef Sean Andrade is Executive Chef/Owner of AWG Private Chefs, named the #1 Private Chef company in California. Chef Sean has worked in the restaurant and hospitality industries worldwide for more than 25 years. His company AWG Private Chefs offers highly custom tailored, bespoke private chef dining experiences, select location meal delivery, and event catering in over 30 countries around the globe.