About Us
Founded in 2001, AWG Private Chefs an event-driven chef for hire company, has quickly become the global leader in the private chef service, bespoke dining, personal chef service, luxury vacation chef, and boutique micro event catering spaces.
We are proud to have two Certified Master Chefs on our staff! This prestigious title involving many years of extensive training and practical experience is presently held by less than approximately 200 chefs worldwide. Our private chef service and personal chef services have grown from our local community in the San Francisco Bay Area and Sonoma & Napa Wine Country Regions in Northern California where we began over twenty years ago, to now being able to offer full-service in over 35+ countries around the world. ​
AWG Private Chefs was founded because there is a deep-rooted need for people to feel comfortable, relaxed, welcome, and pampered in their private dining experiences. Our team of highly skilled personal chefs, private chefs, concierges, and hospitality service professionals have a combined experience of over 135 years in the private chef, catering, beverage service, hotel & restaurant management, public & private client luxury concierge service, event planning, and large corporate event industries.
​Our unwavering commitment to quality customer experience, dedication to excellence in service and client experience, and above all, a driven passion for what we do, allows us to deliver the best events & private chef dining experiences for you, our clientele.​
---
About Our Award-Winning Chefs & Service:​
We have received several special coveted global and industry awards, along with special legislative recognitions by heads of state, the Governor of California, Fiona Ma, Diablo Magazine, Expertise.com, The Golden Gate Business Association, National LGBT Chamber of Commerce, State Senator Scott Wiener, and numerous business & culinary industry associations both domestically and all around the world.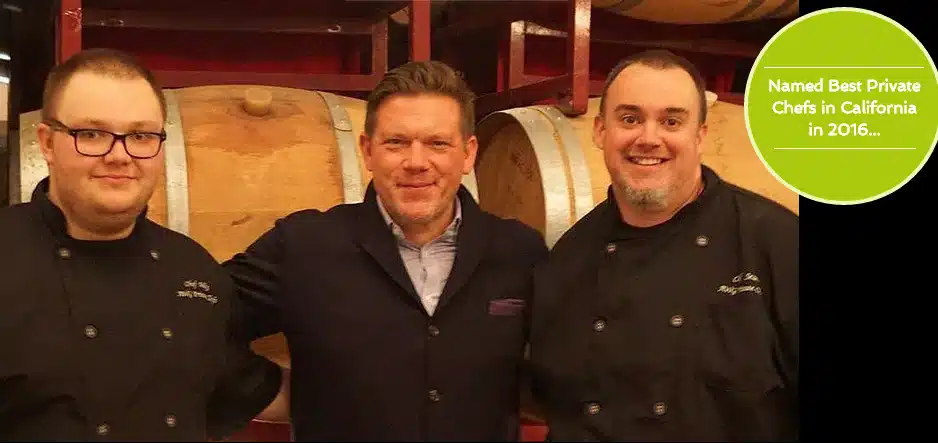 For an astounding fourth year in a row, AWG Private Chefs has again been double award winners of Best Caterers and Best Personal Chefs in San Francisco for 2019, 2020, 2021, and 2022 by Expertise.com! We are humbled, and continue to thank you so much for this ongoing honor!
AWG Private Chefs has been voted Best of the East Bay Caterer in 2021 and 2022 by Diablo Magazine, and was runner up for 2020.
Certified Master Chef Sean Andrade is our Executive Chef & Chief Executive Officer. Chef Sean is a globally recognized private chef who has been serving Fortune 500 executives, celebrities, and sports figures at their many residences, villas, offices, vacation estates, private jets, and yachts around the world for over 20+ years.
In addition to his personal chef and private chef work, Chef Sean Andrade enjoys cooking in many different venues and restaurants around the globe. He continues to focus his globally inspired styles of cuisines utilizing many different custom-tailored flavor profiles as well as styles of unique domestic and international food preparations, to keep his menus fun, fresh, and always tasty. In addition to being behind the scenes in the kitchen, Chef Sean enjoys teaching hands-on and virtual cooking classes, food and wine pairings, as well as travel abroad with a chef multi-day culinary immersion experiences across the globe.
Further adding to his passion for great food and beverage excellence, Chef Sean also has a great palate for wine, and is a Certified Sommelier, wine educator, wine competition judge, Certified Sherry Wine Specialist, and avid wine collector.
Chef Sean continues to provide Consulting Executive Chef services in both the upstart new venue arena, as well as providing critical restaurant rescue consulting services, assisting owners and fellow foodservice operators of troubled or failing restaurants to recover, rebrand, and become once again successful and profitable in their food and beverage service operations. ​
Certified Master Chef Michael Ryan is our Executive Pâtissier (Pastry Chef). Chef Mike has earned both his savory and pastry degrees. Chef Mike entered the private chef industry directly as a graduate with honors, from Le Cordon Bleu San Francisco. ​
Both chefs bring their own unique sense of food and a deep-seated passion for service to your table. Together, this dynamic duo can create virtually any menu you may dream of. Our chefs continue to create memorable specialized dining experiences for Fortune 500 executives, heads of state, both foreign and domestic, celebrities, and most proudly members of our own community!
---
AWG Private Chefs Reviews & Kudos
Several friends referred me to AWG, which was a good sign from the start. When I inquired with them about a specific menu I wanted for my 40th, I was worried I would be insulting their talents by having such a simple idea; I basically wanted an elevated kids menu for my 40th birthday bash. Sean was all in from our first discussion about it. He was excited to get to do something different an unique and was up for the challenge. After a few go arounds on what menu would work best (what foods would taste good together, what would leave our guests feeling full and satisfied while still keeping the theme alive) Sean created the most amazing menu that all of my guests were drooling over!
"The level of detail and attention paid to our event was no less than amazing. The food was spectacular in taste, beyond amazing in experience. Chef Sean and his team made our experience so special. I cannot thank them enough for their efforts care and respect. Thank you."
"AWG was extremely easy to work with during these uncertain times. They were flexible and accommodating and amazing. AWG took care of everything and made it exactly as we wanted. Everything. Tent, chairs, flowers, servers, plates, glasses, setup, and takedown. It was all easy and everything looked wonderful, the servers were awesome, and the food was excellent. Chef Sean & crew were so fun, I hope to use them again soon. AWG has always provided me with excellent food and service. The menus are varied and original. The attention to detail puts them head and shoulders above the competition."
Thank you for an absolutely wonderful and seamless experience. We were beyond impressed - the food was DELICIOUS, and the entire staff (on both days) were so nice and professional. We didn't have a worry in the world and can't thank you enough for that!
Your team always delivers! TY for creating an incredibly successful weekend for team 3FORTY3. As hosts, you want to be able to spend time with your guests and their families and usually, Michelle and I are bunkered in the kitchen and running around trying to accommodate. With AWG, all that worry is taken away and you just get to enjoy your event. It's a real treat and you left the house spotless.  Please send a sincere TY to all on your end who helped us make this a memorable time for our crew. Cheers, until the next time... 🙂 
Awards, Press Coverage & Media