Last Updated:
May 11, 2023
Caramelized Spiced Brown Sugar Grilled Pineapple Recipe, So Good
Our sweet and tangy grilled pineapple recipe is coated in a tastebud explosion of flavor. A perfect side dish or even as a dessert temptation that you're going to go crazy over!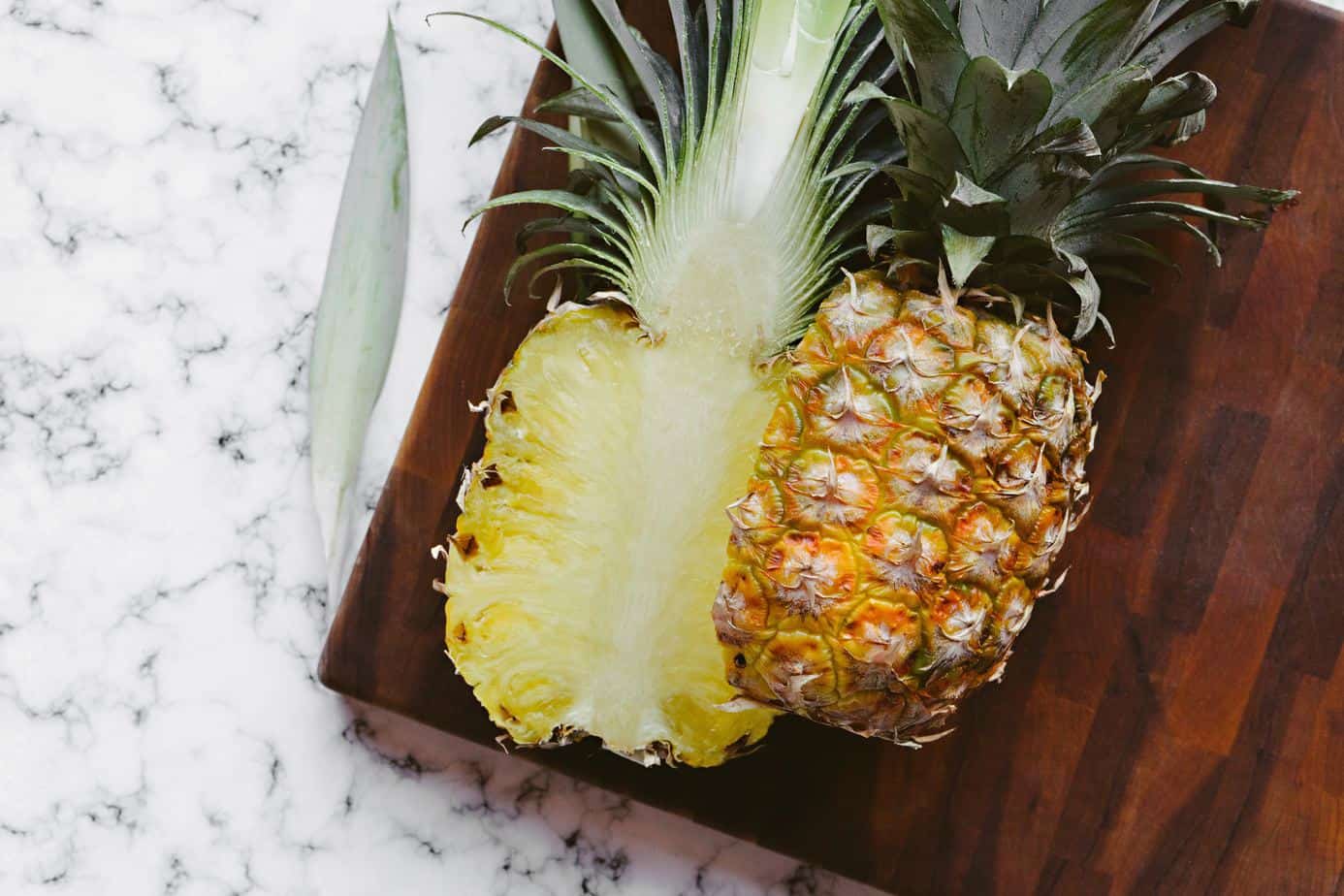 Step aside boring canned pineapple, this is the best recipe for grilled pineapple that is easy to prepare, sweet, spicy, and oh so delicious.
With just 6 ingredients, your spiced pineapple flavor will be taken to a whole other level. With this preparation, you can easily serve it as a side dish with barbeque, Hawai'ian food, or even spicy Asian or Thai style cuisine. For a dessert, simply serve the grilled pineapple with a bit of vanilla bean gelato, over a piece of all-butter pound cake, or even stand alone.
Please don't use canned pineapple with this recipe, it doesn't hold up to grilling and sometimes produces an offputting magnified metallic flavor when heated. You always want to use fresh from Hawai'i, Maui Gold pineapples for best results.
Ingredients for Spiced Grilled Pineapple Recipe:
How to Prepare Caramelized Brown Sugar Spiced Grilled Pineapple:
Clean & prepare your BBQ grill following these easy steps.
Preheat your grill to medium-high for 15 minutes.
Lightly brush oil onto the grill grates right before cooking to prevent sticking.
In a large zip-top bag, combine the cardamom, cinnamon, brown sugar, and salt.
Add in the Maui Gold pineapple spears, and toss until well coated on all sides
Remove the pineapple from the bag and grill 3-4 minutes per side. Turning only once.
Take the remaining contents of the zip-top bag, and pour into a medium-sized mixing bowl, add in the honey, and whisk to combine to form a spice glaze.
Baste the pineapple spears with the honey and spice glaze mixture using a heat-safe basting brush.
Serve while warm, and drizzle over any remaining spiced honey glaze.
Chef's Tips:
Don't forget the pineapple core! After working and living in the Hawai'ian islands and on Maui, I developed quite the affection for eating fresh pineapple core. I know it may sound a bit strange, but to me, there's nothing more satisfying than crunching on a piece of pineapple core as a snack. It's sort of the perfect combination of sweet, crunchy, slightly bitter, and just good old-fashioned plain yummy.
Pineapple core also makes a great cocktail stir stick for your Trader Vic's Original Mai Tai or other tropical adult beverage, reduces food waste, and gives you something to crunch on all at the same time while adding a touch of pineapple flavor without adding a ton of sweetness to the drink.
If you haven't hoarded then devoured the pineapple cores all for yourself, make a pineapple syrup to add to your cocktails as a sweetener or drizzle over pancakes, macadamia nut waffles, or banana crepes for a delicious island-style twist to breakfast.
---
Check out other great recipes, and tips and tricks for Easy, Effortless Entertaining from AWG Private Chefs
About the Author: Certified Master Chef, Sommelier & Wine Educator, Sean Andrade is the Executive Chef Owner of AWG Private Chefs headquartered in Northern California. Voted best personal chefs and best caterers in San Francisco, and #1 Private Chef company in California. Chef Sean has worked in the restaurant and hospitality industries worldwide for more than 25 years. AWG Private Chefs offers highly custom-tailored, bespoke private chef dining experiences, personal chef service, and private event catering in over 30 countries around the globe.