Last Updated:
May 29, 2023
Apple Spice Cake Recipe with Boozy Cream Cheese Frosting
A foolproof and easy to prepare moist and tender spice cake recipe, with the perfect crumb, chunks of delicious apples, and of course a thick layer of boozy vanilla bean & cinnamon cream cheese frosting that's certainly going to be a hit! If you are partial to pumpkin, you can always add a pumpkin spice blend to this recipe as well.
With the fall colors in nature now upon us, it's apple season! This means apple spice cake is all the things! Many people are huge fans of pumpkin spice... I am a mega-fan of apple spice cake! Here's our foolproof, easy to prepare best apple spice cake recipe.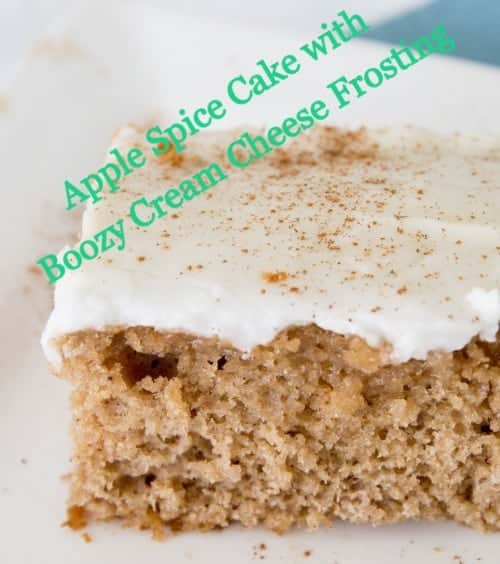 Apple Spice Cake Recipe Ingredients:
1 & 1/8 teaspoons ground Saigon cinnamon
2 cups all-purpose flour, sifted
1 teaspoon ground nutmeg
1 teaspoon ground allspice
1/8 teaspoon ground cloves
1/2 teaspoon kosher salt
4 large fresh eggs
1 & 1/2 cups granulated white sugar
1/2 cup light brown sugar (firmly packed)
1 & 1/4 teaspoons Madagascar Bourbon vanilla extract
1 teaspoon baking powder
2 sticks room temperature unsalted butter
1 Pink Lady Apple (medium-sized, cored, peeled, & 1/4" diced)
1 Granny Smith Apple (medium-sized, cored, peeled, & 1/4" diced)
1 Honey Crisp Apple (medium-sized, cored, peeled, & 1/4" diced)
How to Make Apple Spice Cake with Boozy Frosting:
In a mixing bowl, sift the flour, spices, and kosher salt then set aside for now.
In the bowl of your stand mixer, using the paddle attachment, cream together the butter and sugars until pale yellow and combined. Using room temperature butter is the secret here to insuring an easy and complete melding of the butter and sugars together. Add in one egg at a time while mixing at low speed, allowing adequate time to allow the egg and sugar mixture to combine.
You're looking for no trailing streaks of unmixed egg white or yolk. Next, add in the vanilla. In the dry ingredient bowl, toss the apples in the flour, spice & salt mixture until each apple cube is well coated in flour. Slowly add the apples and flour mixture into the mixer bowl and mix just until combined. Be careful to not overmix as this will result in a tough cake.
Place the batter equally into two buttered & floured 9" round cake pans. Bake at 350 degrees (325 degrees convection bake) for 35-45 minutes, or until a cake tester comes out clean.
Chef Tip: Baking times can vary widely depending on the air humidity and moisture content of your apples. Allow the cakes to cool to room temperature in the pans before turning them out. To really add an extra punch of apple flavor... Sautee up some more apple cubes in a little butter and a tablespoon of brown sugar and sandwich them between the middle layers of cake and frosting.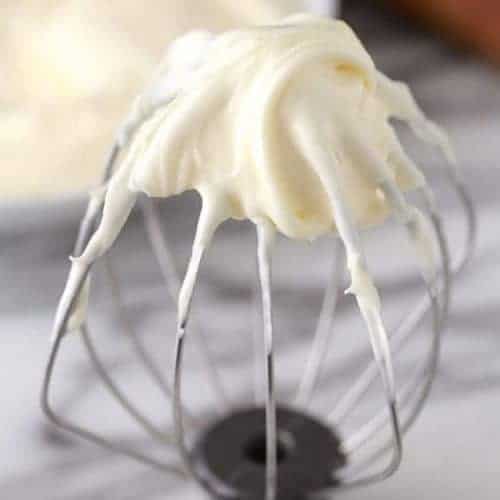 Boozy Cinnamon & Vanilla Cream Cheese Frosting Recipe:
8 ounces cream cheese (room temperature)
⅓ cup unsalted butter (room temperature)
3 cups powdered confectioners sugar
1 teaspoon Madagascar Bourbon Vanilla extract
1/8 teaspoon Saigon cinnamon
1 teaspoon Meyer lemon zest (optional, but highly encouraged!)
1-2 teaspoons Fireball Cinnamon Whisky (optional)
In the bowl of your stand mixer, using the whisk attachment, combine the cream cheese and butter and mix on medium speed until combined. Turn off the mixer, add in one cup of powdered confectioners sugar, cinnamon, and mix on low speed gradually increasing speed until combined. Then turn the mixer off and repeat until the remainder of the sugar is combined.
For thicker frosting, simply add an additional amount of confectioners sugar. Lastly, add in the vanilla extract and lemon zest to mix. This frosting tastes best when allowed to rest at room temperature for a couple of hours before frosting the cake. For a boozy adult-centric frosting punch, you can also add in 1-2 teaspoons of Fireball Cinnamon Whisky.
---
Check out some of our other tasty recipe ideas and entertaining tips from AWG Private Chefs:
About the Author:
Certified Master Chef Sean Andrade is Executive Chef/Owner of AWG Private Chefs, named the #1 Private Chef company in California. Chef Sean has worked in the restaurant and hospitality industries worldwide for more than 25 years. His company AWG Private Chefs offers highly custom-tailored, private chef dining experiences, select location meal delivery, and event planning & catering in over 35 countries around the globe.