Why Hire A Private Chef?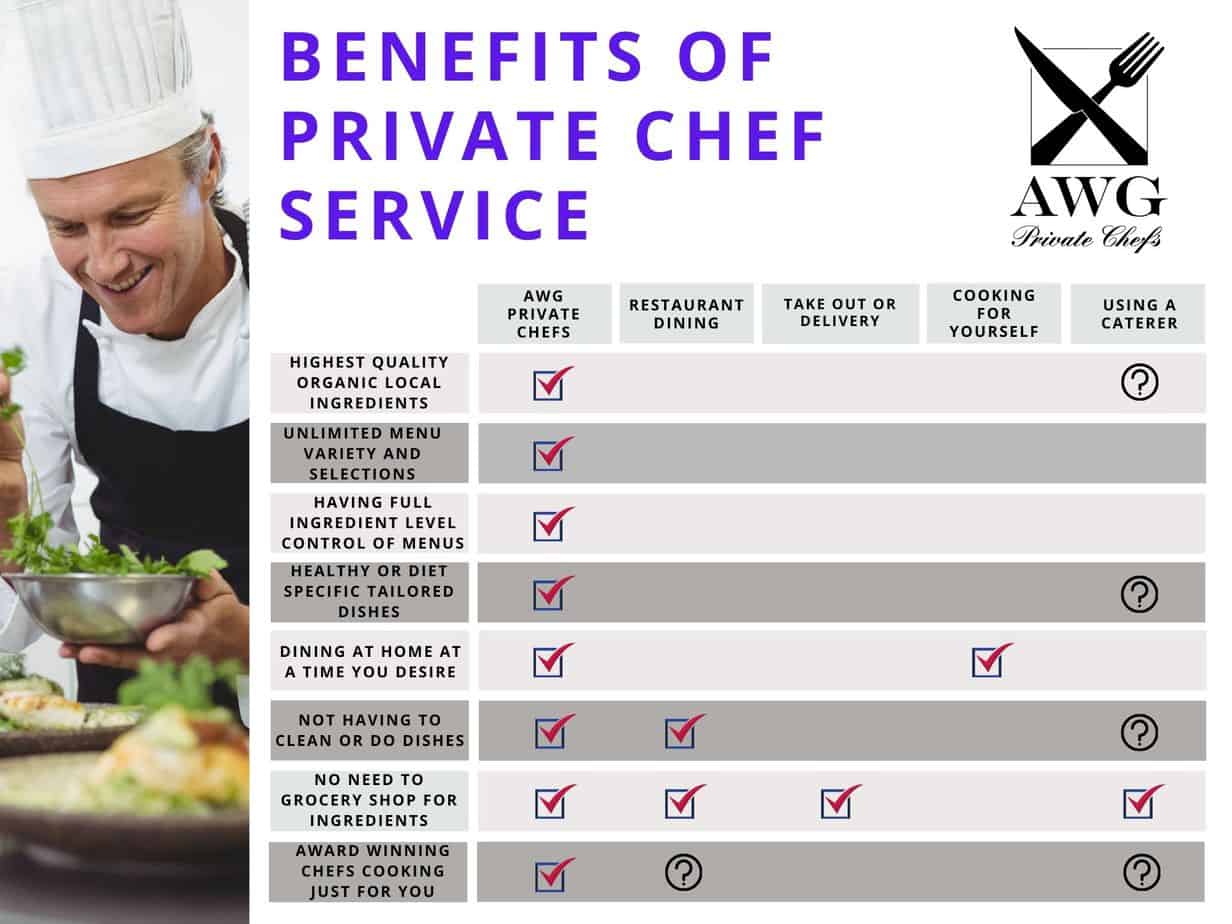 Why Hire A Private Chef?
Unlike a traditional caterer who will send you a myriad of pre-fabbed menus, you then have to pick and pay for a package of menu items that you may not want or need, we do the exact opposite! Upon your initial contact with us, you will be matched with a dedicated member of the AWG Private Chefs client ​concierge team who will be your dedicated exclusive point person for your entire event.
Attention To Detail:
After verification of your event date availability, we will email you a simple brief questionnaire surrounding the details of your event. This easy to complete list of questions will ask things such as the type or style of cuisine you wish to enjoy, the number of courses you would like, event timing, and your preferences on the style of service you desire, and if there are any food allergies or dietary restrictions we should know about.
Your detailed answers to these questions are critical to us, the more verbose you can be the better. This will aid our multi award winning Certified Master Chefs in the design & execution of your fully custom-tailored menu, curated exclusively for you and your guests. No two menu items are ever the same! With AWG Private Chefs, there are never prefabbed, static boring menus or limited offering packages! We always give you full editorial control over your menu, all the way down to the ingredient level!
Next, you and your chef will jointly collaborate on the draft menu until we've created the perfect fit. Once you've approved the draft concept menu as final, we will provide you a written proposal where you can clearly see the breakdown of all of our charges for food ingredients, labor, any rentals you may require, and sales tax.
Never Pay For Something You Don't Want:
There are never any hidden fees or strange unexplainable "service charges" ​in our proposals. We believe in the highest levels of ethics, integrity, and complete transparency in all of our business practices! Once you've had a chance to review your event proposal, you can easily complete your booking online, right from our secure web portal.
You can schedule payments, electronically DocuSign your contract documents, and send secure messages to your chef or dedicated AWG Private Chefs client concierge with any questions or details you might need handling. ​
Finally, just sit back, relax, and enjoy! Experience our signature "Easy, Effortless, Entertaining" services! ​
To inquire about your next event, please visit our Contact Us page or call our concierge hotline at 1-877-753-2727