Last Updated:
July 5, 2022
10 Best Kitchen Must Have Gadgets For Every Home in 2022
One of the most commonly asked questions as a Private Chef working around the world for over 20+ years cooking in people's homes as they approach the holiday season has to be "What holiday kitchen gadget gifts should I give someone who loves to cook?". Or, "If I wanted to buy myself something special for my home kitchen, what should it be?", or the year-round question of "What's your must-have favorite kitchen gadget tool?" I've got just the answer for you!
We all have those really old antique kitchen gadget relics in our own homes that have been passed down for generations between family members, those infamous rummage sale finds, or from your college dorm years when you shopped exclusively at the 99-cent store, because hey, we were all poor college kids at one point, and that's all you could afford at the time, right?
When it's either time for a total kitchen equipment upgrade, or you're looking for that perfect gift for a home cook, a new aspiring chef, or for yourself, just because you deserve a treat, I've got the perfect ideas for must-have home kitchen gadgets and items!
What are the Top 10 Must Have Kitchen Gadgets for 2022?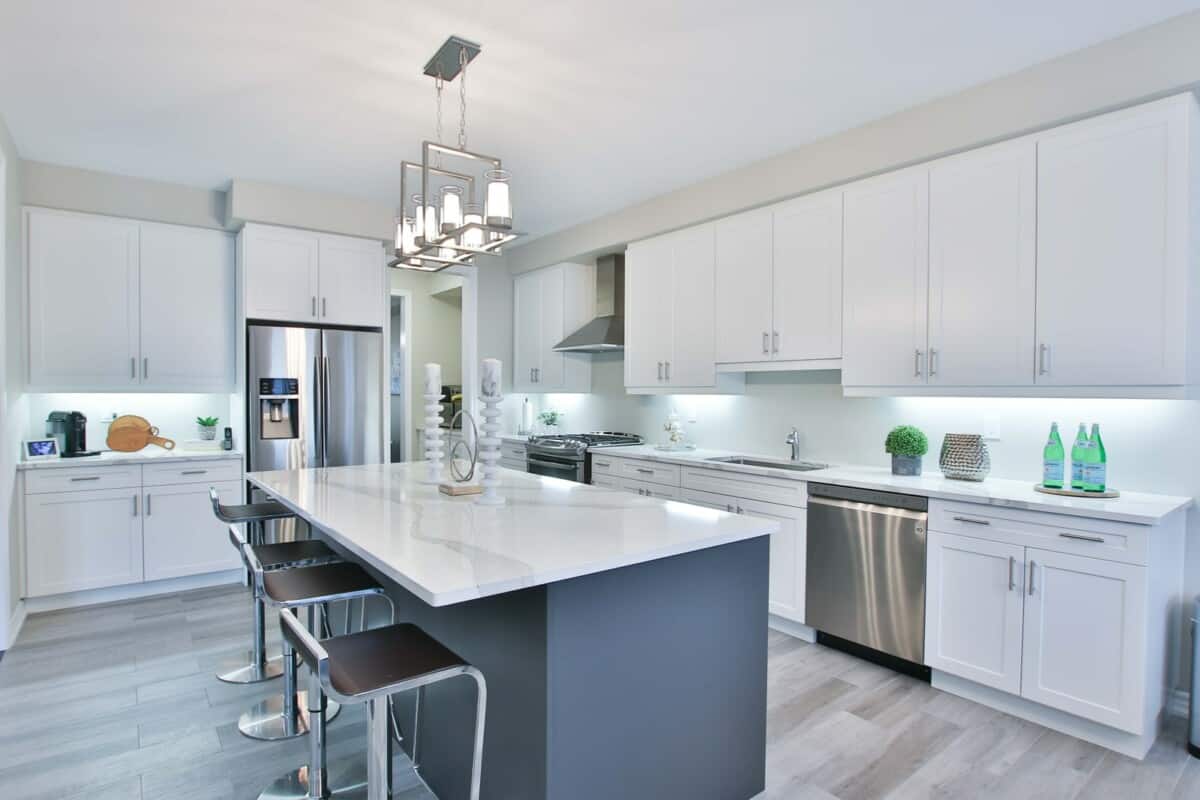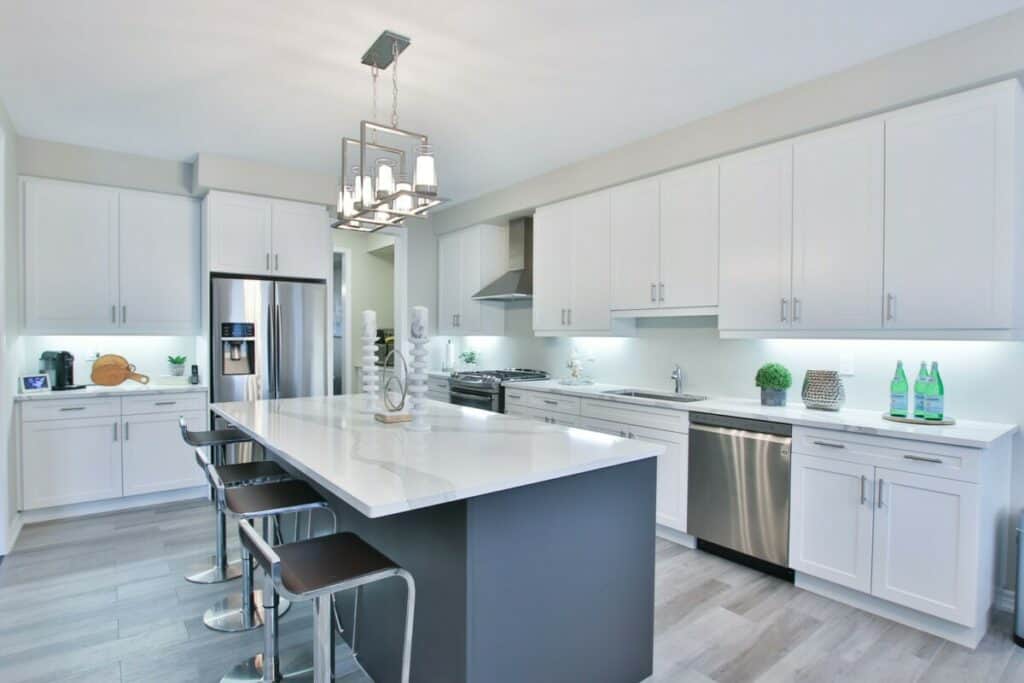 I've hand-selected each of these home kitchen equipment items for their function, durability, utility, or function. I have not been paid, endorsed, or otherwise received any monetary or otherwise form of compensation from the product manufacturers of these items. I do not accept "pay for review" submissions, and genuinely have a vested interest in providing non-influenced recommendations to you.
2022 10 Best Kitchen Gadgets & Gizmos are:
1. Cosori Air Fryer Max XL 5.8 Quart
Air fryers have been all the rage for years now, and there's a good reason. They make quick work out of cooking fried foods without extra calories from oil or smoking up your kitchen with splattering hot grease. However, the number one complaint most air fryer users have is that the capacity is always too small. The Cosori Air Fryer Max XL 5.8 Quart comes in a variety of colors, and is truly the answer to your prayers! This very large-capacity air fryer will make quick work out of your favorite fried foods. Check out my recipe for the best air fryer chicken wings that you can make in just a few minutes in your new air fryer!
2. Mercer Culinary Genesis 5 Piece Kitchen Knives
These knives are built to last! From the experts of all things cutlery, The Mercer Genesis Series 5 piece knife set features incredibly superior blade durability, a nonslip Santoprene comfort grip, NSF certification, and is backed by an incredible warranty.
As a professional chef, these knives are the exact ones I have been using every single day for nearly a decade now. This basic 5 piece set features almost all of the knives you will need for at-home cooking. A chef's knife, a bread knife, a utility knife, and a paring knife.
The best way to care for your fine kitchen knives is just to wash them in hot water with a little non-abrasive dish soap, and towel dry them. A good set of knives will last a lifetime if you follow two easy steps: Never put your kitchen knives in the dishwasher, and always have them routinely professionally sharpened at least once or twice a year by a reputable cutlery sharpening company. This is no time to utilize that random vendor at your local flea market or take your knives to a random bait, tackle or outdoor hunting knife, or hardware store my friends.
3.
Ooni Koda Pizza Ovens
Home pizza ovens shouldn't have to cost tens of thousands of dollars to produce really fantastic pizza at home. Ooni has been crushing the restaurant-quality pizza at home market for a few years now with their Koda series outdoor propane or wood-fired pizza ovens.
The Ooni Koda Pizza ovens come in two flavors, the smaller model is the Ooni Koda 12 Pizza Oven which is can make pizzas up to 13 inches, and the newest model the Ooni Koda 16 Pizza Oven which is perfect for larger families, tailgating, or aspiring pizzaiolos who want to crank out delicious Neopolitan style pizzas up to 16 inches in under 3 minutes.
These ovens can heat up to 950 degrees F in just about 15 minutes and can cook many other foods besides pizza, such as chicken, fish, steaks, and the most delicious caramelized vegetables.
4. Frigidaire EFIC235 Nugget Ice Maker
FrigidAire EFIC235 Nugget Ice Maker is a MUST-have in your kitchen. This self-cleaning nugget ice machine makes up to 44lbs of the soft, crunchy, highly addictive ice that you get from major restaurant chains like Sonic.
Nugget ice makers are perfect for those who love to chew their ice, plus the superior cooling power of nugget ice helps keeps your drinks colder faster and makes your cocktails nice and slushy. A perfect addition to your home bar or even your kitchen countertop. The Frigidaire EFIC235 Nugget Ice Machine holds up to 3lbs of nugget ice at once and can have your first batch of ice ready in 15 minutes.
Measuring in at 12x17x19 inches, this compact powerhouse nugget ice machine will produce enough ice for your next party, or satisfy your next crunchy ice craving.
5. Tramontina 6.5 Quart Enameled Cast Iron Dutch Oven
Probably one of the most versatile pieces of cookware you will ever own, the Tramontina 6.5 Quart Enameled Cast Iron Dutch Oven will quickly become your new best friend in your home kitchen. These heavy-duty enameled Dutch Ovens can go from stovetop to oven, to tabletop to serving.
You can use Dutch ovens for a myriad of recipes such as soups, stews, braises, searing, and even baking your favorite bread! To have your Dutch oven last a long time never put it in the dishwasher, or run cold water in it right after it's come off the stove or out of the oven. Always allow it to cool to room temperature first, then use hot water and dish soap for cleaning. To protect the enameled finish, always use silicone or wooden utensils inside the vessel. This is one of those legacy cookware items that if you take good care of, you will be able to pass it down for generations to come.
6. SodaStream Fizzi Sparkling Water & Home Soda Maker
Forget about the high cost of soda and sugary drinks! New in late 2021, the SodaStream Fizzi Sparkling Water Maker takes ordinary water, and injects high-pressure carbon dioxide (CO2) into it to create your own sparkling water, and soda right in your own home kitchen. This fizzy kitchen gadget will save you tons of money and help the environment reduce waste by avoiding single-use water bottles and aluminum cans.
I love my SodaStream, and use it every day to keep my hydration goals on track. Simply put cold water in the provided bottle, attach it to the machine, and press the carbonation button. Add in your favorite flavor drops or powders, or even just a fresh squeeze of lemon, lime, or orange juice. One of my favorites is cucumber lime, just toss a few slices of cucumber and a teaspoon of fresh squeezed lime juice into the bottle after carbonating. SodaStream CO2 refill cylinders are easily available online as well.
7. HexClad Hybrid Stainless Steel 7 Piece Cookware Set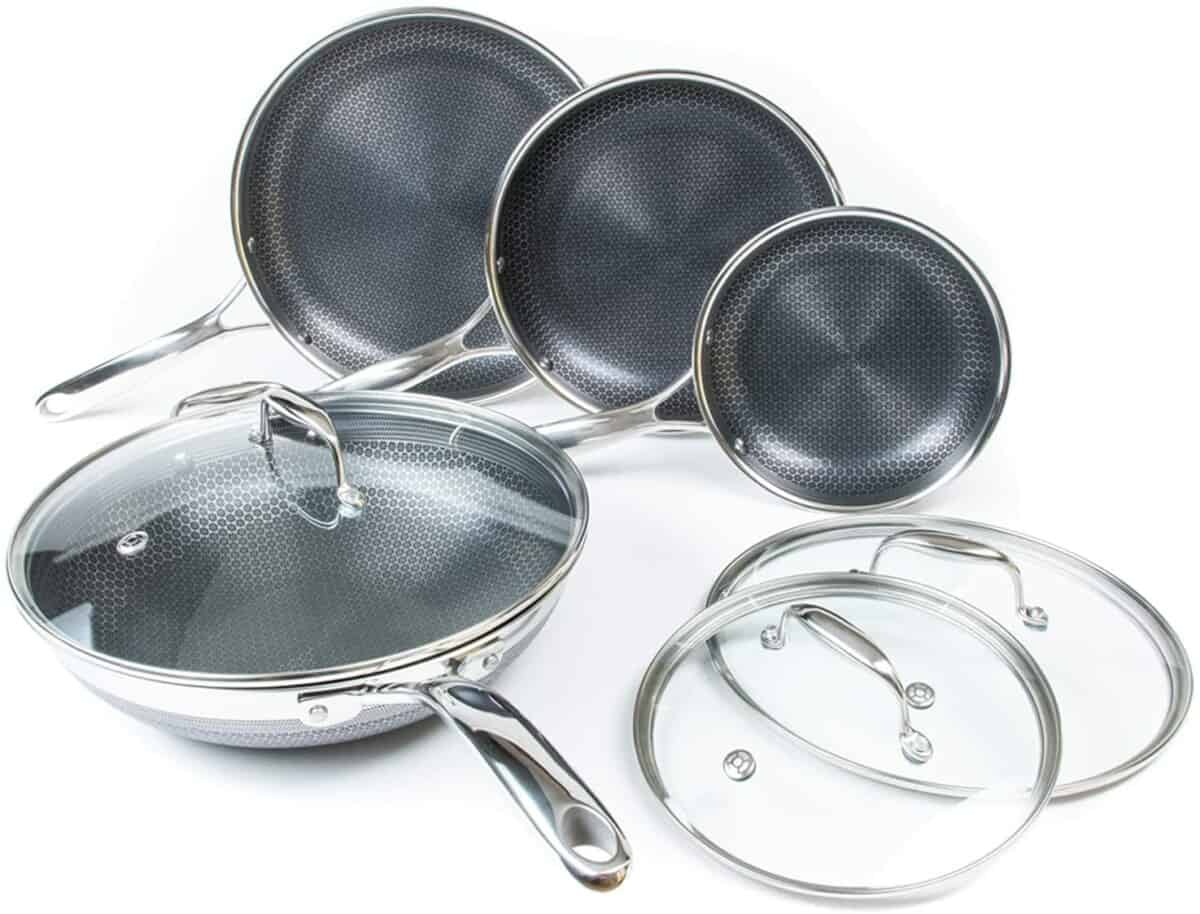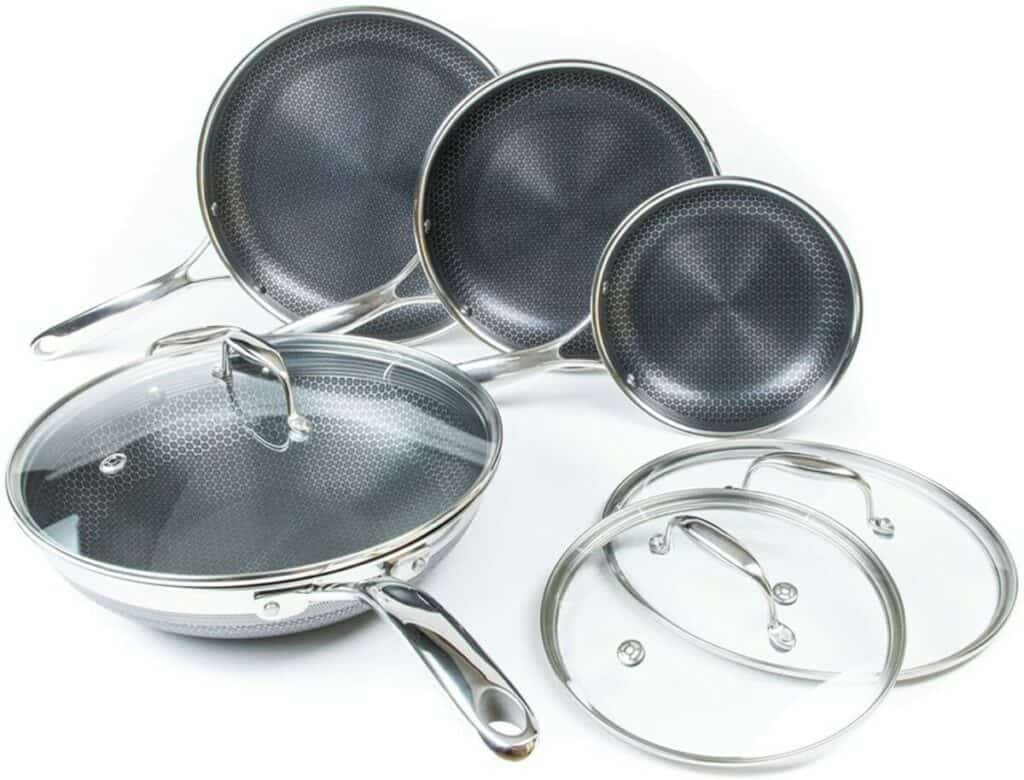 The HexClad Hybrid Stainless Steel Cookware has really impressed me using it in our commercial kitchen. Truth be told, I originally thought that it was just another cookware gimmick or fad, until I tried it in one of my clients' homes. I was so impressed, I went out and bought a piece of it to try out in our industrial heavy use setting to see if it was all hype or not.
This non-stick cookware allows you to use metal utensils in the cookware without fear of scratching or damaging the non-stick surface. The patented laser-etched surface of the HexClad cookware gives you the durability of traditional stainless steel, with the versatility of non-stick without the fear or burning or scorching the coating, or having it flake off into your food.
HexClad is oven-safe all the way up to 500 degrees and will work on gas, electric, or induction cooktops. Easy cleanup with either hot soapy water and a scrubby sponge if needed, or simply just toss it in the dishwasher. (Yeah, yeah, I know, I cringed too, but the manufacturer states that it's dishwasher safe, and we've tossed it in our heavy-duty commercial kitchen dishwasher without any durability or finish scratching issues so far!)
8. Anova Culinary AN500 Professional Sous Vide Precision Cooker
The Anova AN500 Professional Sous Vide Precision Cooker sits on my kitchen counter and never gets put away. I was fortunate enough to be on the Beta testing team for this device prior to its release and I now proudly own two of them. Sous Vide, or precision water bath cooking at home allows you to cook virtually anything perfectly without ever under or overcooking the food, as it will never get hotter than the water temperature that you set.
It doesn't matter if you're preparing chicken, beef, pork, vegan or vegetarian meals, eggs, or pretty much any other type of food. The Anova allows you to "set it and forget it" while being able to monitor the cooking process of your dish with the free Anova smartphone app for iOS or Android.
Anova makes several models of their precision cookers, I prefer this Anova AN500 Pro model due to its ability to quickly heat up the water, and to maintain temperature accurately when cooking larger batches of food. Yes, you too can take a frozen piece of meat, place it into the sous vide bag, and cook it to perfection with this kitchen countertop immersion circulator.
One of my favorite non-cooking tricks to do chill wine in a hurry with your sous vide!
9. Ninja Professional 1100 Watt Blender BL660
The Ninja BL660 Professional Blender packs the performance and power to turn ice into snow in seconds. Perfect for those desperately needed adult beverages when the kids are at their friends' house or you've had a rough day at the office! This powerhouse comes with an 1100-watt motor, a 72-ounce BPA-free blender pitcher, and two "to go" style 16oz blender cups for smoothies, etc. One of my favorite things besides the power of this blender is its price point. I really have a huge problem paying upwards of $300-$500 for a blender brand like Vitamix. My Ninja is fantastic at blending both cold, and hot drinks, smoothies, soups, purees, etc.
A powerful blender like this will make light work out of not only crushing ice for that margarita or whiskey sour, but will also make velvety smooth soups, and fruit smoothies. To prevent premature failure of the blender pitcher or blades, never put them in the dishwasher. The high temperature of the dishwasher environment will cause premature failure and crazing of the pitcher. Also, any time you are blending anything hot, leave the pitcher pour spout open, and place a triple-folded kitchen towel over the top to prevent splashing, and to allow steam to escape.
10. Tinana Silicone Ice Block & Ice Ball Mold Set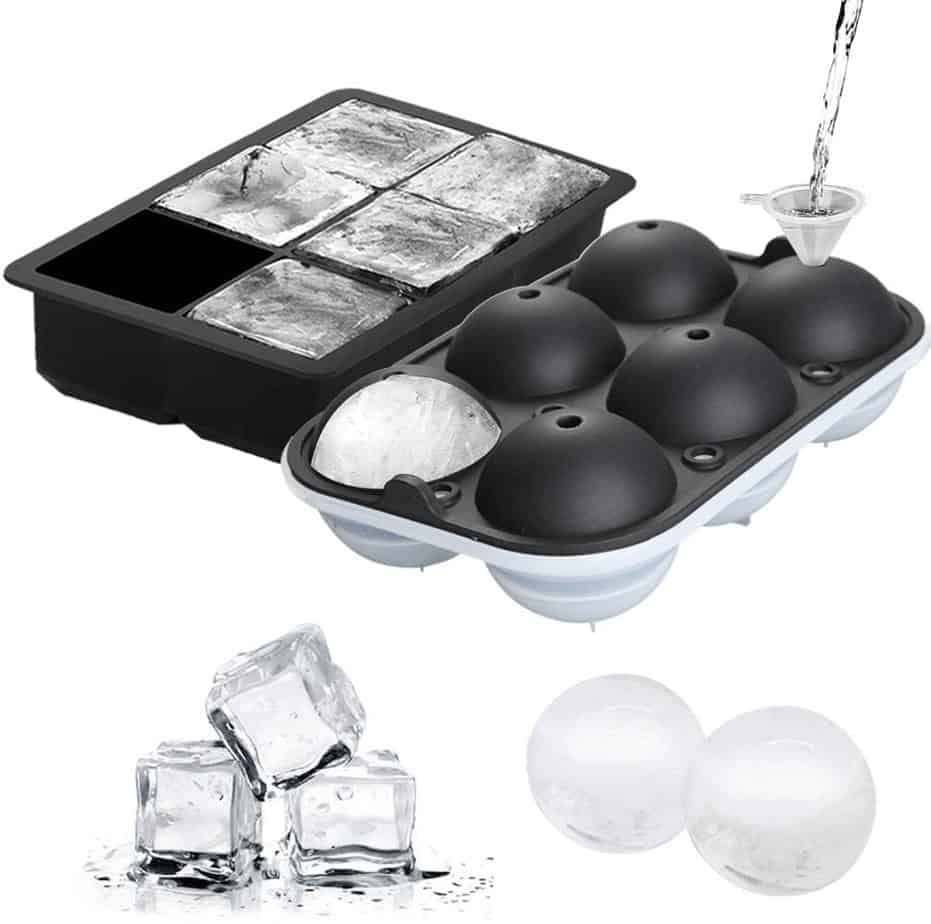 2022 is the year of all things Whiskey! Tinana Cube & Ice Ball Mold Set lives on the top shelf of my freezer! If you are a whiskey aficionado, lover, or admirer, these are the silicone ice molds for you.
These durable silicone ice molds make six of the most perfect large single cubes, and six 2-inch sphere ice balls for chilling down your favorite bourbon, whiskey, brandy, or cocktail spirits without the rapid dilution that you get with small traditional ice cubes. A little mini funnel is included to make filling the ice ball mold quick and easy. Both silicone ice molds also are stackable, to help save you valuable freezer space as well.
Chef's Secret Tip: These ice molds are also heat-proof up to 428 degrees F, which means you can bake in them as well for fun-shaped cakes or cookies as well!
---
Check out our other recipes, tips & tricks for Easy, Effortless, Entertaining from AWG Private Chefs!
About the Author: Certified Master Chef, Sommelier & Wine Educator, Sean Andrade is the executive chef/owner of AWG Private Chefs, named the #1 Private Chef company in California. Chef Sean has worked in the restaurant and hospitality industries worldwide for more than 25 years. His company AWG Private Chefs offers highly custom-tailored, bespoke private chef dining experiences, and private event catering in over 30 countries around the globe.