Last Updated:
November 26, 2023
10 Best Kitchen Must Have Gadgets For Every Home in 2024
As a Private Chef with well over 25 years of experience preparing delectable meals in people's homes across the globe, I am frequently approached for suggestions on remarkable culinary gifts for kitchen gadget enthusiasts, as well as indispensable tools for home cooks. Whether you seek to elevate your own kitchen arsenal or embark on a quest for the ideal present, rest assured that I possess a wealth of invaluable insights to share!
We often find ourselves in possession of age-old kitchen gadgets, treasured heirlooms passed down through generations or relics acquired during our frugal college days. Yet, when it comes to equipping your culinary domain with the finest implements, it is paramount to invest in top-tier, high-quality items.
Whether you are indulging in some self-shopping or embarking on a quest to find that perfect gift, allow me to guide you through an extensive selection of must-have kitchen gadgets and indispensable tools that will undoubtedly satisfy your culinary cravings.
What are the Top 10 Must Have Kitchen Gadgets for 2024?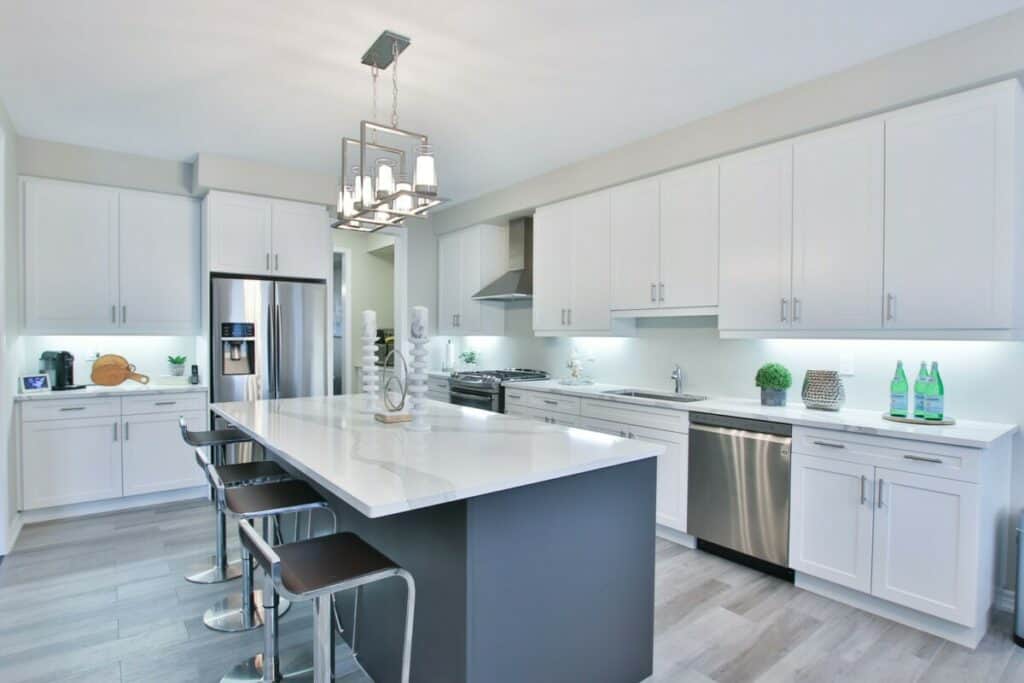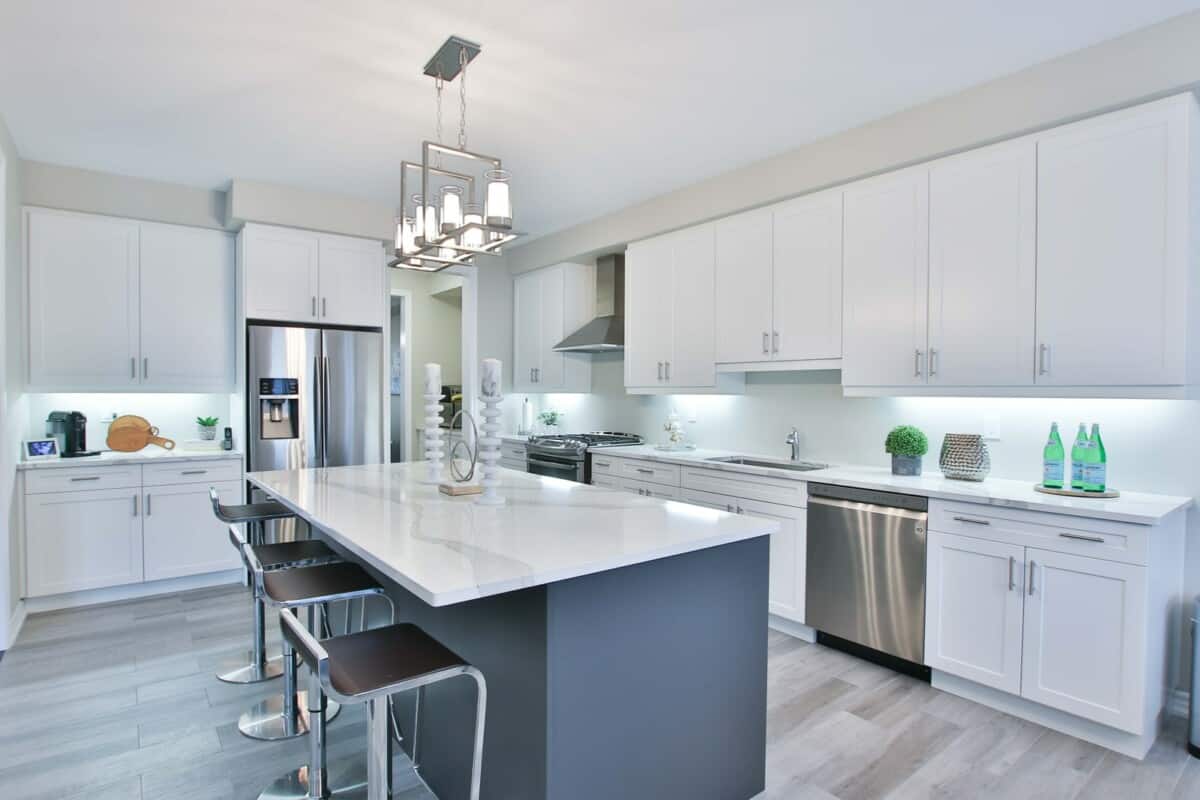 Each and every home kitchen equipment item I present here has been meticulously chosen for its exceptional functionality, durability, and utility. Let me assure you that I have not received any form of monetary compensation, endorsement, or payment from the manufacturers of these products. It is crucial to emphasize that I do not entertain submissions that involve "pay for good reviews."
My recommendations are driven solely by my genuine commitment to providing unbiased and uninfluenced suggestions to you, ensuring your best interests are always at the forefront.
2024 10 Best Kitchen Gadgets & Gizmos are:
1. Instant Pot Vortex Plus Air Fryer
The Instant Vortex Plus 6 Quart Air Fryer boasts a huge capacity at 6 quarts or an option for an eye popping 10 quart air fryer model, and is truly the answer to your prayers! This very large-capacity air fryer will make quick work out of your favorite fried foods. Check out my recipe for the best air fryer chicken wings that you can make in just a few minutes in your new air fryer!
The Instant Pot Vortex Plus Air Fryer is a culinary powerhouse that takes the concept of a traditional air fryer to new heights. Perfect for feeding the whole family or hosting gatherings. Its 7-in-1 functionality allows for air frying, roasting, baking, broiling, reheating, dehydrating, and even rotating for perfectly crispy and evenly cooked results.
The innovative EvenCrisp technology ensures a golden, crunchy exterior while keeping the interior tender and juicy. With its user-friendly digital touchscreen interface and a wide range of pre-set cooking programs, the Vortex Plus takes the guesswork out of meal preparation, making it an essential addition to any kitchen for those seeking healthier yet delicious cooking options.
Looking to explore the full potential of your air fryer? Discover the incredible Air Fryer Cheat Sheet Recipe Guide, meticulously curated with over 120+ delectable food entries across 5 diverse categories: Bakery, Desserts & Snacks, Poultry & Seafood, Lamb, Pork & Beef, and Legumes & Vegetables. This comprehensive and well-researched guide offers precise and accurate information right at your fingertips, enabling you to conveniently find ideal cooking times and prepare your meals quickly and efficiently. Say goodbye to guesswork and embrace the ease and convenience of achieving perfectly cooked dishes in no time!
2. Mercer Culinary Genesis 5 Piece Kitchen Knives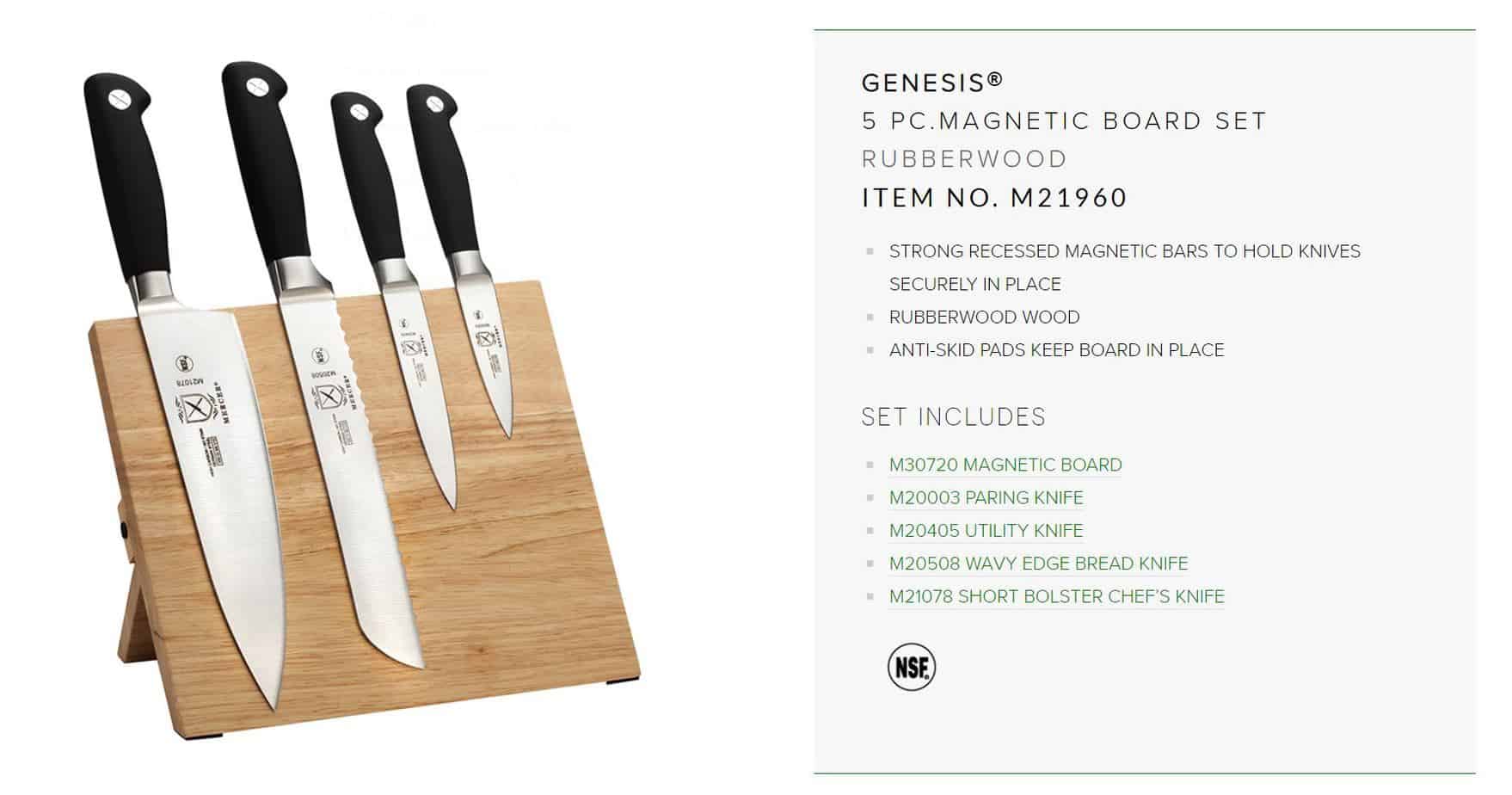 These knives are built to last! From the experts of all things cutlery, The Mercer Genesis Series 5 piece knife set features incredibly superior blade durability, a nonslip Santoprene comfort grip, NSF certification, and is backed by an incredible warranty.
As a professional chef for over 25 years, I have relied on these exceptional knives day in and day out for nearly a decade. This essential 5-piece set encompasses all the knives you'll require for your culinary endeavors at home. It includes a chef's knife, a bread knife, a utility knife, and a paring knife, providing you with a versatile array of blades.
To ensure the longevity of your exquisite kitchen knives, it is crucial to follow two simple steps. First, wash them in hot water with a gentle, non-abrasive dish soap, and remember to towel dry them thoroughly. Secondly, never subject your kitchen knives to the harsh conditions of a dishwasher. Instead, entrust them to routine professional sharpening, ideally performed by a reputable cutlery sharpening company, at least once or twice a year.
Please exercise caution and avoid relying on random vendors at local flea markets, bait, tackle or outdoor hunting knife outlets, or hardware stores when seeking sharpening services. Your precious knives deserve the expertise of trusted professionals to maintain their exceptional quality and performance.
3.
Meater Plus Wireless Bluetooth

Instant Read Smart Thermometer
The Meater Plus Bluetooth Thermometer is a game-changer for both amateur and professional chefs. Its advanced technology provides real-time temperature updates directly to your smartphone, ensuring your meats are cooked to perfection every time. The Meater Plus boasts a durable and sleek design, featuring dual temperature sensors to measure both internal meat temperature and ambient cooking conditions. With its impressive battery life and intuitive app interface, you can effortlessly keep track of your culinary creations and achieve restaurant-quality results in the comfort of your own home. Whether you're grilling, roasting, or smoking, this smart thermometer is the ultimate tool for elevating your cooking game.
Featuring a 165 foot wireless Bluetooth range, the Meater Plus Bluetooth Smart Thermometer from Traeger Grills is actually 2 thermometers in one. The wireless battery-powered probe monitors both the internal cooking temperature of meat or the dish you're cooking, but also the ambient air temperature surrounding your food. Gone are the days of having to "guess" if the item you are cooking is done or up to a safe temperature to consume.
The Meater+ smartphone app is designed for both iOS Apple and Android-powered smartphones, giving you the freedom to kick back in your favorite chair while keeping an eye on your cooking probe. It's like having a personal cooking assistant right at your fingertips! With its nifty advanced algorithm, the app even provides estimated cooking times, so you can plan the rest of your meal around your dish reaching perfection.
Got a grill or oven that's a little too far from your relaxation zone? No sweat! Traeger has got your back with their optional Meater Wifi Extender and Cloud features. These handy add-ons ensure that even if your cooking setup is over 165 feet away, you can still enjoy the benefits of wireless connectivity and stay in control of your cooking process. So sit back, relax, and let the Meater+ app and its cool features take your cooking game to new heights!
4. 4 Piece Bamboo Cutting Board Set
A knife safe cutting board set is an absolute must have in every kitchen in the world. This 4 piece bamboo cutting board set from Royal Craft Wood has all of the most commonly utilized sizes that you would ever need.
The importance of using the right cutting surface is paramount to keeping your knives sharp, and preventing damage to both your knives and your kitchen surfaces. Bamboo cutting boards are naturally anti-bacterial, sustainable, and foodsafe. With proper care, these natural bamboo wood cutting boards will last you for a very long time. Check out our article on how to properly care for your wooden cutting boards here.
Royal Woodcraft 4-piece set of bamboo cutting boards comes in different sizes: 18" x 12" x 0.75", 15" x 10" x 0.6", 12" x 8" x 0.6", and 9" x 6" x 0.6". These boards are not your ordinary cutting boards - they come with a handy juice groove! So not only can you chop and dice on them, but they're also perfect for carving up juicy meats and veggies. No more messy countertops and spills all over the place, thanks to those clever juice grooves keeping things neat and tidy, even during your busiest cooking sessions.
Bamboo is a highly sustainable and eco-friendly material, making it an excellent option for environmentally conscious individuals. Its natural properties provide a durable and sturdy surface, ensuring longevity and resistance to knife marks. Bamboo cutting boards are also less porous than traditional wood boards, which means they are less likely to absorb liquids, odors, or stains, promoting better food hygiene. Additionally, the natural antimicrobial properties of bamboo make it an excellent choice for preventing bacterial growth on the surface. Furthermore, bamboo is gentle on knife blades, helping to maintain their sharpness for longer periods. Easy to clean and maintain, bamboo cutting boards are a practical and attractive addition to any kitchen, offering both style and functionality while supporting sustainable practices.
And guess what? These bamboo carving boards are more than just cutting boards. They're multi-purpose superstars! You can use them for serving up your favorite dishes, creating fancy charcuterie boards, or displaying a mouthwatering selection of cheeses. These sustainable bamboo boards have got you covered in the kitchen and beyond. So why settle for ordinary when you can have these versatile and eco-friendly bamboo carving boards?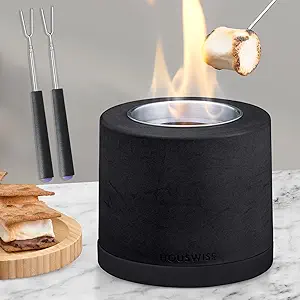 5. Houswise Tabletop Smores Maker
The Houswise Tabletop S'mores Maker – combines the perfect combo of good times and nostalgia! Imagine a mini fire pit right on your table that's not just for keeping things toasty but also for whipping up some killer tasting s'mores. It's like a marshmallow-roasting party waiting to happen – turning any night into a sweet treat fest.
This mini tabletop fire pit is a breeze to use and super safe, so you can focus on enjoying the warmth and good company without any stress. Whether you're inside or out, this concrete tabletop fire bowl adds that cozy touch, making it the go-to spot for everyone to kick back and relax.
No need to deal with the drama of regular wood-fired fire pits – the Houswise Tabletop Smores Maker keeps things smoke-free and smell-free. Just pure warmth and good vibes without the hassle. It's the secret sauce to creating that comfy atmosphere without the usual campfire struggles.
And hey, thinking of a cool gift? Look no further! This smores fire pit tabletop is the bomb for a new home celebration, a quirky addition to your patio setup, or a sweet surprise for weddings, birthdays, or housewarmings. So, grab your crew, feel the warmth, and let the Houswise Tabletop S'mores Maker be the star of your next laid-back hangout!
6. Active Coffee Machine Descaler Cleaner
For the best tasting cup of coffee, you should routinely always use a coffee machine descaler!
ACTIVE Coffee Maker Descaler packs the power of four typical 8oz kits into a single bottle, offering you unparalleled value and minimizing waste. Compatible with all coffee machines, from Nespresso pods and K-cup brewers to multi-cup drip coffee makers, Semi Automatic, and Super-Auto Espresso machines, the Active Coffee Machine Descaler solution works seamlessly with popular models like Keurig Mini, Vertuo, Philips, Gaggia, and more.
Indulge in a richer coffee experience with the cutting-edge descaling and cleaning formula found in ACTIVE Coffee Descaler and Cleaner. This natural Calcium & Scale Remover is tailor-made for your coffee maker or espresso machine, surpassing the effectiveness of descaling tablets, powder, pods, packets, and sachets. For coffee enthusiasts who truly savor their brew, eliminating calcium and oil buildups is key to preserving the authentic flavor and aromas. The Active Coffee Machine cleaner guarantees a swift and comprehensive maintenance routine, ensuring your machine brews coffee as pure and delicious as it was meant to be.
Kick back and enjoy the goodness of our ACTIVE Coffee Maker Descaler, made with love right here in the USA. Packed with an original Citric Acid formula, it's got all the good stuff and nothing extra – a product you can totally rely on. Ready to take your coffee game up a notch? ACTIVE is your go-to solution for keeping things running smoothly, getting bang for your buck, and ensuring a spotless cup every single time.
7. DiOro High Temperature Silicone Cooking Utensil Set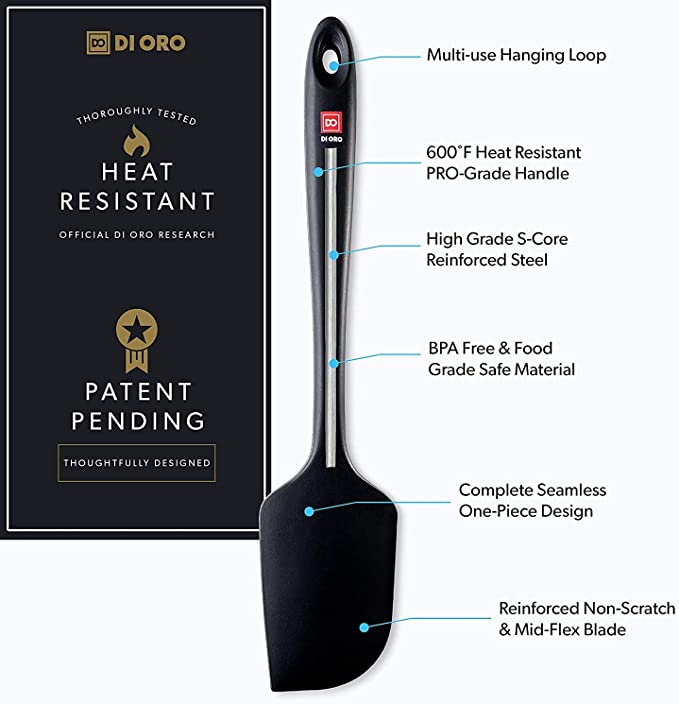 The DiOro High Temperature Cooking Utensil Set is made in the USA from durable high heat tolerant silicone. Most other brands of silicone utensils only withstand heat to around 400 degrees. The DiOro Utensils are heat resistant all the way up to 600 degrees to allow for safer cooking at higher temperatures.
Say goodbye to worries about chemicals leaching into your food! This fantastic four-piece set of silicone utensils is made from BPA-free, food-safe material, ensuring the safety of your family and your delicious meals. Unlike those other offshore-made utensils, you can trust that these are top-notch quality.
Silicone utensils are specifically designed to withstand high temperatures, making them perfect for use with hot cookware and on stovetops. Unlike traditional materials like wood or plastic, silicone utensils won't melt or warp when exposed to heat, ensuring they remain intact and safe to use. Moreover, their heat resistance prevents any harmful chemicals or toxins from leaching into the food during cooking, promoting healthier meals. The soft and flexible nature of silicone also ensures that it won't scratch or damage non-stick surfaces, preserving the longevity of your cookware.
Easy to clean and maintain, these cooking tools are hygienic, non-stick, and non-absorbent, preventing cross-contamination and making them a breeze to wash. Embracing heatproof silicone cooking utensils in the kitchen not only guarantees practicality and longevity but also provides peace of mind, knowing that you're prioritizing safety and the overall quality of your culinary creations.
With spatulas of different widths, this set has you covered for all your stirring, scraping, mixing, folding, and deglazing needs. The handles are designed for comfort, making your cooking experience even more enjoyable. Plus, they are dishwasher safe for easy cleanup.
Here's another great thing – these utensils are proudly made in the United States of America! Crafted from a seamless one-piece design, you won't have to worry about food getting stuck in any nooks or crannies, potentially breeding bacteria. And to top it all off, they come with a forever warranty from DiOro, ensuring your satisfaction for years to come. Get ready to elevate your cooking game with this exceptional set of silicone utensils!
8. Anova Culinary AN500 Professional Sous Vide Precision Cooker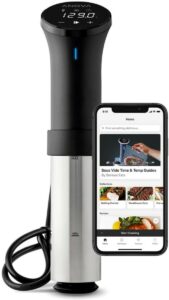 The Anova AN500 Professional Sous Vide Precision Cooker sits on my kitchen counter and never gets put away. I was fortunate enough to be on the Beta testing team for this device prior to its release and I now proudly own two of them. Sous Vide, or precision water bath cooking at home allows you to cook virtually anything perfectly without ever under or overcooking the food, as it will never get hotter than the water temperature that you set.
Whether you're whipping up chicken, beef, pork, vegan or vegetarian delights, or even some eggs, the Anova precision cooker has got your back! With this nifty gadget, you can simply "set it and forget it" while keeping a close eye on your dish's progress using the free Anova smartphone app, available for iOS and Android.
Anova offers a range of precision cookers, but my personal favorite is the Anova AN500 Pro model. It heats up the water in a jiffy and maintains precise temperature control, making it perfect for cooking larger batches of food. Just imagine, you can grab a frozen piece of meat, pop it into a sous vide bag, and achieve mouthwatering perfection with this handy immersion circulator right on your kitchen countertop. It's a game-changer for achieving incredible results in your culinary adventures.
One of my favorite non-cooking tricks to do chill wine in a hurry with your sous vide!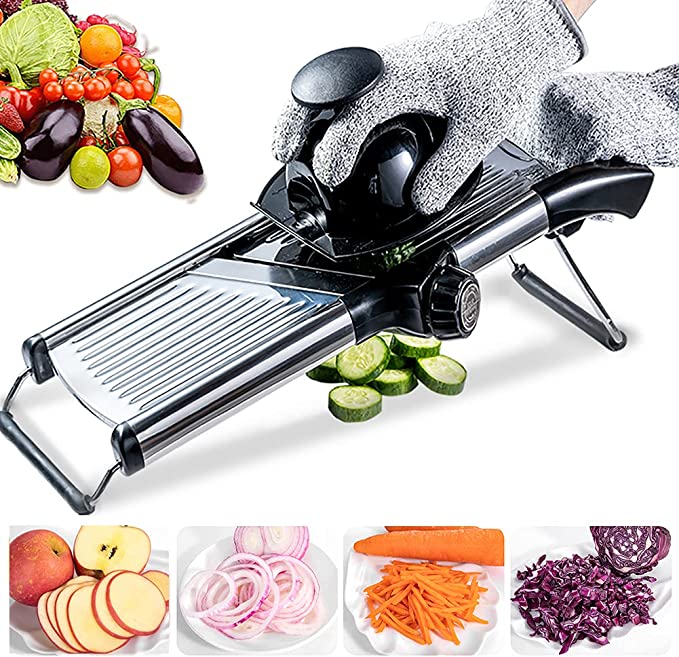 9. Stainless Steel Mandoline Slicer
The VEKAYA Stainless Steel Mandoline Slicer packs razor sharp slicing precision without the fatigue of using a knife into this beautiful stainless steel and easy to store slicer. Perfect for those who love uniformity in their slices, shreds, or cuts. The built in ultra sharp blade does both conventional and julienne slicing with just a turn of the dial. Slice from paper thin all the way up to 9mm thick.
Equipped with safety gloves and a blade guard, this stainless steel mandoline slicer is a dream come true for slicing and shredding tasks. Its sturdy construction ensures a smooth and stable operation, making quick work of even the most substantial projects.
Craving some homemade French fries or chips that are perfectly uniform in thickness? Look no further than the VEKAYA stainless steel mandoline slicer. A stainless steel mandoline is an indispensable kitchen tool that revolutionizes the way vegetables and fruits are sliced and diced. Crafted from durable and rust-resistant stainless steel, this versatile slicer allows for precise and consistent cuts, making it ideal for creating professional-looking dishes. The sharp adjustable blades enable various thickness settings, giving you the freedom to customize your cuts to suit different recipes. Whether you're preparing salads, gratins, or garnishes, a stainless steel mandoline effortlessly transforms your ingredients into uniform slices, saving you valuable time and effort in the kitchen.
Additionally, its sturdy build and non-slip base ensure stability and safety during use. Easy to clean and store, this kitchen essential elevates your culinary experience, allowing you to achieve impressive results with minimal hassle. From home cooks to professional chefs, a stainless steel mandoline is an indispensable companion for precision slicing and efficiency in the kitchen.
10. Silicone Ice Block & Ice Ball Mold Set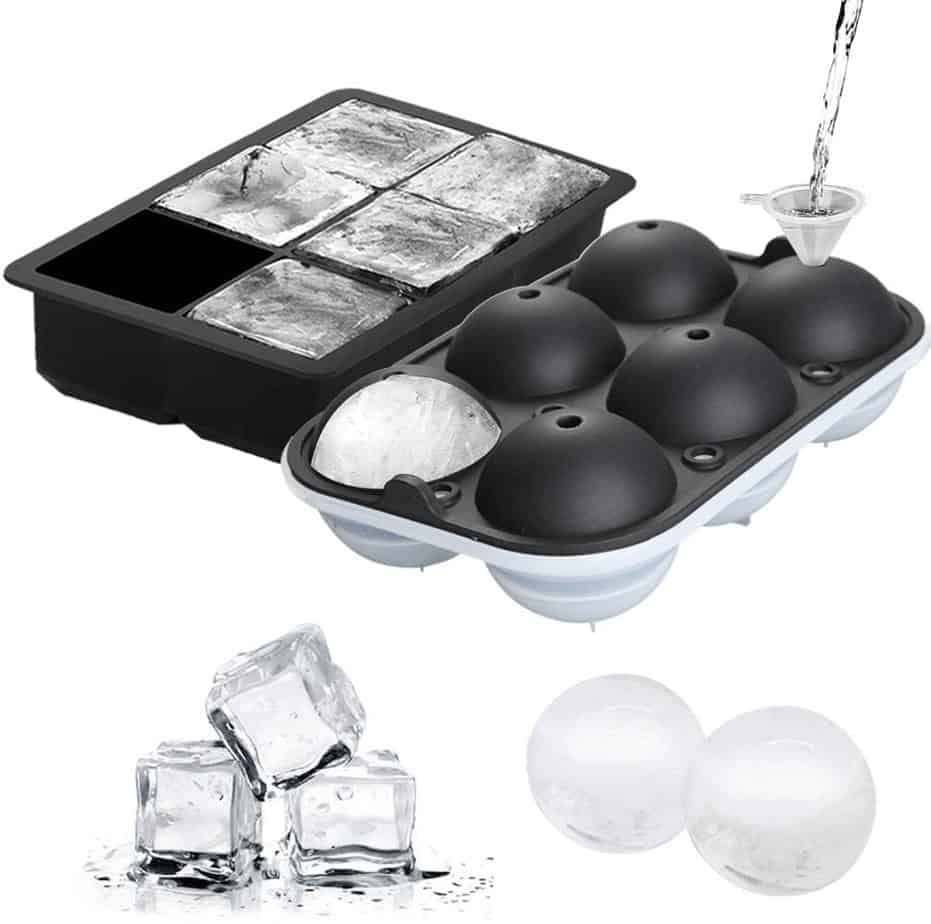 The popularity of all things whiskey in the last few years has been tremendous. This Ice Cube & Ice Ball Mold Set lives on the top shelf of my freezer! If you are a whiskey aficionado, lover, or admirer, these are the silicone ice molds for you.
Using an ice ball sphere or large ice cube when drinking bourbon offers a superior drinking experience that enhances the flavors and enjoyment of the spirit. Unlike regular-sized ice cubes that quickly melt and dilute the bourbon, larger ice balls or cubes have a slower melting rate, allowing you to savor the whiskey's nuances and complexities for a more extended period. The gradual melting also prevents the drink from becoming overly watered down, preserving its rich and robust taste.
Moreover, the larger surface area of the ice sphere or cube minimizes contact with the bourbon, reducing the risk of altering its character. As the ice melts more slowly, it maintains the desired chill without compromising the integrity of the bourbon's taste. The use of an ice ball sphere or large ice cube elevates the bourbon drinking experience, ensuring that every sip is a delightful exploration of the whiskey's distinct flavors and aromas.
Say hello to these amazing silicone ice molds that are built to last! With the capacity to create six large single cubes and six 2-inch sphere ice balls, you can now chill your favorite bourbon, whiskey, brandy, or cocktail spirits without worrying about rapid dilution from small traditional ice cubes.
To make things even more convenient, we've included a handy mini funnel that makes filling the ice ball mold a breeze. And that's not all – these silicone ice molds are stackable, helping you save valuable space in your freezer. Prepare to elevate your drink experience with these durable and versatile ice molds. Cheers to perfectly chilled beverages, without compromising on flavor!
Are you a kitchen gadget manufacturer? We want to review your products!
Attention kitchen gadget and gizmo manufacturers! If you're interested in having your product reviewed by our team of Certified Master Chefs for potential inclusion on our list, we invite you to get in touch with us. We meticulously evaluate numerous products each year and consistently update our list to reflect the latest advancements and innovations in the industry. Your product could be the next exciting addition to our list. Don't miss out on this opportunity - reach out to us today!
---
Check out our other recipes, tips & tricks for Easy, Effortless, Entertaining from AWG Private Chefs!
About The Author: With a wealth of culinary expertise as a Certified Master Chef, Sommelier, and Wine Educator, Sean Andrade holds the title of executive chef and owner of AWG Private Chefs, recognized as the premier Private Chef company in California. With over 25 years of experience in the restaurant and hospitality industries, Chef Sean has honed his craft across various global destinations.
At AWG Private Chefs, Chef Sean and his team specialize in curating highly personalized, bespoke private chef dining experiences and delivering exceptional private event catering services. Their reach extends to more than 40 countries around the world, ensuring unforgettable culinary journeys for their esteemed clientele.
.