Last Updated:
May 11, 2023
Insanely Delicious Sweet & Spicy Traeger Smoked Pork Belly Recipe
Pork Belly has to be one of my absolute favorite cuts of meat, take it to a whole nother level by smoking it on your Traeger, say hello to smoked pork belly madness. This Traeger smoked pork belly recipe can be made either as an appetizer course served on skewers, or as a rich and decadently delicious main course.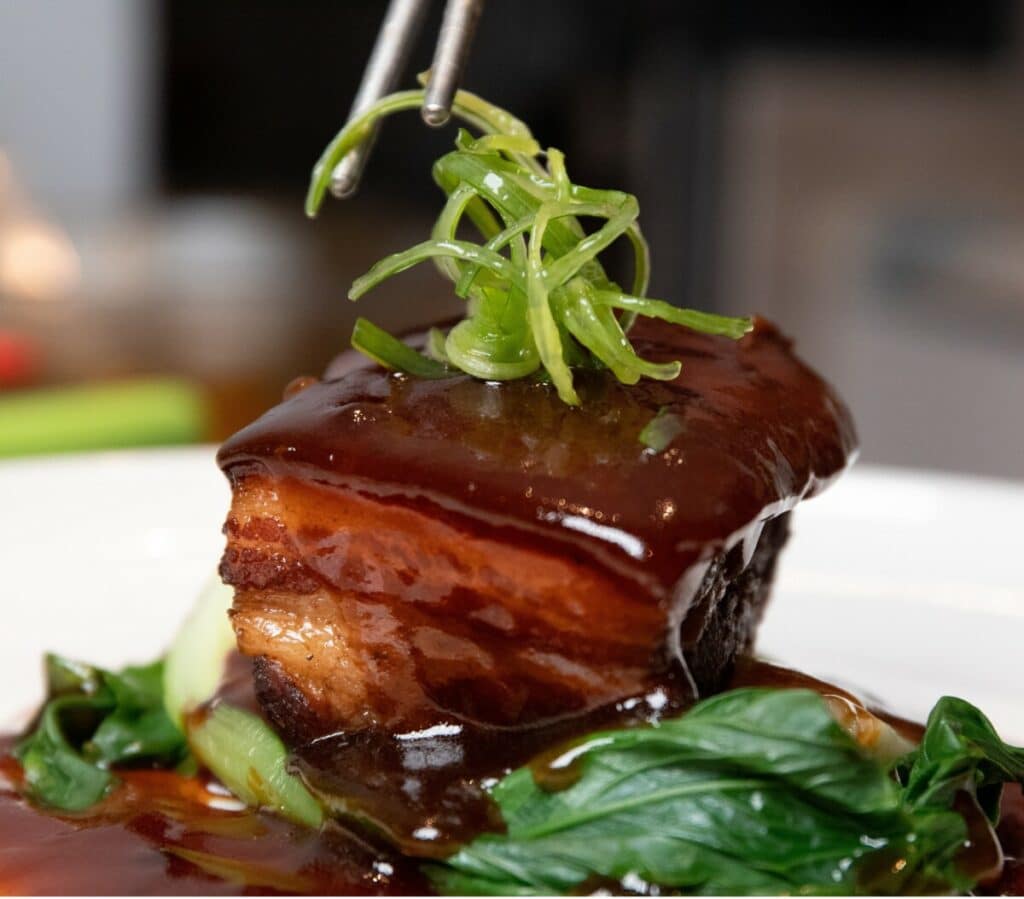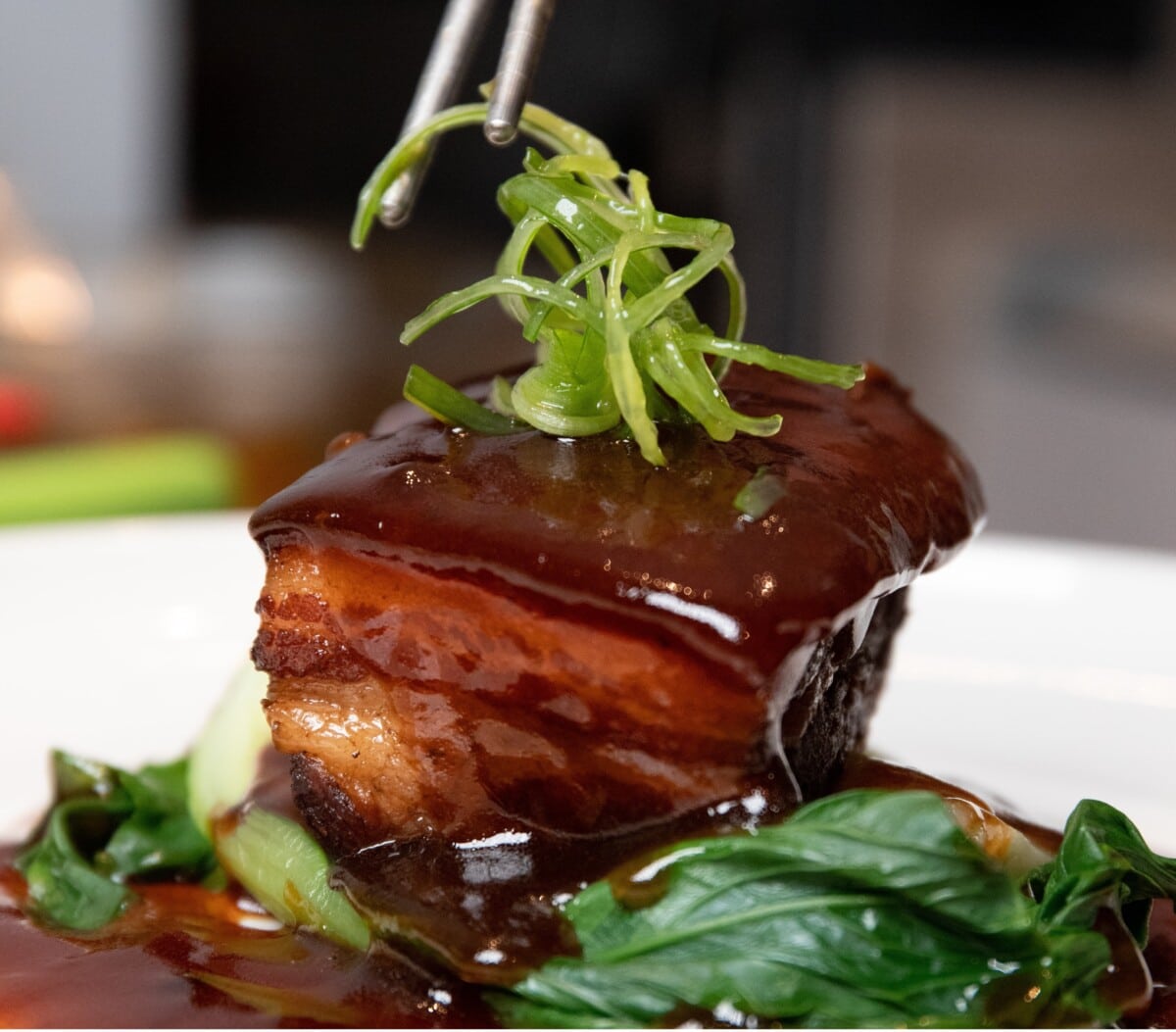 Making smoked pork belly on the Traeger Grill is super easy to do and the results are so worth the wait. Smoking pork bell is a low and slow cooking method. Smoke is water soluble and the low temperatures you smoke at allow the smoke molecules to be exchanged into the meat instead of evaporating with traditional high temperature cooking methods like grilling, broiling, etc.
Should I brine pork belly?
Pork belly has a lot of fat in it, and over the multiple hours it will cook, will render a lot of the fat out into rich flavor and moisture. I'm not a fan of brining meat as a whole, but for this Traeger smoked pork belly recipe, let's get to brining.
How to brine pork belly:
What you will need:
In a large bowl whisk together the salt, water, and pear juice until the salt has fully dissolved.
Trim your pork belly to about 1/4 inch of the fat cap, removing any hard fat or residual missed skin trimmings.
Cut the pork belly into 4 inch by 4 inch chunks for main dish portions, or 2 inch wide, 5 inch long strips for appetizer skewer portions, or 1.5 inch by 1.5 inch cubes for an amuse bouche.
Place the pork belly pieces into the Ziplock bag, and pour the salt, water, and pear juice mixture into the bag.
Add the cardamom pods, cinnamon stick pieces, star anise pods, and peppercorns to the bag.
Seal the bag almost all the way, and squeeze it to remove as much air as possible from the bag, then finish sealing it.
Place the bag on a rimmed sheet tray, and place it into the refrigerator overnight. Brine for at least 8 hours, but not more than 12 hours, as the enzymes in the pear juice can break down the meat if left for longer than 12 hours.
How to prepare smoked pork belly:
Preheat your Traeger to 200 degrees. Turn on super smoke mode if you have it. I prefer a blend of 50% mesquite and 50% applewood pellets for this recipe.
Place the pork belly pieces directly onto the grill grates and smoke for 2-4 hours, or until the pork belly reaches an internal temperature of 170 degrees F. Turn the smoked pork belly pieces every 45 minutes to prevent the meat from drying out. Garnish with a few sprigs of scallion tops that have been curled in ice water.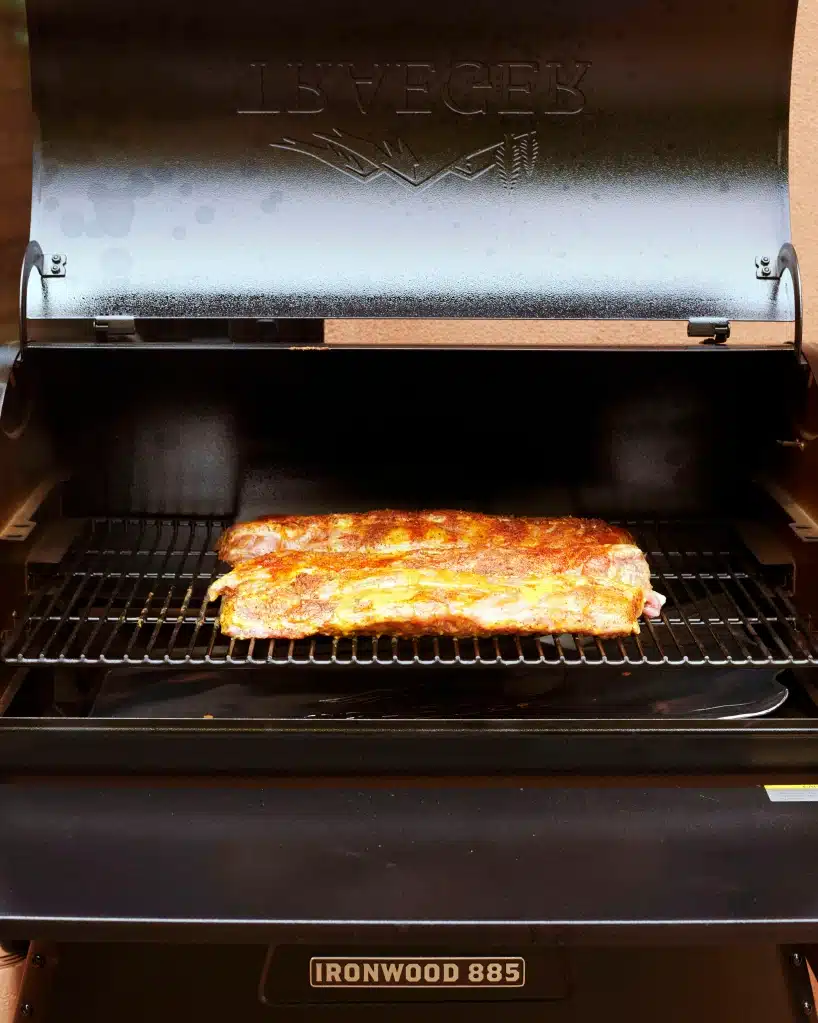 After your smoked pork belly has come up to 170 degrees internal temperature read by a Meater instant read thermometer. Remove it from the Traeger and transfer it to an aluminum baking pan and prepare your sauce glaze mixture.
Sweet & Spicy Pork Belly Glaze:
What you will need:
2/3 Cup High-Quality Honey
1 Stick Unsalted Butter
1/4 Cup Dark Brown Sugar(firmly packed)
3/4 Cup of your favorite BBQ Sauce
2-3 Tbsp Sambal Oelek or Sriracha (add more if you like it hotter!)
2 Tbsp Chili Powder
1 Tbsp Garlic Powder
1/2 Tbsp Onion Powder
1 Tsp Black Pepper
1/2 Tsp Kosher Salt
1/4 Tsp Cumin Powder
1 Tsp Smoked Paprika
1/2 Tsp Ground Ginger Powder
In a saucepan combine all of the glaze ingredients, heating them over medium heat, whisking continually to make sure everything is combined and it doesn't burn.
Toss the pork belly pieces in the sauce, place them into the aluminum pan, and return to the Traeger at 325 degrees for 1 hour. Turn the meat every 30 minutes so that the glaze coats all sides.
After 1 hour, remove the smoked pork belly pieces from the glaze, and reserve the remaining glaze. Place the meat back onto the grill for 10 minutes to set the glaze, and make it good and sticky.
While the smoked pork belly pieces are on the grill, return the remaining reserved glaze to medium-high heat to reduce it by half if it's not already thick. You can use this reduced glaze to brush on the smoked pork belly pieces right before serving them.
Nutrition Facts
Serving size: piece
Servings: 8
Amount per serving
Calories
2377
% Daily Value*
Total Fat 224.9g
288%
Saturated Fat 85g
425%
Cholesterol 314mg
105%
Sodium 511mg
22%
Total Carbohydrate 50g
18%
Dietary Fiber 1.8g
7%
Total Sugars 46.8g
Protein 38.5g
Vitamin D 8mcg
40%
Calcium 28mg
2%
Iron 4mg
20%
Potassium 109mg
2%
If you are preparing the pork belly for an appetizer, simply skewer them with a bamboo skewer, and place them on a plate with the reduced glaze in a bowl at the center of the plate for people to dip the skewers into.
If you are serving the smoked pork belly as a main dish entree, serve it on a bed of jasmine garlic rice or with some flash sauteed gai-lan or baby bok choy.
Finally, if you're going for the amuse bouche style of presentation, serve it on a Chinese tasting spoon, with just a drizzle of the remaining sauce and a couple of fresh chives sprinkled over the top.
How do you like to enjoy your pork belly? Have you tried this recipe? Leave us a comment below!
---
Check out our other recipes, tips & tricks for Easy, Effortless Entertaining from AWG Private Chefs!
About the Author: Certified Master Chef, Sommelier & Wine Educator, Sean Andrade is the executive chef/owner of AWG Private Chefs, named the #1 Private Chef company in California. Chef Sean has worked in the restaurant and hospitality industries worldwide for more than 25 years. His company AWG Private Chefs offers highly custom-tailored, bespoke private chef dining experiences, and private event catering in over 30 countries around the globe.