Last Updated:
May 6, 2021
Best Crispy Air Fryer Chicken Wings Recipe
Super crispy air fryer chicken wings, a quintessential Super Bowl, game day, bar food, pub grub, or just plain I just gotta have 'em comfort food that even the pickiest of eaters will love.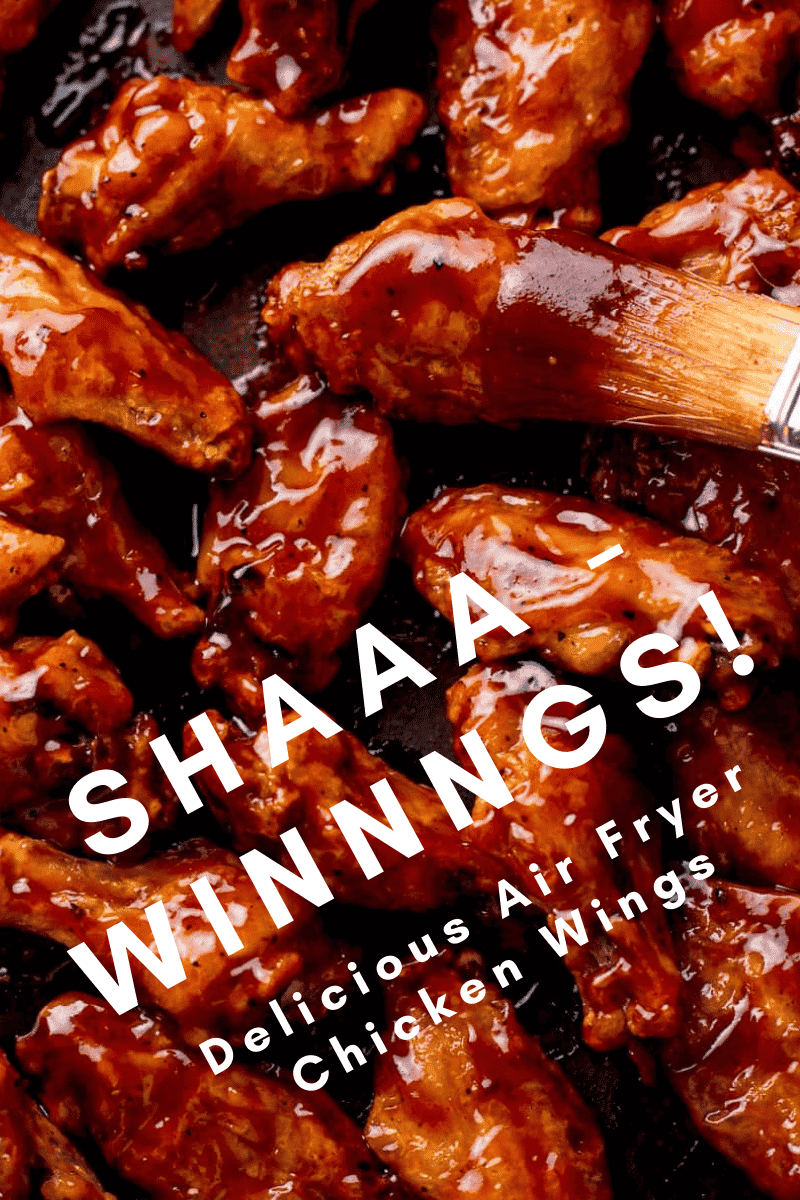 How do I make the best chicken wings in an air fryer?
 Air fryers have become all the rage in home kitchens in the last couple of years. Home cooks are buying air fryers as a way to enjoy air-fried foods without the extra fat and calories. This easy-to-make recipe for air fryer chicken wings will have you shocked that they are so crispy you won't believe that they weren't deep-fried. Who doesn't love crispy air fried chicken wings?
Making chicken wings in an air fryer is super easy. Air fryers can make almost any food you put in them crispy and tasty. Who doesn't love crispy air fryer chicken wings? They are lighter and much more healthy for you.
If you are on a low-carb diet such as Atkins, or the Keto diet, this recipe also works great for you too!
How do I get my air fryer chicken wings extra crispy without frying them in tons of oil?
The secret to the best crispy air fryer chicken wings is baking powder! But there's more to it than that.. so keep reading! Also, there are gluten-free chicken wing options below as well. 
Are Air Fryer Chicken Wings Healthier Than Traditional?  
You bet they are! Air fried chicken is much lighter, and much more healthy for you because it's not covered in wheat flour or excess heavy cooking oils like the chicken wings that you get at your local pub or chicken wing chain restaurant. Cooking chicken wings in an air fryer is lower calorie and lighter than those deep fat fried.
If you are on a low-carb diet such as Atkins, Keto, etc.. this recipe also works great for you too, as chicken wings naturally have some of their own fat. However, you don't need to add extra fat to make really good crispy keto air fryer chicken wings.
Before You Get Started: 
There are a few important things to know about cooking chicken wings in an air fryer:
Never use frozen chicken wings! They won't cook evenly or get crispy enough in an air fryer. Always use thawed or fresh chicken wings!
Use only properly thawed chicken wings (see methods below)
Allow your chicken wings to come up to room temperature for at least 45 minutes but no longer than 90 minutes after thawing, and before air frying.
Always use non-stick cooking spray on the racks or basket of your air fryer to prevent sticking.
Cook the chicken wings in the air fryer in a single layer only. If you have a smaller air fryer work in batches.
How To Properly Thaw Chicken Wings for Air Frying: 
Fridge Method (Preferred Thawing Method):
Thaw your frozen chicken wings in the refrigerator for 24-48 hours before cooking. Make sure to place a rimmed sheet pan under your chicken wings to avoid any meltwater getting everywhere.
Cold Water Thawing Method:
Place your chicken wings in a zip-top freezer bag, along with 2 butter knives in the bottom of the bag to keep the bag from floating. Place into a large bowl of cold water using the displacement method to remove as much as possible from the bag and keep it submerged. Seal the bag and allow a small stream of water to continuously run into the bowl until the wings are fully thawed.
CHEF'S TIP: Do not place the chicken directly in a bowl of water, this will result in soggy chicken wings. If you don't want to deal with the hassle of thawing chicken wings, simply buy fresh chicken wings instead!
Ready to learn how to make chicken wings in an air fryer? It's so easy!
How to Cook Chicken Wings In An Air Fryer: 
Ingredients:
2.5 lbs of Chicken wings (drumettes, flats, or mixed is fine)
1 teaspoon Granulated garlic
1 teaspoon Onion powder
2 teaspoons Baking powder
3/4 teaspoon Kosher salt or sea salt (no iodized table salt please!)
1/2 teaspoon Fresh cracked black pepper
Directions:
Preheat your air fryer to 275 degrees.
Blot your chicken wings with paper towels to remove any excess moisture, a little moisture left behind is ok, but you don't want them soaking wet!
In a large bowl, place the garlic, onion, baking powder, salt & pepper, and stir until well combined. Toss the wings with the dry spice and baking powder mixture until well coated on all sides.
Spray your cooking racks or air fryer basket generously with non-stick cooking spray. Using a pair of tongs, place the wings onto the greased air fryer rack or basket in a single layer. If you have a smaller capacity unit, you will have to cook in batches. Do not overcrowd the air fryer or your wings won't get all nice and crispy!
Place the wings into the air fryer and cook at 275 degrees for 12 minutes.
After cooking for 12 minutes, using a pair of clean tongs turn the wings over, and increase the temperature of your air fryer to as high as it can go, or 425 degrees, whichever is higher.
Continue to air fry the chicken wings for an additional 15-25 minutes or until the chicken wings are done and nice and crispy. You're looking for an internal temperature of at least 165 degrees using an instant-read meat thermometer.
If you are cooking in batches, place the chicken wings on a sheet pan fitted with a rack
Gluten Free Air Fryer Chicken Wings: 
You can make this recipe easily gluten-free by either using Gluten Free Baking Powder or substituting with 1 teaspoon baking soda, and 2 teaspoons cream of tartar.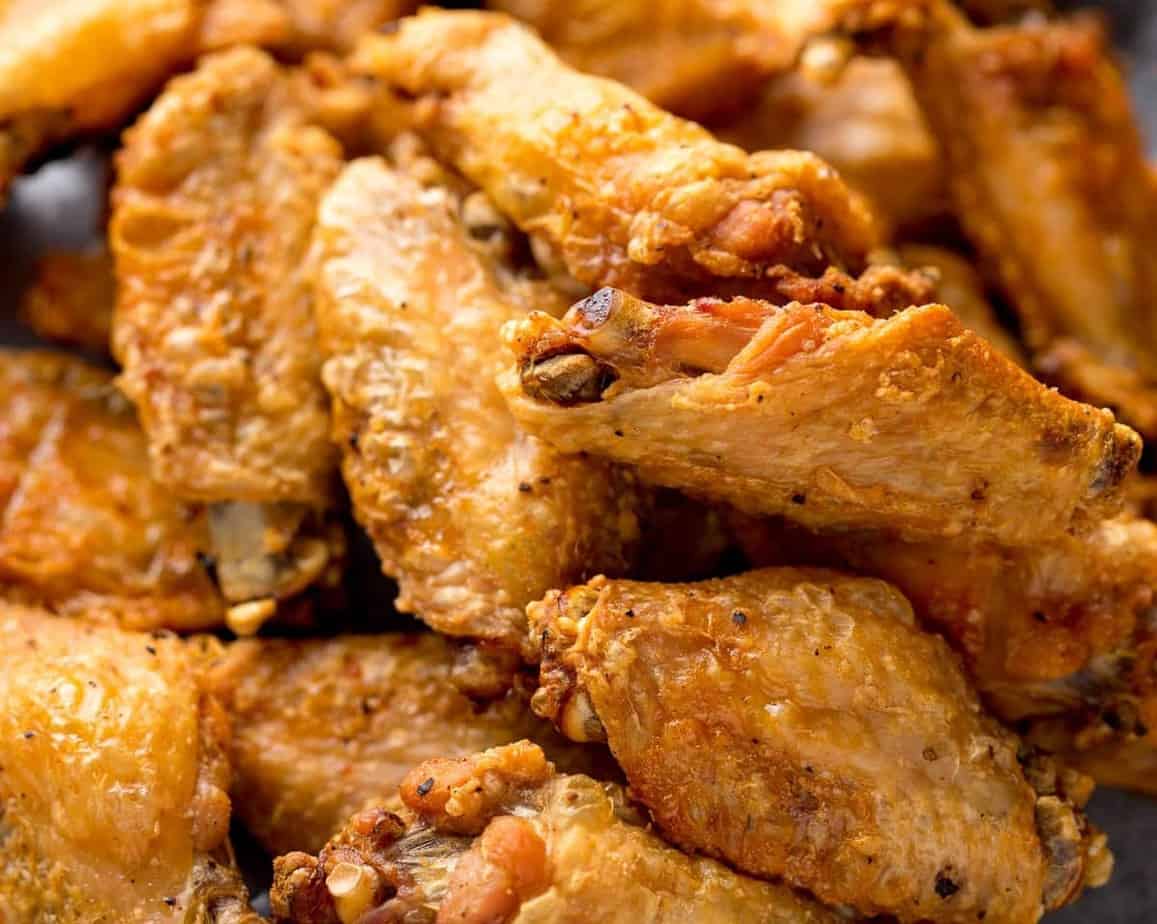 If you are like me and like your chicken wings saucy, transfer your wings straight out of the air fryer into a large, clean bowl, and drizzle with 1/4 cup of your favorite BBQ sauce or marinade.
Suggested Sauces & Flavors for Air Fried Chicken Wing Recipes:
Sriracha Mayo Sauce
Teriyaki Sauce
Thai Sweet Chili Sauce
Classic BBQ Sauce
Ranch Powder Coated Wings
Carolina Gold Mustard Sauce
Old Bay
Taco Seasoning
Paprika Ancho Chili Lime
Buffalo Sauce
Lemon Pepper
Honey Ginger Garlic Sauce
Tequila Lime Glaze
Korean Style Gochujang Glaze
Parmesan Garlic
Jamaican Jerk Spice
Cinnamon & Maple Syrup Drizzle
However you like to enjoy your wings, they will always be crispiest fresh out of the air fryer with minimal delay between air fryer to the table! Always serve chicken wings with chilled carrot and celery sticks, the perfect crunchy side dish, and great for dipping too!
How do you like to enjoy your air fryer chicken wings? Leave us a comment below!
---
Check out our other delicious recipes, tips, and tricks for Easy, Effortless Entertaining from AWG Private Chefs!
---
About the Author: Certified Master Chef, Sommelier & Wine Educator, Sean Andrade is the executive chef/owner of AWG Private Chefs, voted best personal chefs and best caterers in San Francisco, and #1 Private Chef company in California. Chef Sean has worked in the restaurant and hospitality industries worldwide for more than 25 years. AWG Private Chefs offers highly custom-tailored, bespoke private chef dining experiences, and private event catering in over 30 countries around the globe.