Last Updated:
May 24, 2023
Secrets to Amazing Oven Roasted Vegetables
Oven-roasted veggies... The absolute secret flavor weapon you're going to want to use to get your family to eat them. They're a delicious, super healthy, and colorful side dish essential, as an entree on their own for vegans, or perfect to do in large batches if you're meal prepping for the week. It's easy to oven roast vegetables, but using a few of my easy techniques, will ensure you're set up for delicious success. Here's everything you'll want to know about oven roasted vegetables, from cooking temperatures and cook times to seasonings, and more.
Why should I oven roast vegetables?
Oven roasting vegetables is one of my favorite ways to cook them. It's just so darn easy to just toss everything on a baking sheet, slam those puppies in the oven, and then walk away, pour yourself a nice glass of wine, and relax. Only to then return to the most perfect and beautifully browned oven roasted veggies that are flavor-packed, so much more than you would get with blanching, steaming, frying, or pan sautéing them.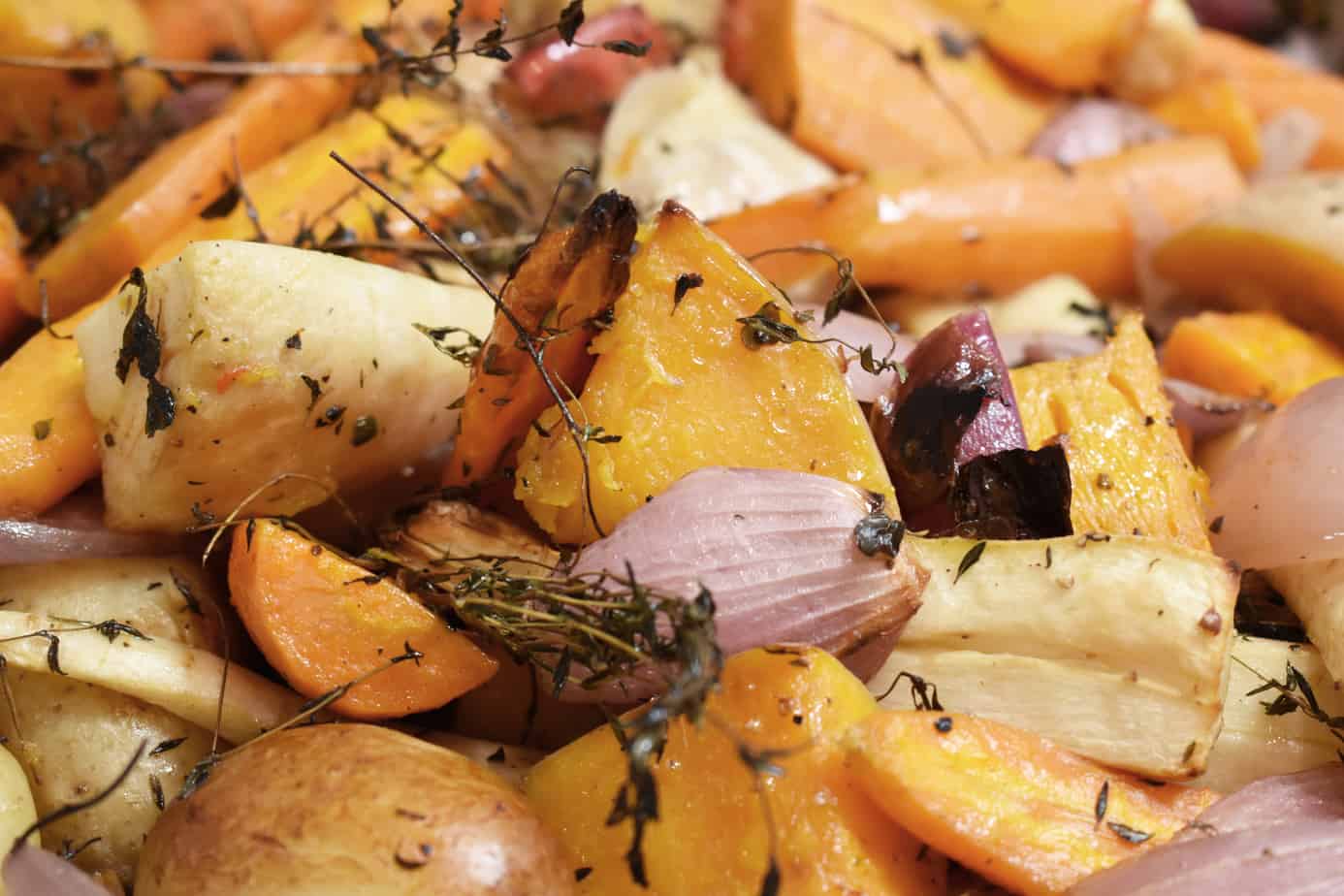 Never Skimp On The Seasonings!
The secret to flavorful oven roasted vegetables is to always use good quality oil, kosher salt, and freshly cracked pepper. These three simple ingredients are truly all the farm-fresh vegetables you really will need to achieve culinary greatness. On a large sheet tray, simply toss your similarly-sized cut veggies with extra virgin olive oil, kosher salt, and fresh cracked black pepper — this is NOT the time to go cheap, generous amounts are essential. The vegetables should be coated on sides with a thin layer of olive oil and well-seasoned in order for them to oven roast properly and taste amazing.
As a general guideline: 1 & 1/2 teaspoons of kosher salt, 3/4 teaspoon of black pepper, and a tablespoon of extra virgin olive oil per 1lb of raw veggies. If you're not prone to using olive oil, try oils such as grape seed, rice bran, peanut, or even a flavored oil such as coconut oil. Temperature-sensitive or finishing oils such as sesame, white truffle, etc.. should be drizzled on after the vegetables finish.
Additionally, you can use herbs and spices to pivot your oven roasted vegetables into more deliciousness by using herbs like thyme, Mexican oregano, dried basil, tarragon, or even something as plain and simple as flat-leaf Italian parsley. Also, try a sprinkle of toasted sesame seeds when your veggies come out of the oven for a mouthfeel boost of nutty flavor and subtle crunch. Try sprinkling on a packet of dry Italian or powdered Ranch salad dressing mix for a huge explosion of flavor.
More Twists on Oven Roasted Vegetable Flavors
Look to flavor profiles like basic granulated garlic, or onion powder. If you want to add more of an international flavor twist, look to spices such as cardamom, berbere, harissa paste, curry powder, gochujang, or even a simple sprinkle of nutmeg or cinnamon or a few grates of fresh ginger. For something "new and completely different" try using everything bagel spice blend. Try and drizzle your veggies with a dash of good balsamic vinegar, white balsamic, or a glug of fresh-squeezed citrus juice such as blood orange, lime, or Meyer lemon juice for a bright and zesty pivot to flavor town.
Mustard Roasted Vegetables
Mustard is one of those things that simply has a special balance of pungent flavor and acidic bite that can really make virtually any kind of vegetable flavor pop. Tossing your vegetables with just a spoonful of Dijon mustard, whole grain, deli, spicy brown, or honey mustard, along with olive oil, is simply delicious.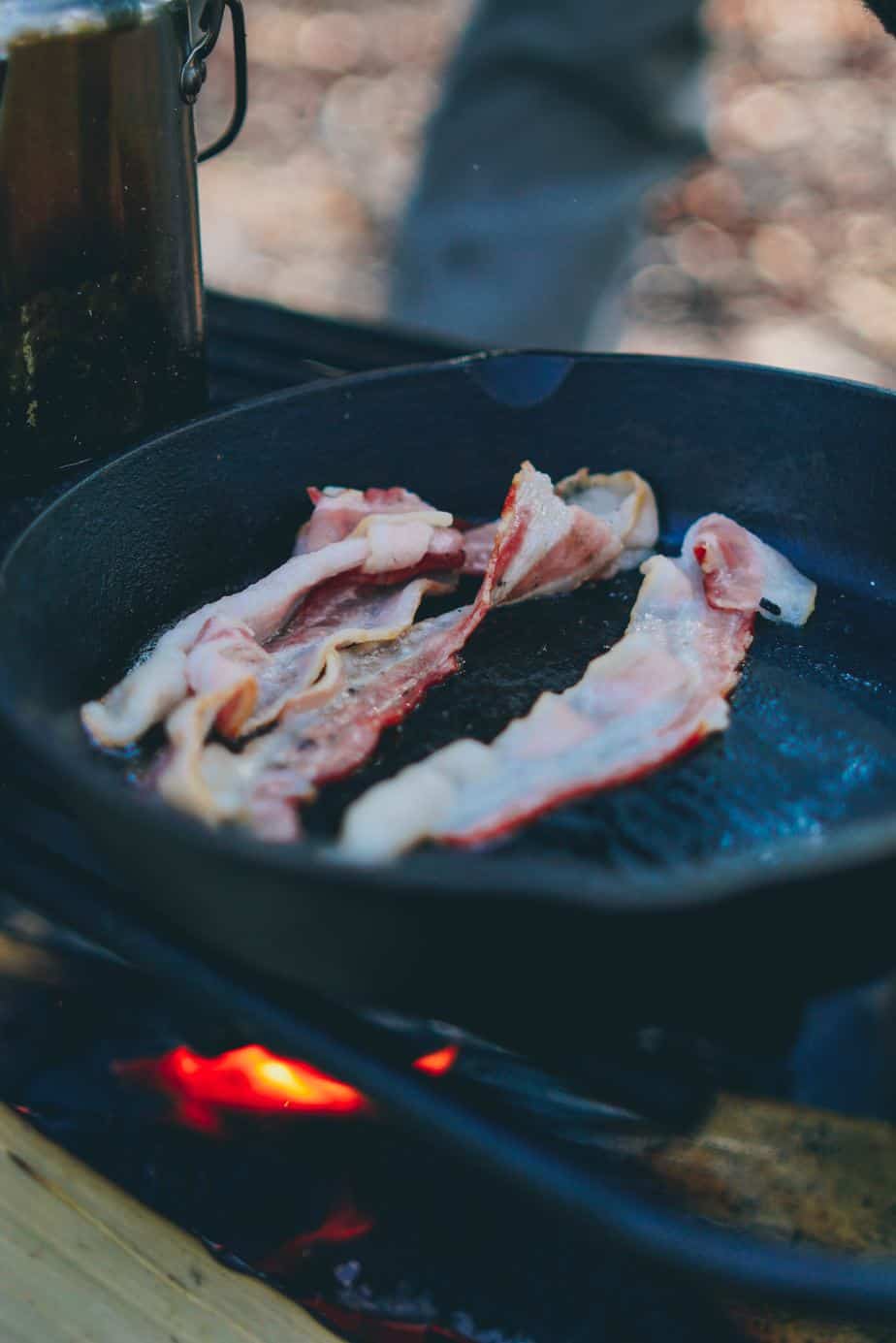 Bacon Roasted Vegetables
Bacon, the smoky and delicious piggy goodness, that is the all mighty bacon! Simply chop some bacon up, toss onto the sheet tray with your vegetables, and roast them all together. The rendered bacon fat helps the vegetable brown better. Everything then gets a smoky, salty flavor; and you'll end up the most delicious crispy bacon bits to enjoy, as well. Alternatively, if you don't have any bacon laying around, you can always use just your saved bacon fat instead of oil, to coat your vegetables before roasting.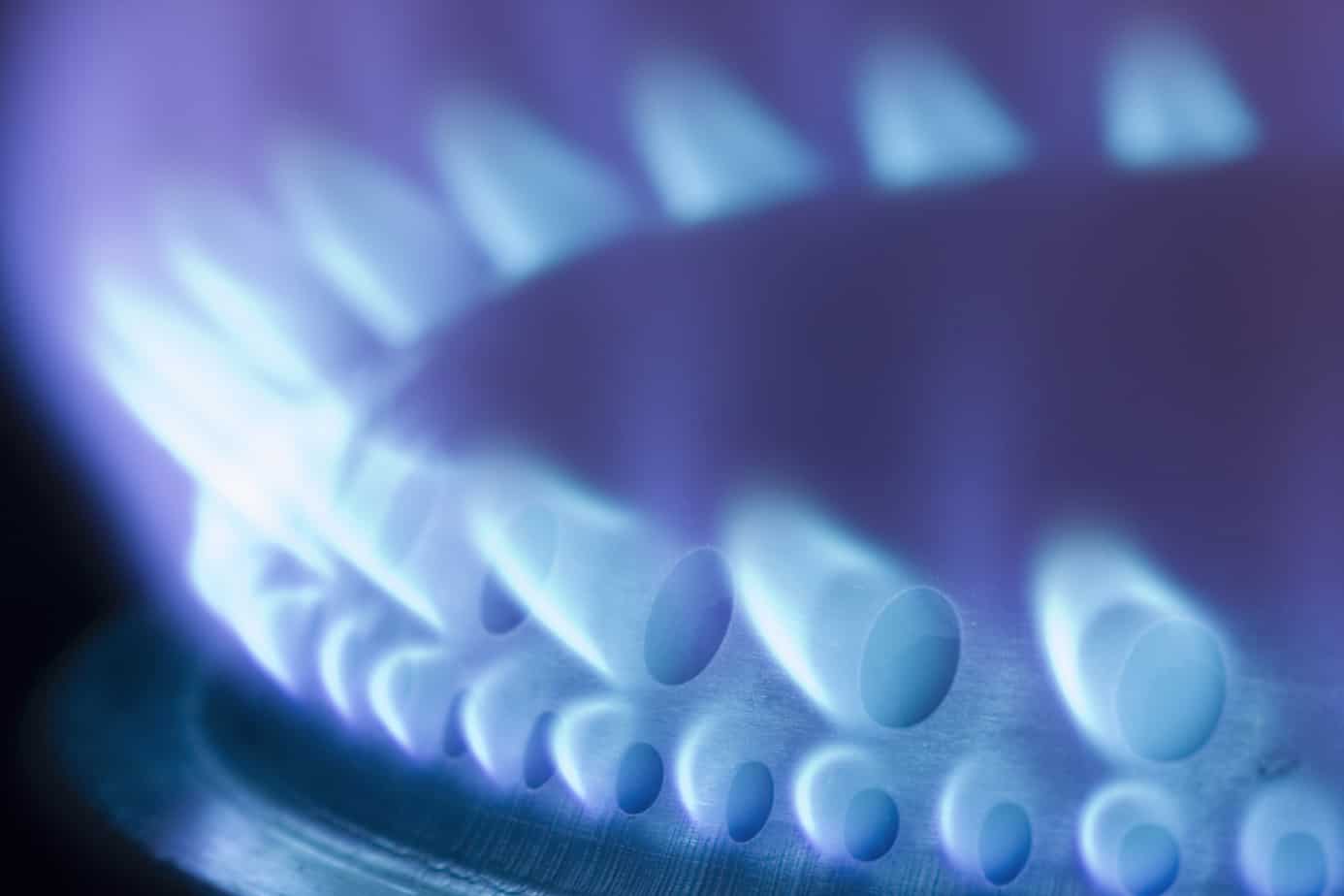 High Roasting Temperature For Vegetables Is Absolutely Essential!
When you're oven roasting vegetables, the absolute, hands down, number one thing you must have is HIGH TEMPERATURES! Vegetables contain naturally-occurring sugars, and the secret to getting those sugars to release their flavorful magic is to cause the Maillard Reaction, or get those natural sugars to caramelize, or brown.
A common mistake that most home cooks make is to roast their vegetables at what I like to call "common oven temperatures", ie: 325 or 350 degrees F. These temperatures are too low, and will simply cause the moisture to slowly evaporate in your vegetables, In essence causing the vegetables to steam, instead of developing great flavor and caramelize.
A good temperature to roast your vegetables in the oven at is 400 degrees convection roast (fan), or 425 degrees F in a conventional (non-fan) oven. Sometimes if the vegetables are dense and fibrous, such as sweet potatoes, adding an additional 25 degrees will be magical!
If you prefer your vegetables more on the crispy side, then by all means make 425 degrees F your defacto standard for roasting. What you're ultimate goal is, is that they are caramelized, not burned, fully cooked, or even tender-crisp. (Whatever your personal taste desires!)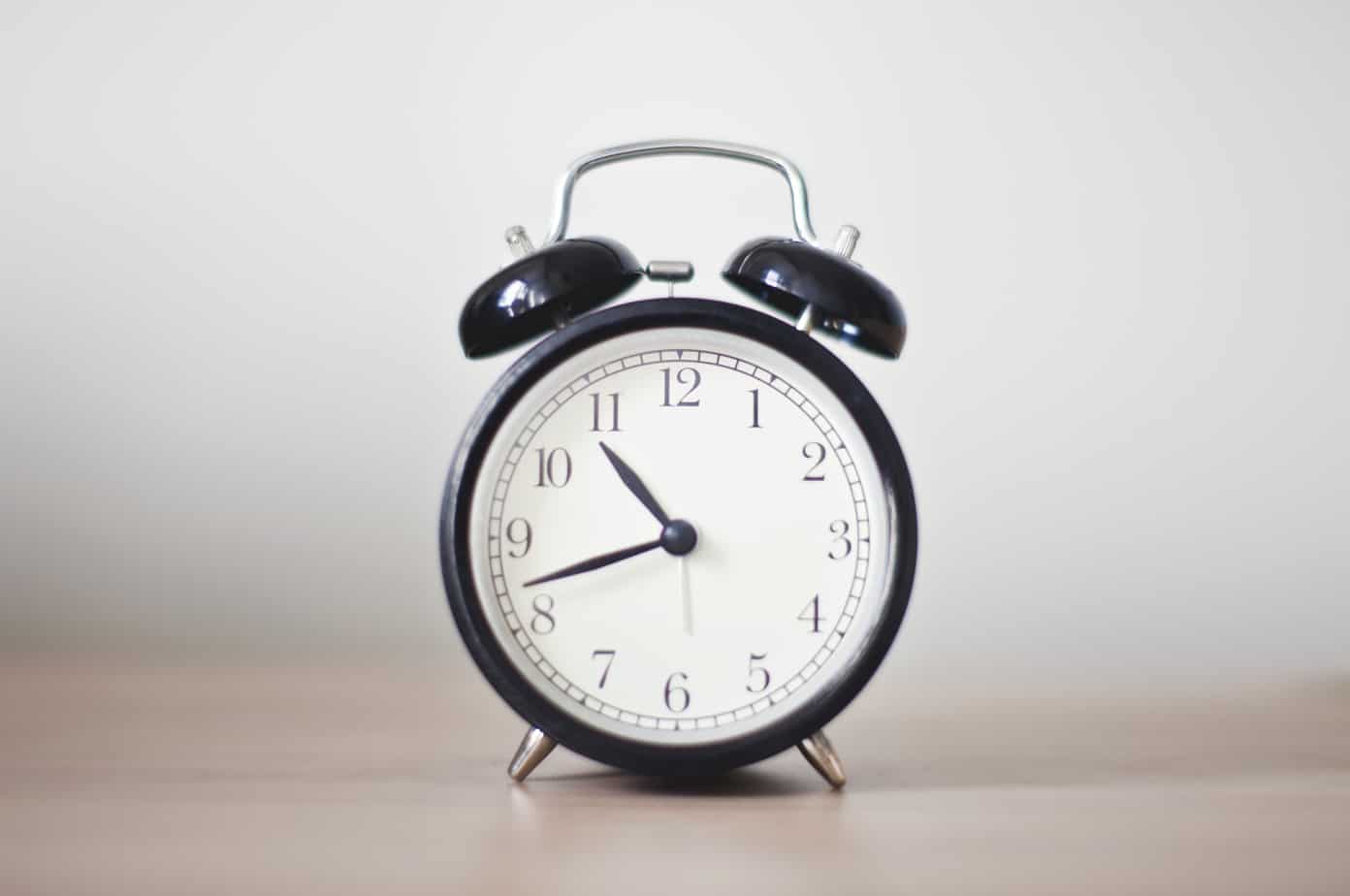 How Long Do I Oven Roast Vegetables For?
All veggies have different densities and cooking times. A great trick if you are roasting the same type of vegetable (ie: carrots, sweet potatoes, etc) is to cut them all so that they are generally the same size and thickness. This will promote the most even cooking. Firm and dense vegetables like potatoes, carrots, butternut squash, kohlrabi, etc... will take longer to roast than something more tender like an onion, fennel, asparagus, or zucchini.
Suggested Vegetable Roasting Times:
Tender, or thin vegetables, (Green Onions, Fennel, Peppers, Asparagus) 8-12 minutes
High Moisture Vegetables (Tomatoes, Eggplant, etc) 15-22 minutes
Tender squash (Zucchini, Summer Squash, Patty Pans) 15-25 minutes
Cruciferous Vegetables (Brussels Sprouts, Broccoli, Cauliflower) 15-25 minutes
Root Vegetables (Potatoes, Yams, Beets, Turnips) 20-35 minutes
Halved Squashes (Acorn, Spaghetti, Butternut) 30-45 minutes
( Due to the varying heat and/or fan performance your cooking times may vary. )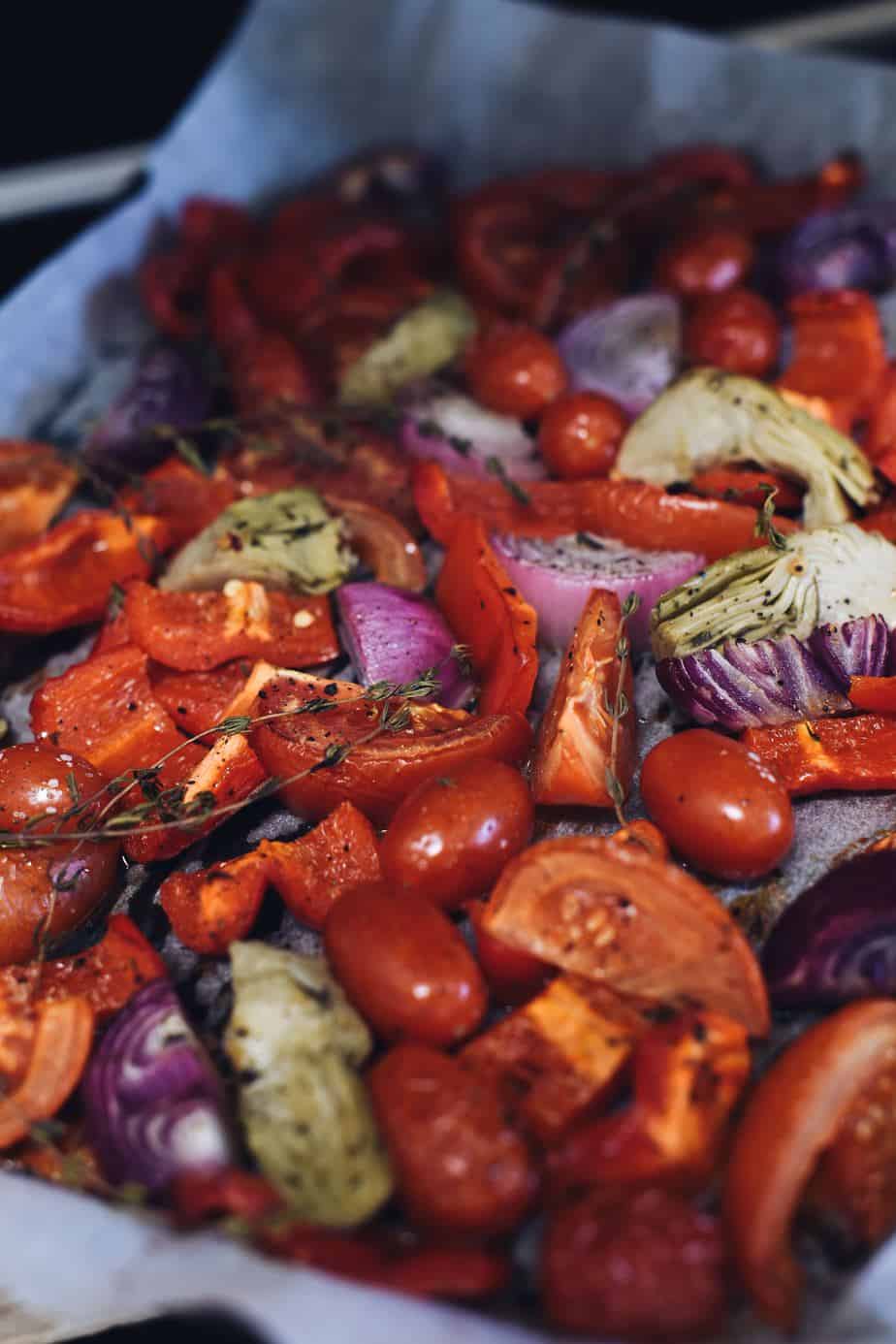 Don't forget the cheese!
Ahh, cheese! Cheese makes everything better don't you think? Toss your nearly finished roasting veggies with a fresh finely grated Parmesan, (this is not the same as that garbage in a shaker bottle), then stick them back in the oven for just a few moments to melt the cheese. Also try things such as a crumble of Greek feta cheese, or a few gobs of fresh & tangy French goat cheese over the veggies. You'll want to avoid processed cheeses entirely as you don't want an oily mess and soggy vegetables.
Whatever vegetables you choose to oven roast! Enjoy & Happy Cooking!
---
Check out our other recipes, tips & tricks for Easy, Effortless, Entertaining from AWG Private Chefs! 
About the Author: Certified Master Chef, Sommelier & Wine Educator, Sean Andrade is the executive chef/owner of AWG Private Chefs, named the #1 Private Chef company in California. Chef Sean has worked in the restaurant and hospitality industries worldwide for more than 25 years. His company AWG Private Chefs offers highly custom-tailored, bespoke private chef dining experiences, and private event catering in over 30 countries around the globe.