Last Updated:
May 11, 2023
Decadent Dairy Free Roasted Pumpkin Soup Recipe
As cooler weather descends upon us and temperatures begin to drop. I always love to dig out my fall and winter comfort food and soup recipes. When the leaves on the trees just begin to change colors, you know that fall foodie ingredient season is about to begin, so let's get cooking!
Let Me Introduce You To My Favorite Pumpkin Soup Recipe!
The secret to the rich creaminess in this easy-to-make vegan, gluten-free, dairy-free, roasted pumpkin soup recipe comes from the use of coconut milk. If you wish to skip the coconut milk, you can always substitute it for regular heavy cream as well. This hearty fall or winter soup recipe can be used either as part of the main course, paired with your favorite gourmet grilled cheese, or hoagie, even alongside your Thanksgiving leftover turkey sandwich, or even with a gorgeous organic green salad.
Chef's Tip:
As with any soup, it will always taste better the next day after flavors have had a chance to meld together, making this roasted pumpkin soup recipe great for meal prep or make-ahead meals!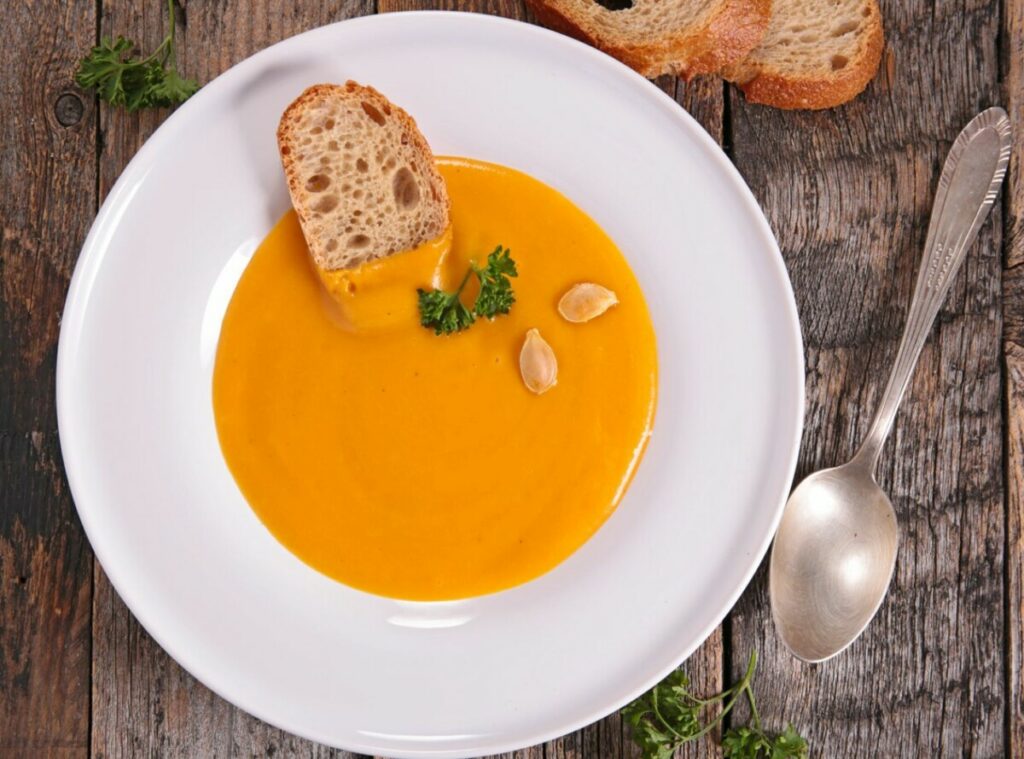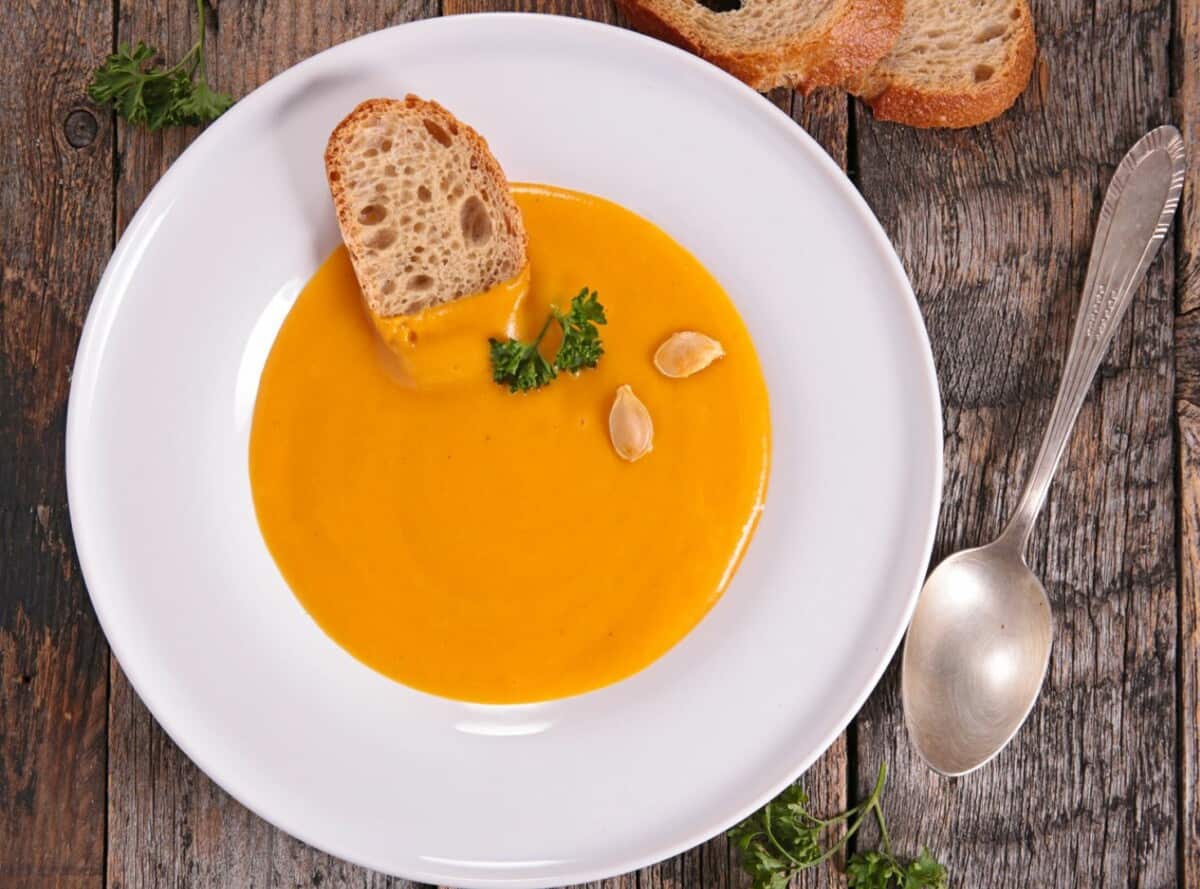 Using Roasted Fresh Pumpkin:
For this recipe, I'm utilizing fresh organic pumpkins in lieu of canned pumpkin. I just find that when you oven-roast the pumpkin yourself you get a much better tasting soup recipe both in texture and flavors. So please, whenever possible, always try to utilize fresh pumpkins. If you're absolutely in a pinch and can't roast the fresh pumpkin, then make sure that you utilize only a well-drained canned pumpkin puree and not pumpkin pie filling. There's a huge difference between the two!
How to Oven Roast Fresh Pumpkin:
Preheat your oven to 425 degrees conventional, or 400 degrees convection roast.
Line a rimmed sheet tray with aluminum foil, and spray generously with your favorite nonstick cooking spray.
Slice the pumpkin into 6-8 large slices.
Discard the stems, scoop out the seeds, and discard any extra stringy pumpkin flesh.
Using a silicone pastry brush, apply approximately 1 tablespoon of extra virgin olive oil over the entire orange pumpkin flesh, and place skin side up on the baking sheet.
Roast in the oven for 40-55 minutes or until the pumpkin is fork-tender with very little resistance. Set aside pumpkin pieces on a cooling rack.
Ingredients For Dairy Free Roasted Pumpkin Soup Recipe:
5 Large Garlic Cloves, minced or pressed
4 Tablespoons Extra Virgin Olive Oil
1 4-5lb Fresh Organic Sugar Pie Pumpkin
1 Large Sweet Maui or Vidalia Onion, chopped
1/2 Teaspoon Ground Saigon Cinnamon
Pumpkin Seeds (removed from pumpkin earlier)
1 Teaspoon Kosher Salt (more to taste if needed)
1/2 Teaspoon White Pepper, Ground
1/2 Teaspoon Ground Nutmeg
1/8 Teaspoon Ground Cloves
1/8 Teaspoon Ground Cardamon
1 Quart Roasted Vegetable Stock (or chicken stock if desired)
1.5 Tablespoons Grade B Maple Syrup
1 Tablespoon Bourbon Whiskey (if omitted, increase the maple syrup to 2.5 TBSP)
1 Pinch of Cayenne Pepper (optionally use more or less to taste)
2/3 cup Coconut Milk or Heavy Cream
How To Prepare Dairy Free Pumpkin Soup Recipe:
In a heavy bottomed dutch oven or stock pot, heat 3 tablespoons of extra virgin olive oil over medium-high heat. The oil will be hot enough when it dances or shimmers in the bottom of the pan. Add in onions and kosher salt, and stir to coat the onions in oil.
Reduce the temperature to medium flame, and cook the onions, stirring occasionally for 8-11 minutes or until the onions are soft and translucent.
Add in the garlic, stir, and continue cooking for another 2-3 minutes.
While the garlic is cooking, peel and discard the skin from the oven-roasted pumpkin.
Add the cardamom, nutmeg, cinnamon, cayenne pepper, cloves, and white pepper, to the onions and stir until well coated. Cook for 1 minute.
Add in the roasted pumpkin, using a wooden spoon to break up larger pieces into chunks.
Add in the stock, stir, and raise the heat to high.
Bring the mixture to a full boil, then immediately reduce the heat to simmer and cover. Cook for 15 minutes, stirring every 3-5 minutes.
In a dry non-stick skillet over medium heat, toast the pumpkin seeds you earlier rescued from the interior of the pumpkin. Toast until golden brown. Pay extra care to make sure to keep the seeds moving in the pan by shaking or stirring, until fragrant and golden brown so as to not burn them. Once toasted, transfer them to a paper towel to cool.
After the soup has simmered for 15 minutes, stir in the bourbon, maple syrup, and coconut milk. Remove the pot from the heat.
Using an immersion (stick) blender, (or a regular countertop blender in smaller batches) puree the soup until smooth and velvety.
When ready to serve, garnish the dairy free roasted pumpkin soup with pan toasted pumpkin seeds.
Additional Tips & Recipe Variations:
If you are making this pumpkin soup recipe ahead, let the soup rest at room temperature for 1.5 hours, stirring frequently to help it cool. Then transfer to a heat-proof bowl and cover with plastic wrap and refrigerate.
This soup can last for up to 3 days when refrigerated. Freeze for up to 2 months.
Adding in 1/4 teaspoon of fresh bourbon and 1 teaspoon of freshly squeezed lemon juice right before serving, will give a pop of freshness if the soup has been previously made ahead.
For a richer Middle Eastern twist to this dairy-free pumpkin soup recipe, add a tablespoon of freshly grated ginger when adding in the onions.
Sugar pie pumpkins are a different species of pumpkin that are made for eating. They are not the same type of pumpkin that are traditionally used as Halloween jack-o-lanterns.
I hope you enjoy cooking this delicious and easy-to-make gluten-free pumpkin soup recipe! Drop us a comment and let us know how it turned out or if you have any questions or suggestions! We'd love to hear from you.
---
Check out our other delicious recipes, tips & tricks for Easy, Effortless, Entertaining from AWG Private Chefs!
About the Author: Certified Master Chef, Sommelier & Wine Educator, Sean Andrade is the executive chef/owner of AWG Private Chefs, named the #1 Private Chef company in California. Chef Sean has worked in the restaurant and hospitality industries worldwide for more than 25 years. His company AWG Private Chefs offers highly custom-tailored, bespoke private chef dining experiences, and private event catering in over 30 countries around the globe.