Last Updated:
May 24, 2023
Delicious Winter Wonderland Egg Nog Recipe
Welcome to the Nog Blog! (Sorry, I really couldn't resist!)
To nog, or not to nog, why is that even a darn question? Nog of course! Egg nog is one of the classic cocktails that just oozes the holiday season. This easy to prepare recipe for my Winter Wonderland Egg Nog Recipe is always a hit at parties! It can be enjoyed warm or chilled, served straight up in a frozen martini glass! If you're entertaining a large crowd, you can scale this recipe up beautifully. You may also store it in the fridge for up to 3 days.
Forget the premade stuff at the grocery! This homemade eggnog recipe is truly what dreams are made of! If you've ever thought you didn't like egg nog before, you'll just have to take my word for it, and make it from scratch instead! This eggnog recipe is thick, sweet, creamy, and smooth, with the perfect balance of flavor and spice.
However, you choose to enjoy your egg nog, fondest wishes for a very happy holiday season!!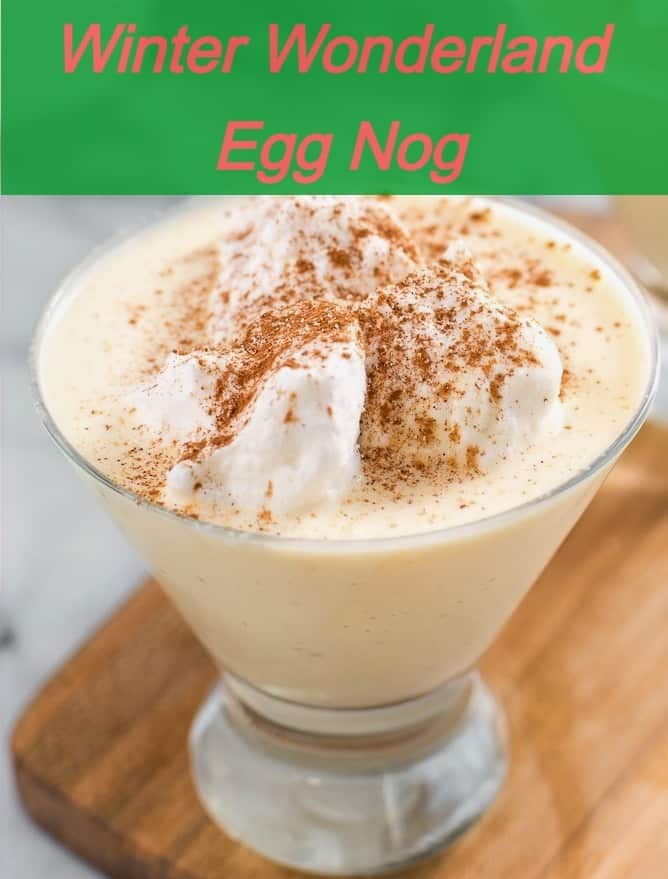 Egg Nog Recipe Ingredients:
1 Pint Whole Milk
1/3 Cup White Sugar plus 1 Tablespoon
2 Tablespoons Light Brown Sugar
4 Organic Egg Yolks
1 Cup Heavy Cream (40% fat or higher)
1 Teaspoon Fresh Ground Nutmeg
Small Pinch of Ground Cloves
1/8th teaspoon Kosher Salt
Booze (see the booze section below for ideas, or omit the booze making it kid-friendly)
How to Make Egg Nog:
Using either an electric hand mixer or a stand mixer fitted with the whisk attachment, add in your egg yolks and whisk for 1-3 minutes or until pale yellow. Add in the brown sugar, and continue mixing for another 30 seconds, then slowly add in the white sugar and salt. Whisk until the sugar and salt are completely dissolved.
In a medium saucepan over medium heat, combine the whole milk, heavy cream, nutmeg, and cloves. Heat the mixture, stirring occasionally until the milk comes just below a boil. Then immediately remove from the heat.
Add a cup of the hot liquid mixture at a time to the eggs and whisk on low to temper the egg yolks, do not add the hot mixture too fast, or you will end up with egg nog flavored scrambled eggs.
Once the hot liquid is completely incorporated into the egg yolks, return the entire mixture to the stovetop and cook the mixture over medium-low heat, whisking continuously until it reaches 160 degrees F, the mixture will thicken and eventually coat the back of a spoon. Once the mixture reaches 160 degrees, remove from the heat and stir in the booze.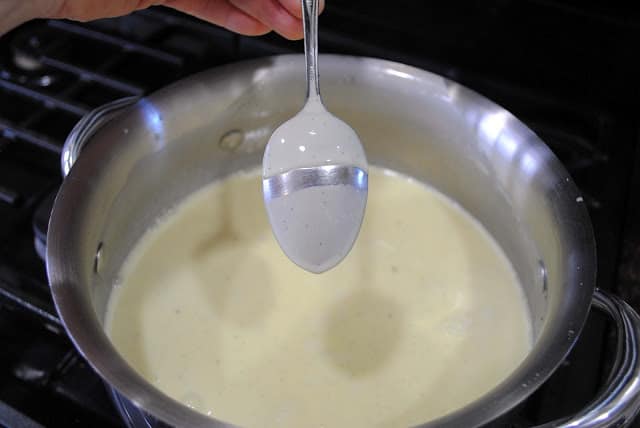 It's Always Better with Booze!
Options for adding in booze for Adult's Only Boozy Egg Nog Recipe:
3 Tablespoons of your favorite Bourbon for "Classic Egg Nog"
2 Tablespoons of brandy and 1 of White Creme de Menthe for a "Snuggler Nog"
3 Tablespoons of Cognac and 1/2 teaspoon of cocoa powder for a "Paris Kiss Nog"
2 Tablespoons of Godiva White Chocolate Liqueur & 1 Tablespoon of Kahlua for a "White Mocha Nog"
2 Tablespoons of Godiva White Chocolate Liqueur, 1 Tablespoon of Kahlua, 1 Tablespoon of White Creme de Menthe for a "White Peppermint Mocha Nog"
3 Tablespoons Scotch Whiskey for a "Scotch Nog"
3 Tablespoons Irish Whiskey for an "Irish Nog"
2 Tablespoons Kahlua, 1 Tablespoon Vodka for a "White Russian Nog"
3 Tablespoons White Rum for a "Caribbean Nog"
3 Tablespoons White Rum, 1/4 cup Pineapple Juice for a "Mai Tai Nog"
By all means, adjust the quantity of booze to your liking, or add none at all if you're into that sort of thing! Please remember to always drink responsibly, and never drink and drive!
---
Check out our other recipes, tips & tricks for Easy, Effortless, Entertaining from AWG Private Chefs!
About the Author: Certified Master Chef, Sommelier & Wine Educator, Sean Andrade is the executive chef/owner of AWG Private Chefs, named the #1 Private Chef company in California. Chef Sean has worked in the restaurant and hospitality industries worldwide for more than 25 years. His company AWG Private Chefs offers highly custom-tailored, bespoke private chef dining experiences, and private event catering in over 30 countries around the globe.