Last Updated:
August 6, 2022
Simple Dark Chocolate Mole Recipe
Mole sauce, that mystical delicious dark spicy sauce that just makes your taste buds sit up and take notice. But how complicated is it to make? It's not!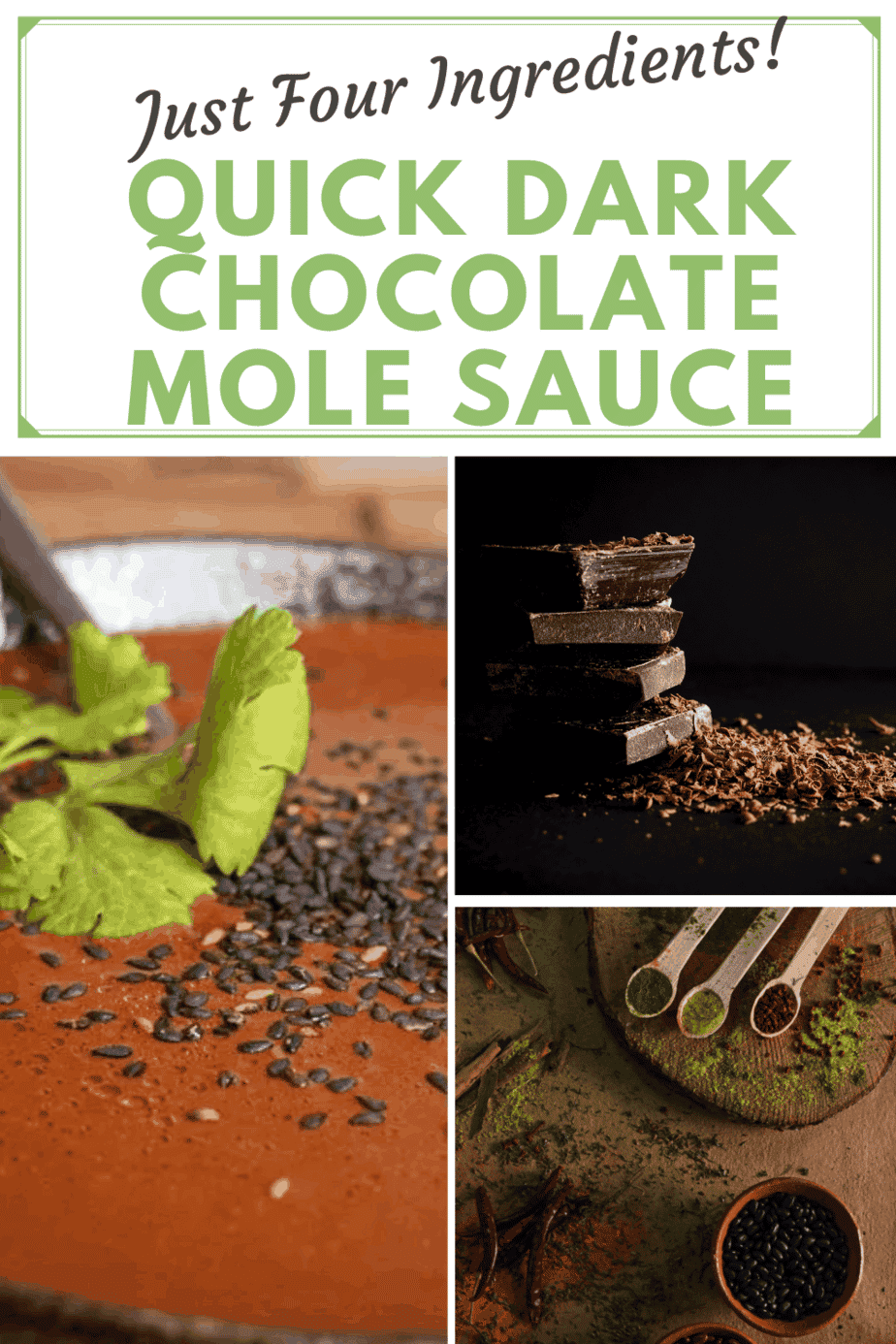 What is mole sauce?
Mole (pronounced MOH-lay) comes from the Aztec word "molli" which loosely translates to the word "mixture". Mole is a sort of all-encompassing term that brings Mexican ingredients together in a hugely deep flavor profile. While there are a ton of different mole recipes out there with lists of ingredients a mile long utilizing things like nuts, chilies, chocolate cacao nibs, spices, etc.
When I make traditional Mexican mole, it's a viscus, concentrated, slow-simmered for hours, if not days, to produce its signature richly perfumed with flavored back notes of chili, spices, and chocolate. Most people at home don't have the time or patience to create a traditional mole. However, never fear! I've developed this quick, time-saving, and to easy prepare dark chocolate mole recipe for you that utilizes ingredients you've most likely already have in your home pantry, or if not, can easily be found at your local grocery store. No need for a trip to the specialty markets for this one! The best part? It's ready in under 30 minutes!
Simple Four Ingredient Dark Chocolate Mole Sauce
4oz of Premium Dark Chocolate (72% or higher is preferred)
2 tablespoons Creamy, All Natural No Sugar Added Peanut Butter (think nothing more than ground peanuts in a jar)
1 & 1/4 Tablespoons Dark Chili Powder
1 28oz can Mild Red Enchilada Sauce
How to Prepare Simple Dark Chocolate Mole Sauce:
Whisk all ingredients together into a medium saucepan. Place onto medium heat for approximately 5-10 minutes until the mole begins to bubble. Turn the heat down to a low simmer, and continue whisking every few minutes. Simmer for another 15-20 minutes.
Now wasn't that easy?
---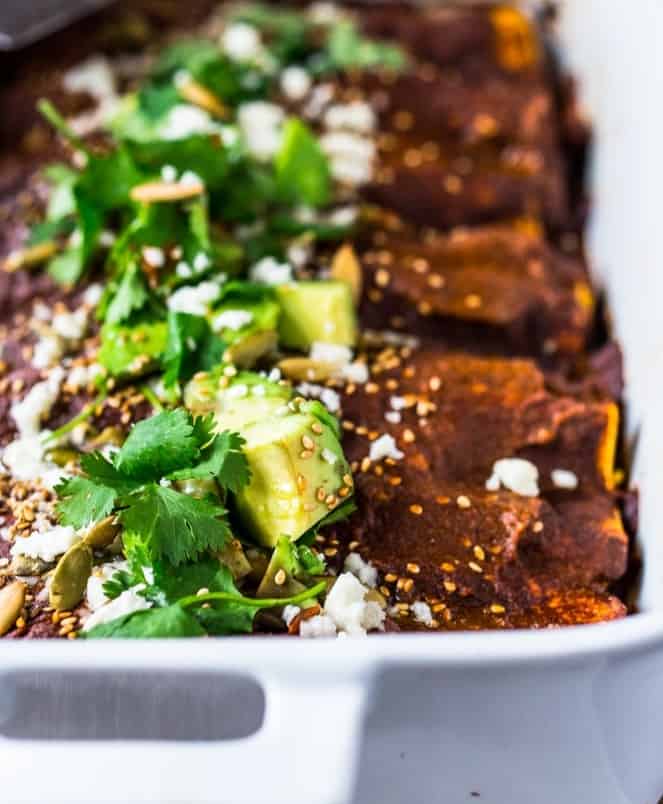 Quick & Easy Chicken Mole Enchiladas Recipe
Ingredients for Chicken Mole Enchiladas:
12 6-inch corn tortillas, warmed
2 1/2 cups shredded rotisserie chicken
2 cups Monterey jack or pepper jack cheese, shredded
1 1/2 cups low moisture mozzarella cheese, shredded
1/2 cup Mexican queso fresco
1 large organic avocado, sliced
1 teaspoon toasted white sesame seeds
Chopped cilantro to garnish (optional)
How to Prepare Chicken Mole Enchiladas:
Wrap the tortillas in a damp paper towel, and microwave on high for approximately 30-45 seconds until the tortillas are slightly warm and soft.
In a large bowl, place the shredded chicken, jack and mozzarella cheeses, and 3/4 cup of the mole sauce. Mix together gently to not break up the chicken too much, until well combined.
Fill each of the tortillas with approximately 1/4 to 1/3 cup of the filling mixture. Tenderly roll the tortillas as to not break them, and place them seam side down in a 9 x 13 ceramic or glass greased baking pan.
Pour the remainder of the mole sauce over the top of the enchiladas, distributing it evenly to coat.
Cover with heavy-duty aluminum foil and bake at 350 degrees for 20-25 minutes or until everything is hot.
Remove foil cover, and top with queso fresco crumbles.
To plate: Top enchiladas with sliced organic avocado, sprinkle on toasted sesame seeds & garnish with optional chopped cilantro.
Enjoy!
---
Check out our other recipes, tips & tricks for easy, effortless, entertaining from AWG Private Chefs!
---
About the Author:
Certified Master Chef Sean Andrade is the executive chef/owner of AWG Private Chefs, named the #1 Private Chef company in California. Chef Sean has worked in the restaurant and hospitality industries worldwide for more than 25 years. His company AWG Private Chefs offers highly custom-tailored, bespoke private chef dining experiences, and private event catering in over 30 countries around the globe.