Last Updated:
September 24, 2021
How to Make Easy Perfect Potatoes
Turn the modest potato into a rockstar side dish that everyone will be begging for more with our simple, easy tips on how to make easy perfect potatoes, every time!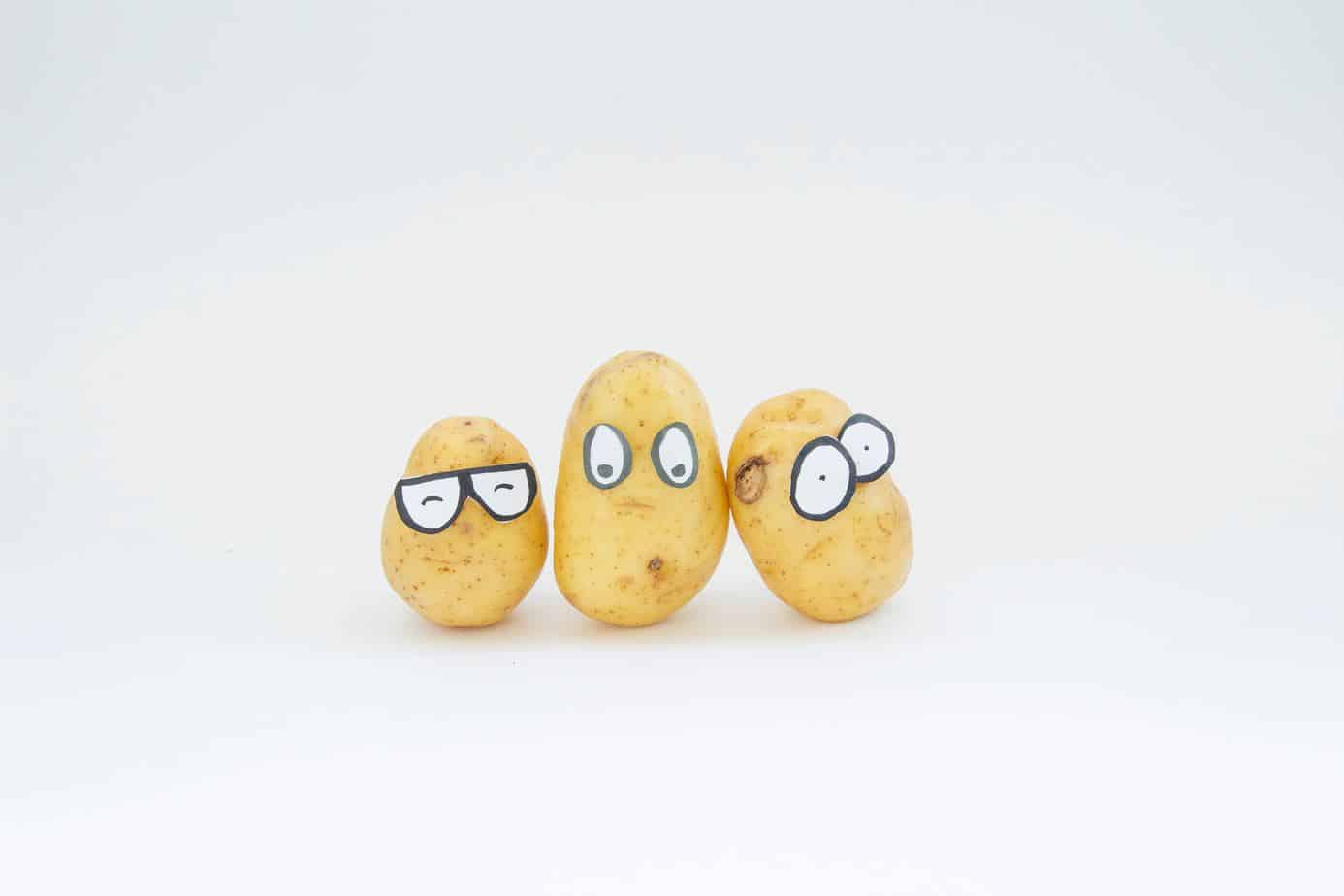 Perfectly Crispy Skillet Potatoes
Side dishes don't have to be elaborate, require a bunch of pans, or hours of daunting prep work to be made. Potatoes and more specifically this recipe for crispy skillet potatoes are easy to prepare and so delicious.
There is something to be said about the amazingness of something so simple as a crispy golden brown crunchy exterior with the buttery, pillowy soft interior of a perfectly pan-fried potato. With just a few simple ingredients, you can easily transform that plain spud into a work of art for your tastebuds.
Using fresh herbs is a must when making skillet potatoes. The freshness of the herbs is what gives the potatoes that extra pop and brightness in the flavor profile. Rosemary is a classic herb match for potatoes, but I prefer to use thyme.
How to Make Crispy Potatoes Without Deep Frying
If you're like my better half, potatoes are always the most requested side dish whenever dinner menus are discussed, often followed by the comment of "I would sell my soul for a lifetime supply of potatoes." They are a versatile accompaniment to almost any dish and can be flavored to complement virtually any style of cuisine you may be having.
Making crispy pan-fried skillet potatoes is one of the simplest ways to get the potatoes crispy without drowning them in oil by deep-frying, boiling them in water, or having to fire up the oven. Toss them in the pan, let them cook, and pour yourself a nice glass of wine while the magic happens inside the skillet.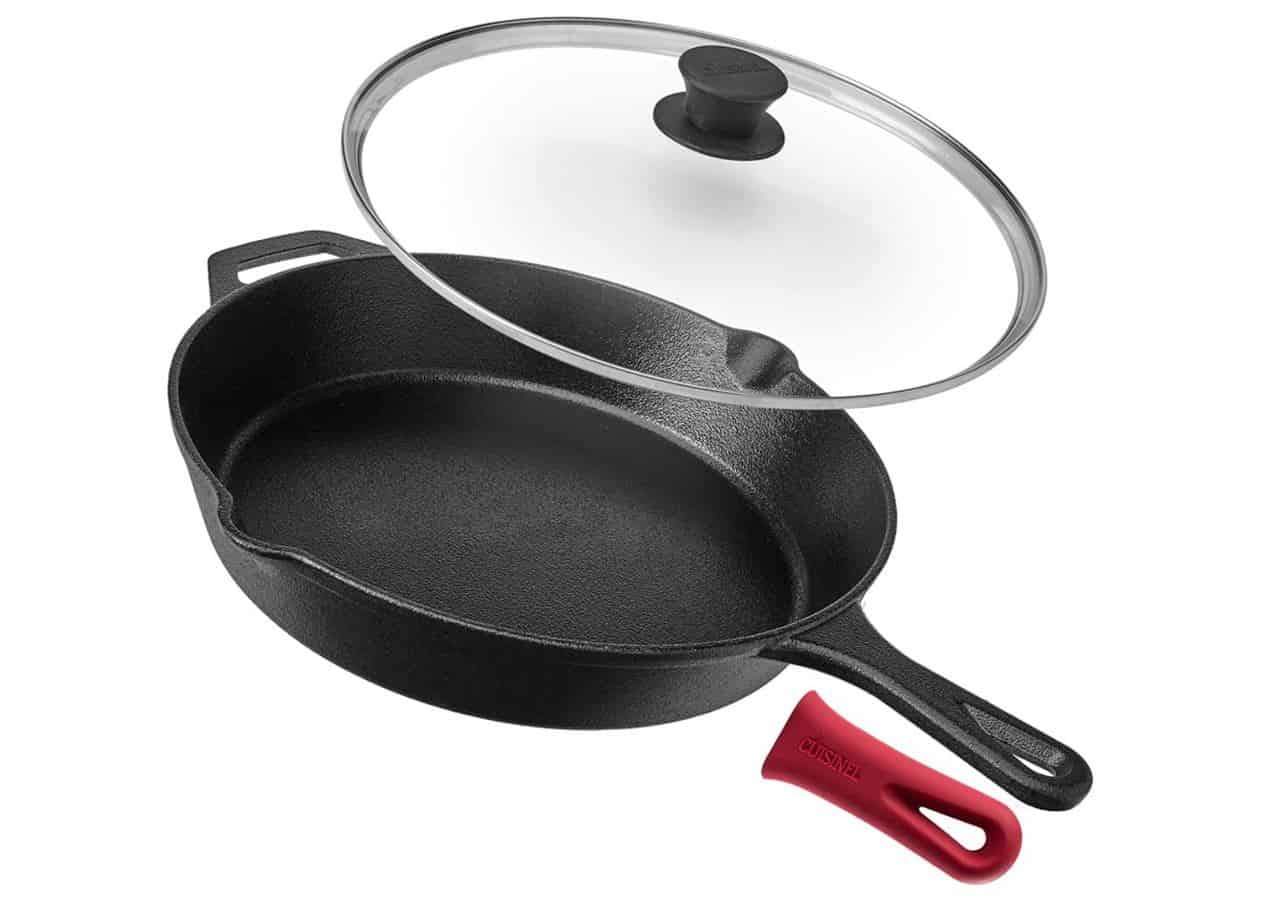 It's Simple To Make Easy Perfect Potatoes That Are Crispy: It's All About The Skillet!
When making this crispy skillet potato recipe, the most important secret to the potatoes getting that perfectly crunchy golden brown exterior and fluffy cloud-like interior is the pan you choose to cook them in.
The best pan for the job is a 10 inch cast iron skillet with a lid. Cast iron pans retain heat incredibly well, heat evenly over the entire cooking surface, and produce the ability to brown food beautifully. Having a cast iron skillet with a tight-fitting lid allows you to effectively steam and brown the potatoes at the same time.
In general, a 10-inch skillet will hold about 1 to 1 1/4 pounds of potatoes, which is enough to feed 3-4 people. If you have a larger family or are my better half who can't seem to get enough potatoes, then using a 12 inch cast iron skillet with a lid would be perfect for you.
Chef's Note: This recipe is not designed for use with non-stick cookware. So please leave the teflon non-stick, aluminum, or other lightweight cookware in the cabinet for this one. It's time to do the heavy lifting, and drag out the cast iron.
Preheat + Patience = Perfection

Chef Sean Andrade
Whenever cooking with cast iron, you must always preheat the pan for a minimum of 5 to 10 minutes. When the potatoes hit the pan, you want them to immediately sizzle. If they don't sizzle straight away, you've not let the pan heat long enough. Once the potatoes go in, it's super important that you resist the primal urge to move them or to lift the lid to check to see how things are going. Trust me, they are fine and don't need constant movement or turning.
Ingredients for Perfectly Crispy Skillet Potatoes
2 Tablespoons Grapeseed Oil
1 1/4 Teaspoons Kosher Salt
1/2 Teaspoon Black Pepper, Freshly Cracked
1 1/4 Teaspoons Fresh Thyme Leaves
1 Tablespoon Unsalted Butter
1 pound Organic Red or Yukon Gold Potatoes
1/4 Teaspoon Granulated Garlic (optional)
How to Prepare Pan Fried Skillet Potatoes
Preheat your dry cast iron skillet over medium-high heat for 5-10 minutes.
Cut each potato into 1 inch thick rounds.
Heat 2 Tablespoons of grapeseed oil in the preheated cast iron skillet for 2 minutes or until shimmering.
In a medium bowl, toss the potatoes with salt and pepper to season both cut sides.
Place the potatoes into the pan using tongs, in a single layer. Reduce temperature to medium.
Cover with a tight fitting lid, and cook without shaking, or turning the potatoes for a full 15-20 minutes, or until the bottoms are completely golden brown. If the potatoes are sticking to the pan, they aren't ready yet. Replace the lid and cook for another 3-5 minutes.
While the potatoes are cooking, remove the thyme from the woody stems, discard the stems, and chop the thyme leaves finely.
When the potatoes are golden brown, remove the lid, turn the potatoes over, increase the heat to medium-high, cook uncovered for another 7-10 minutes until browned.
When the potatoes are nicely browned and crispy, add in the fresh thyme and 1 tablespoon of unsalted butter, and optional granulated garlic.
Toss the potatoes in the butter, herb, and garlic mixture until well coated, no more than 60 seconds.
Serve immediately.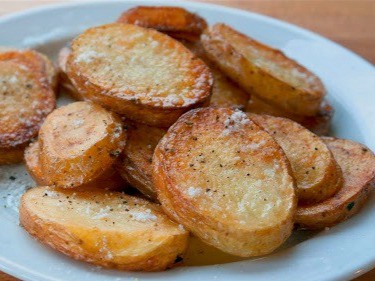 Chef's Tips:
To make this dish a bit more decadent, add some crispy fried guanciale and replace the thyme with fresh chives.
Sauteed shallots and green beans in butter are a great accompaniment side dish to the crispy skillet potatoes.
Toss the potatoes with a tablespoon or two of freshly ground real parmesan cheese (not the shaker bottle stuff!) right before serving for a wonderfully nutty flavor.
---
Check out other great recipes, and tips and tricks for Easy, Effortless Entertaining from AWG Private Chefs
About the Author: Certified Master Chef, Sommelier & Wine Educator, Sean Andrade is the Executive Chef Owner of AWG Private Chefs headquartered in Northern California. Voted best personal chefs and best caterers in San Francisco, and #1 Private Chef company in California. Chef Sean has worked in the restaurant and hospitality industries worldwide for more than 25 years. AWG Private Chefs offers highly custom-tailored, bespoke private chef dining experiences, personal chef service, and private event catering in over 30 countries around the globe.