Last Updated:
May 11, 2023
Light & Healthy Chicken Tortilla Soup Recipe
Being a private chef for over 20 years, I've had my fair share of client requests to create recipes for them that fit their specific dietary lifestyle and nutrition goals. This light and healthy chicken tortilla soup recipe is not only super tasty and easy to make, but is also zero Weight Watchers Smartpoints (0 WW Smartpoints).
The chicken cooks in a flavorful stock made with simple canned store bought fire roasted tomatoes (or you can always fire roast your own!) and chicken stock. Using boneless, skinless free-range organic chicken breasts works great for this zero WW point chicken tortilla soup recipe,however you can use always chicken boneless, skinless free range organic chicken thighs instead if you are ok with adding a few extra WW Smartpoints.
The best part is this chicken tortilla soup recipe is super easy to make, you are basically just doing a little chopping, and dumping everything into your slow cooker, stock pot, or Instant Pot and letting it make the magic happen for you.
Weight Watchers 0 Point Chicken Tortilla Soup Recipe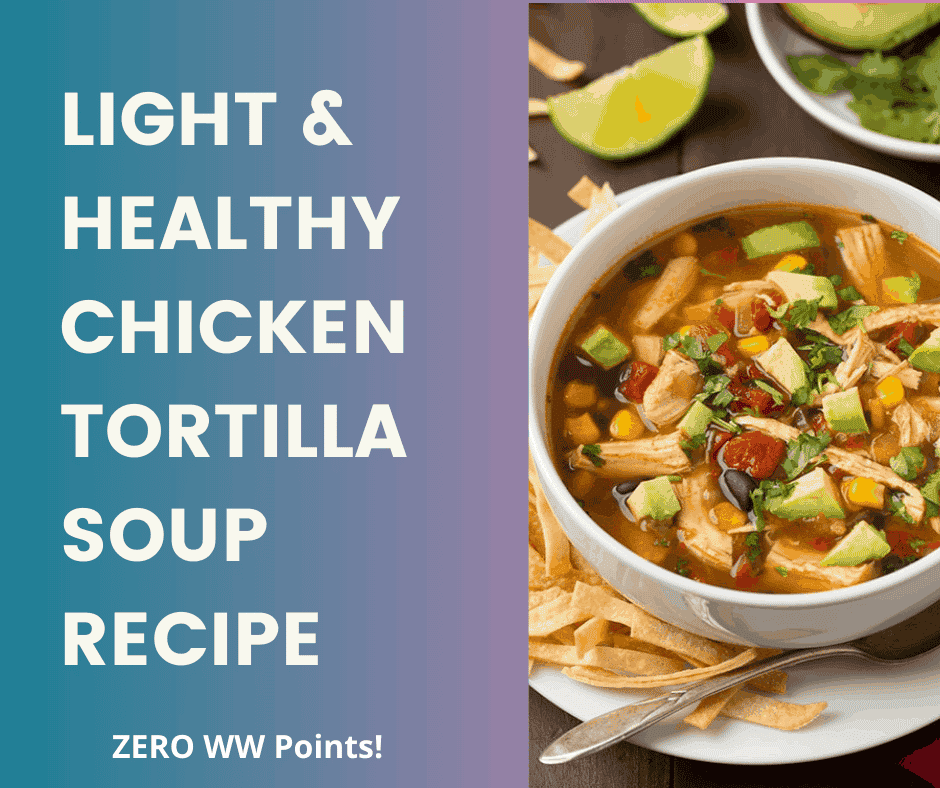 The best part about this light & healthy chicken tortilla soup recipe is that you can always swap out the chicken for ground turkey for example, if you don't happen to have any or don't like chicken. If you plan on using ground turkey, simply brown the turkey in a dry skillet first, drain it, and then add it to your crockpot slow cooker.
Chef Tip: Make it a Vegetarian Tortilla Soup Recipe! If you're wanting a vegetarian option for this soup, simply leave the chicken out entirely, and just add in an extra can of beans to keep your protein up.
This soup can easily be portioned and frozen for up to 3 months, for easy reheating for mid-week meals, or lunch on the run.
Cooking Options & Times:
Stovetop: 30-45 minutes quick cook method, or simmer for 2 hours to deepen the flavors.
Slow Cooker / Crock Pot: Cook in your slow cooker on low for 6-8 hours
Instant Pot: Use the setting on your instant pot for soup, cook for 7 minutes, then natural release.
Tortilla Soup Recipe Ingredients:
1 Medium Yellow Onion, Diced

1 14.5oz can Mexican style fire roasted tomatoes

4 ounces fire roasted mild green chiles (use Hatch chiles during season!)

1 14.5oz can low sodium black beans, rinsed & drained

1 14.5oz can low sodium yellow corn (use fresh during season)

3 cloves of garlic, finely minced

1lb free range organic boneless, skinless, chicken breasts

2 tablespoons dark chili powder

1 tablespoon cumin powder

Cilantro, chopped for garnish

32oz fat free, low sodium chicken stock

Kosher salt & black pepper to taste

Lime wedges for squeezing over the soup at time of service

OPTIONAL:

Diced Avocado (does add WW Smartpoints)

OPTIONAL:

1/2 teaspoon red chili flakes (for a punchy spiciness/heat)
Slow Cooker / Crock Pot Method:
Dump everything in, cover with lid, turn on low, walk away for 6-8 hours, stirring occasionally.
Stove Top Method:
In your stock pot, cook the onions in a little olive oil for approximately 8-10 minutes over medium heat to soften. Add a pinch of salt & pepper. Add the garlic in and cook for an additional 2 minutes. Dump in the remaining ingredients, except for the chicken, give it a good stir.
Bring to a boil, reduce to simmer. After you've turned the soup down to simmer, place whole chicken breasts in the soup, and simmer covered with a lid for 13-15 minutes, or until the chicken reaches an internal temperature of at least 150 degrees F. Remove the chicken, and shred with two forks. Return the chicken to the soup 5 minutes before serving to warm through. Note: Don't overcook the chicken by simmering it for longer than 15 minutes. The soup tastes best if simmered for a couple of hours.
Tortilla Soup Recipe: Instant Pot Method
Use the sautee function on the Instant pot with a little olive oil. Sautee the onions for 8-10 minutes until soft. Add in garlic, sautee for 2 minutes. Add in cumin & chili powder, sautee for 90 seconds. Add in remaining ingredients and proceed to cook 7 minutes on the soup setting, followed by a natural release.
To Serve:
Adjust seasoning with kosher salt & pepper to taste. Ladle this delicious soup up into your favorite bowl or soup crock, garnish with chopped cilantro. If you're not a fan of cilantro, no worries! Simply complete your garnish with chopped flat leaf Italian parsley. Squeeze over a couple of lime wedges right before you eat for a blast of freshness to complete the perfect tortilla soup recipe.
---
Check out our other recipes, tips & tricks for Easy, Effortless Entertaining from AWG Private Chefs!
---
About the Author:
Certified Master Chef Sean Andrade is the executive chef/owner of AWG Private Chefs, named the #1 Private Chef company in California. Chef Sean has worked in the restaurant and hospitality industries worldwide for more than 25 years. His company AWG Private Chefs offers highly custom tailored, bespoke private chef dining experiences, and private event catering in over 30 countries around the globe.