Walnut Creek Private Chefs - Best In The East Bay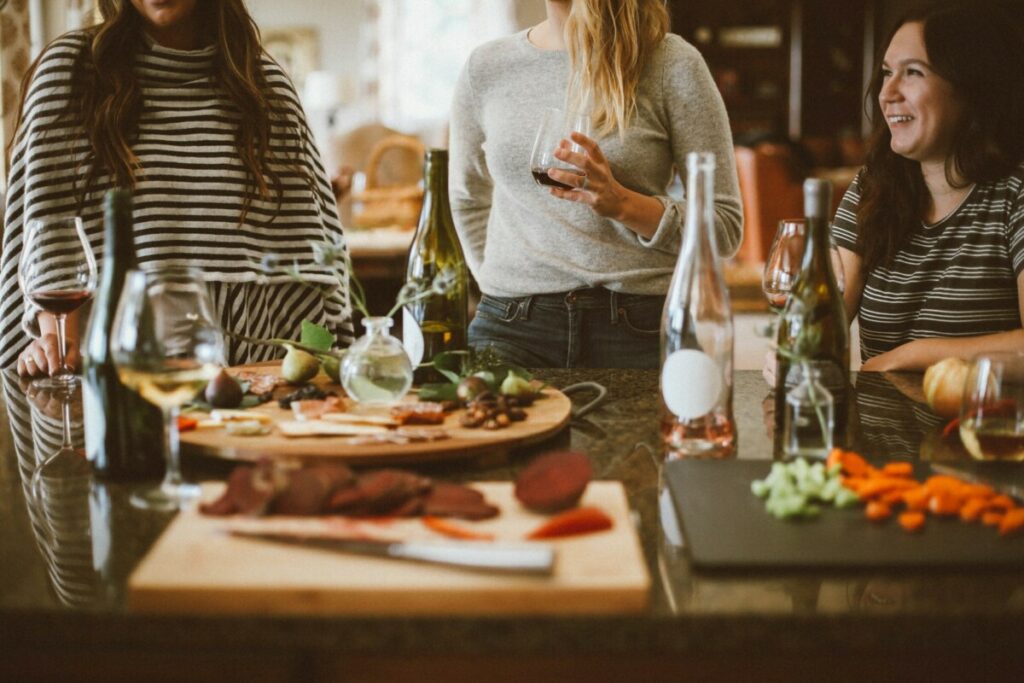 Welcome to AWG Private Chefs - the premier provider of bespoke culinary experiences in Walnut Creek! Since 2001, our team of talented Walnut Creek Private Chefs and hospitality concierge specialists has been dedicated to delivering exceptional culinary private dining experiences in the comfort of your own home or venue. Our global headquarters has been in Walnut Creek since our beginning. Many of our employees have been born and raised in Walnut Creek or the East Bay, with their families here for multiple generations.
Our team of Walnut Creek Private Chefs has over 100 years of combined experience creating fully custom tailored menus for our clients with various dietary restrictions and preferences, we can accommodate virtually any cuisine style, taste or preference. Our chefs are passionate about using only the freshest and highest quality locally sourced, organic, and sustainable ingredients to create delicious, innovative meals that always cater to your specific needs.
Whether you're hosting a dinner party, celebrating a special occasion, or just looking for a unique and memorable culinary experience, our team of Walnut Creek Private Chefs can create a custom menu that's perfect for you.
AWG Private Chefs proudly employs the only two Certified Master Chefs in Northern California, a title that less than 220 chefs hold worldwide. We offer a wide range of personal and private chef services, from specialized passport dining experiences, hibachi chef at home events, cocktail parties, and intimate dinner parties to larger scale events for up to 50, and we even provide cooking classes and culinary workshops for those looking to enhance their own cooking skills.
How does it work? We make it all about you!
Upon your initial contact with AWG Private Chefs, a member of our client concierge team will become your dedicated contact for the entire booking process. We will work together with you design the perfect event from beginning to end. Simply share with us your vision for your event, any theme or style of the event you wish, along with the style of cuisine you wish to enjoy in any number of courses, any dietary restrictions or food allergies, and then simply sit back and let us get to work for you!
Our Certified Master Chefs will design a fully custom tailored menu curated exclusively for you and your guests, taking into account all of the details shared with your concierge. Your Walnut Creek Private Chef will submit a draft copy of the concept menu to you for your review and consideration. All clients of AWG Private Chefs enjoy full editorial control over their entire menu, all the way down to the ingredient level! You will never have to pay for something you don't wish to enjoy. We are happy to revise the concept menu as necessary until it's perfect.
Once you've approved the concept menu as final, you will receive a proposal with a full breakdown of all costs for your review and consideration. There are never any hidden fees or unexplained charges with AWG Private Chefs.
What does a Private Chef in Walnut Creek Cost?
AWG Private Chefs proudly offers a fully custom tailored pricing model. We only charge for the ingredients, and labor to execute the menu that you approve. Pricing can vary widely depending on the number of courses you wish to enjoy. No matter if you choose to enjoy casual or elegant cuisine, we can work within most budgets to create a tasty and memorable event for you and your guests.
Do I need anything special in my kitchen?
Not at all! Your Walnut Creek Private Chef will arrive to you home equipped with all of the necessary ingredients to prepare your menu in your kitchen. As long as you have a refrigerator, stove, counter space, and sink, we can make the magic happen for you.
Can you provide party rentals or floral arrangements for my event?
Absolutely, your client concierge will work with you to create a full event design. Our in-house floral design team can create beautiful arrangements to accompany any color scheme you may desire. We carry a wide selection of tabletop party rentals including china, silverware, glassware, and linens. In addition, we've partnered with local event rental agencies for larger items such as tables, chairs, event tents, patio heaters, etc.
Do your offer private chefs for casual events as well as dinner parties?
Absolutely! If you're entertaining in the backyard for a few friends, or hosting a larger casual event such as a graduation, baby shower, gender reveal party, or a taco party, your Walnut Creek Private Chef can prepare virtually and style of casual cuisine that you may wish to enjoy.
Have additional questions? Check out our FAQ section, or contact our client concierge hotline at 925-372-3202 for assistance.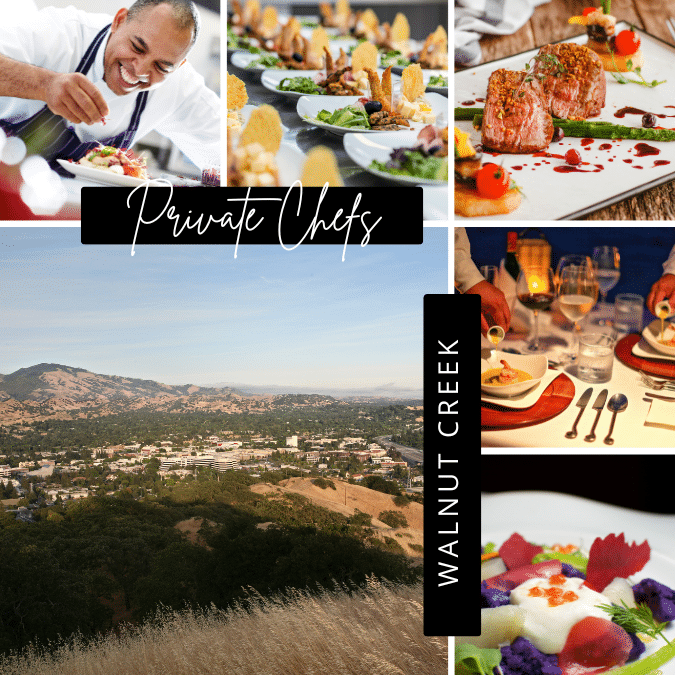 Full Service Walnut Creek Private Chef Service Includes:
Complimentary Menu Curation and Event Design
Ingredient Sourcing & Procurement
On-Site Prep, Cooking, Service and Clean Up
Wide Selection of China, Silverware, Glassware & Decor Rentals Available
Custom Floral Arrangements (on request)
Professional Food Servers & Bartenders (on request)
Flexible service styles from casual self service buffet, family style, or restaurant style formally plated.
At AWG Private Chefs, we understand the importance of creating a seamless and stress-free experience for our clients. We've developed our trademarked "Easy, Effortless Entertaining™" services, where we bring the restaurant dining experience to you. We handle everything so you can sit back, relax, and enjoy the company of your guests. We've been proudly voted Best Caterers in the East Bay by Diablo Magazine for multiple years!
What clients are saying about their Walnut Creek Private Chef experiences:
If I could use only one word to describe the event I had with AWG Private Chefs, it would be "elegant." Granted, the event is what you make it, with the attention and planning AWG provides. My father's celebration of life was a beautiful event. The food was delicious and easily accessible to all, especially those with dietary restrictions. The flowers for the event were stunning! More than one of my friends asked who the caterer was, and I happily shared AWG's information with them. My event could not have been handled by a more professional and friendly team than AWG.
From planning to execution, their guidance was so appreciated. But where they really shined was with the fusion of flavors and the beautiful, colorful presentation. I will be using them every year for my annual friend get together. It was almost as if I was a celebrity for the night! Thank you guys so much!!
Exceptional, professional, and just all-around the best experience. We could not have had a better chef, server, and cocktail experience than we had over the weekend for our anniversary.
So if you're looking for the best private chef services in the San Francisco East Bay Area, look no further than AWG Private Chefs! Our team of Private Chefs in Walnut Creek are standing by to help make your event sparkle. Contact us today to learn more about our services and to book your next culinary experience with us.