Last Updated:
May 8, 2021
Hangover Pasta with Vegan Cream Sauce Recipe
I don't profess in the slightest to be a Vegan Chef. In fact, I've been given the nickname of "The Prince of Pork" by both my clients as well as other chefs, however, that doesn't mean that sometimes I just crave a break from all the heavy dishes, and want something differently delicious on my dinner plate. Enter my recipe for Hangover Pasta with Vegan Cream Sauce. Dry pasta is almost always naturally vegan, do check the package on the pasta, however, just in case.
This recipe is great after a long night out, perhaps you've imbibed in a few too many "adult beverages", or you work crazy long hours like I do as a chef and you just want something to throw together quickly that is tasty, healthy, and vegan. Let's face it, who doesn't love garlicky pasta late at night to help sop up all that booze, and why not have it be a delicious vegan cream sauce?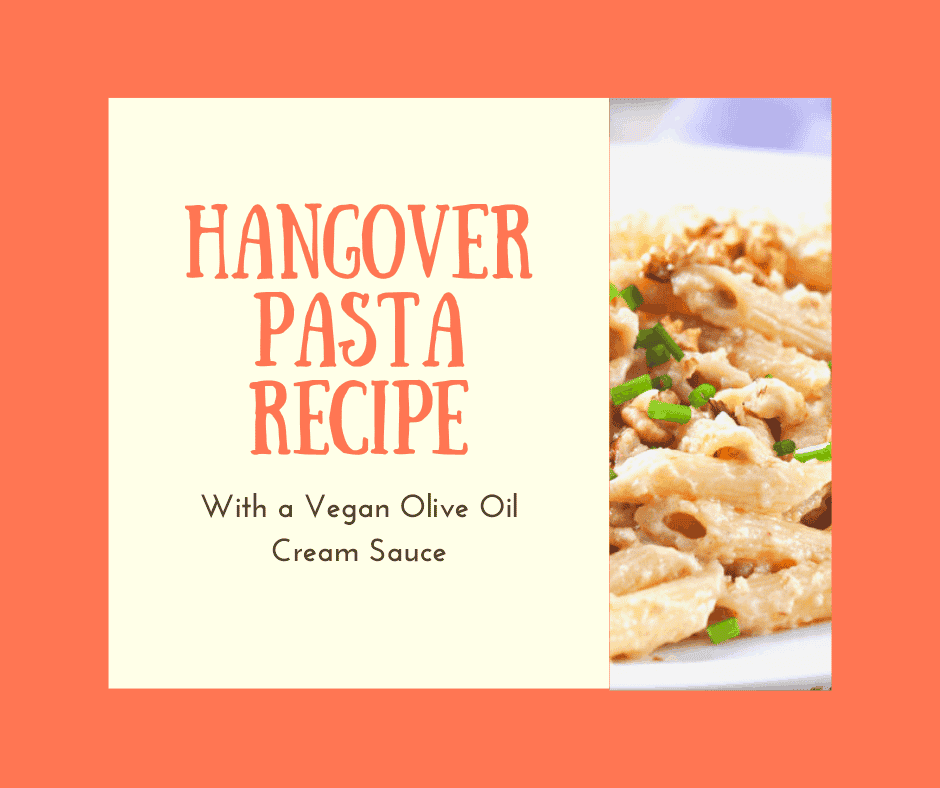 Ingredients For Vegan Cream Pasta Sauce:
1/2 Cup Stella Cadente L'Atunno Extra Virgin Olive Oil, plus more for finishing
1/2 teaspoon crushed red chili flakes (more if you like it piccante!)
6 garlic cloves, thinly sliced
1/2 teaspoon fresh rosemary, finely chopped
1 cup raw walnuts finely chopped
28oz canned white Italian Cannellini beans, rinsed & drained
1 Meyer lemon
1 Teaspoon chives, finely chopped
12oz to 1 lb of Fettucine or Pappardelle pasta
Kosher salt & black pepper
How to Prepare Vegan Pasta Recipe:
Heat 1/4 cup of the Stella Cadente L'Atunno Extra Virgin Olive Oil in a large heavy-bottomed pot (Dutch oven) over medium flame. Toss in your walnuts and red chili flake stirring frequently until the walnuts are nicely golden brown. When the nuts begin to start turning golden, add in one of the sliced cloves of garlic. Keep things moving as you want to make sure that both the nuts and the garlic don't burn. Once the nuts, chili, and garlic have finished cooking, turn them out into a bowl, and set them aside.
2. Add in the remaining 1/4 cup of oil, and over medium-low heat, add the remaining sliced garlic, and sweat it for 3-4 minutes to release all of its garlicky goodness. Once the oil has become incredibly fragrant and the garlic has softened, but not taken on any color, add in your beans and rosemary. Let the beans cook in the rosemary garlic oil for 3-5 minutes over medium heat until they darken slightly.
3. While the beans are cooking, prepare the pasta according to the directions on the package. Remember to use heavily salted water. The pasta water should taste like the ocean. Never put oil in the pasta water. At the 3 minutes until pasta is done mark, move 1 & 1/4 cups of the pasta cooking water to the beans. Using an immersion stick blender, pulse the beans until they become a nice creamy sauce. Don't fully puree the sauce, you want to leave it a bit chunky for some great texture, and so that it will stick better to the pasta. Don't discard that pasta water!
4. Transfer the pasta to the bean pot using a mesh strainer, spider, or colander with a handle. After the pasta has been transferred, add in another 3/4 cup of the pasta water, bring the heat up to medium-high and finish cooking the pasta in the beans on a medium simmer. The vegan cream sauce might look a bit lose right now, but don't worry. It will thicken as rests. Turn off the heat and let the pasta rest for a full 3 minutes.
5. In the meantime zest 1/2 of the lemon and add the lemon zest to the hot pasta. Cut the lemon equatorially and juice both sides of the lemon. Add a healthy pinch of salt and black pepper. Taste the pasta and adjust your seasoning to your liking.
6. To finish, toss in the chopped chives & lemon juice, stirring gently just to combine. Plate the hot pasta immediately and sprinkle over the walnuts & garlic. Finally, drizzle with another healthy drizzle of Stella Cadente L'Atunno extra virgin olive oil... and enjoy this comfort food pasta dish with a vegan cream sauce.
If you liked this recipe, check out our other delicious recipes, tips, and tricks on Easy, Effortless, Entertaining from AWG Private Chefs Blog at https://awgprivatechefs.com/blog
---
About the Author:
Certified Master Chef Sean Andrade is the Executive Chef/Owner of AWG Private Chefs, named the #1 Private Chef Company in California. Chef Sean has worked in the restaurant and hospitality industries worldwide for more than 25 years. His company AWG Private Chefs offers highly custom-tailored, bespoke private chef dining experiences, and private event catering in over 30 countries around the globe.