Last Updated:
May 11, 2023
Top 5 Tasty Fresh Spring Cocktail Recipes
As the weather warms up and the sun shines down, spring becomes an exciting time in the cocktail season. It's the perfect time to switch up your drinking style from the heavier spirits and big wines of winter to light and fresh ingredients in your cocktails.
What better way to enjoy the season than with a tasty fresh spring cocktail recipe enjoyed alfresco? Say goodbye to the cold rain and snow and hello to refreshing and flavorful drinks made with seasonal ingredients.
So, get ready to embrace the warmer weather and try out some delicious spring cocktails that are sure to impress. From fruity and floral to crisp and refreshing, there's something for every taste. So let's raise a glass to the start of a new season and enjoy the delicious flavors of spring in our cocktails!
Table of Contents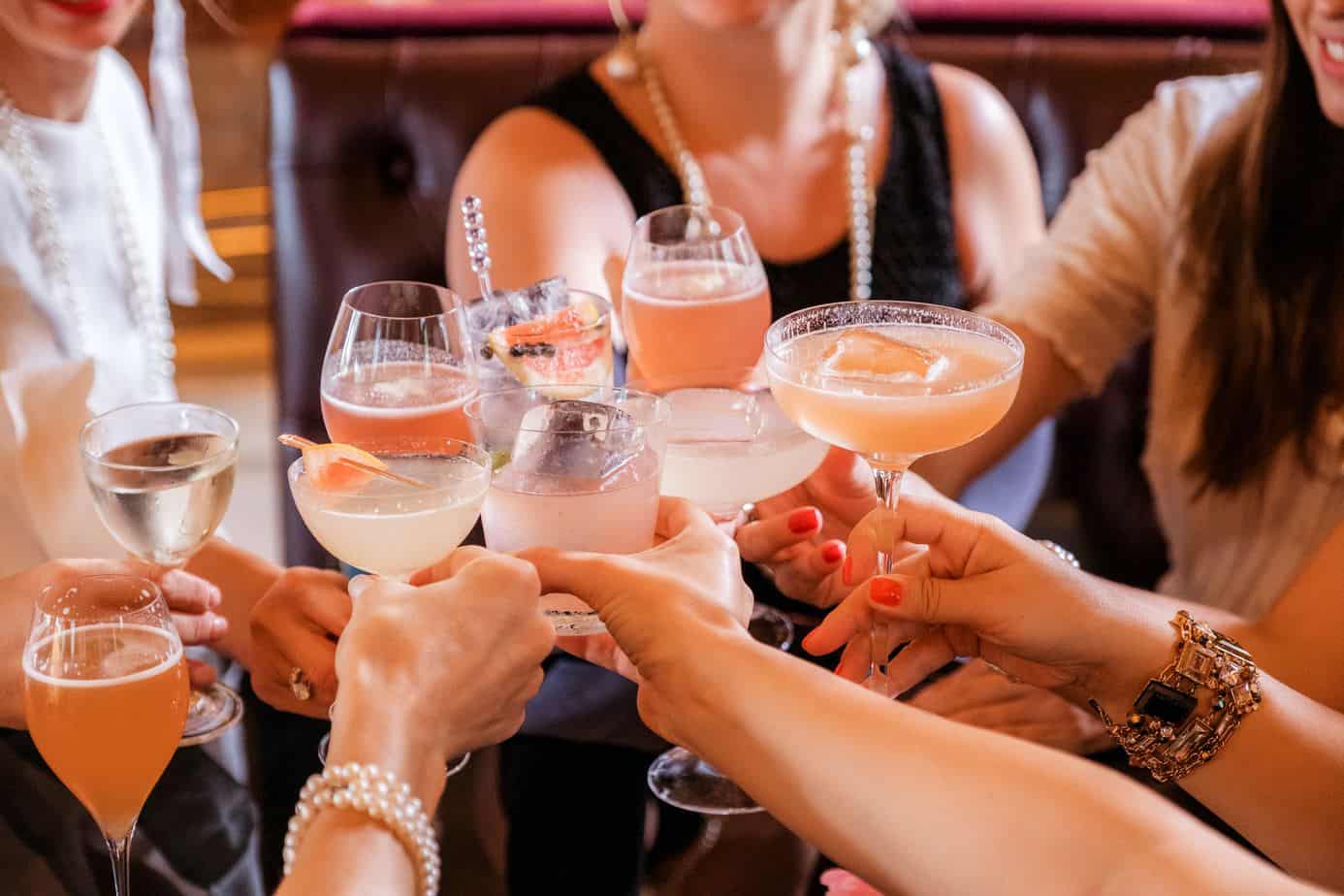 Meyer Lemon Lavender Martini Recipe
Looking for a refreshing and unique cocktail to enjoy this spring? Look no further than the Meyer lemon lavender martini, a fresh twist on the classic lemon drop martini recipe.
Infused with the delicate flavor of lavender, this cocktail adds a light perfume and a unique floral note to the traditional martini. The clean and crisp notes of vodka are perfectly complemented by the bright citrus of Meyer lemon, creating a delicious and refreshing drink that's perfect for sipping on a warm spring day with friends.
Whether you're hosting a springtime gathering or simply looking for a new cocktail recipe to try, this Meyer lemon lavender martini is sure to impress. So why not mix one up and raise a glass to the season of renewal and new beginnings?
Ingredients for Meyer Lemon Lavender Martini:
1.5 Ounces Fresh Squeezed Meyer Lemon Juice
2 Ounces Absolut Citron Vodka
2 Organic Lavender Sprigs
1 Tablespoon Simple Syrup
Twist of Meyer Lemon Zest
How to Prepare:
In a cocktail shaker, lightly muddle one of the lavender sprigs and simple syrup together.
Fill the shaker with ice.
Add in the Meyer lemon juice and Absolut Citron Vodka.
Shake well for a minimum of 20-30 seconds.
Strain into a frozen martini glass.
Garnish with the remaining lavender sprig and a twist of Meyer lemon zest.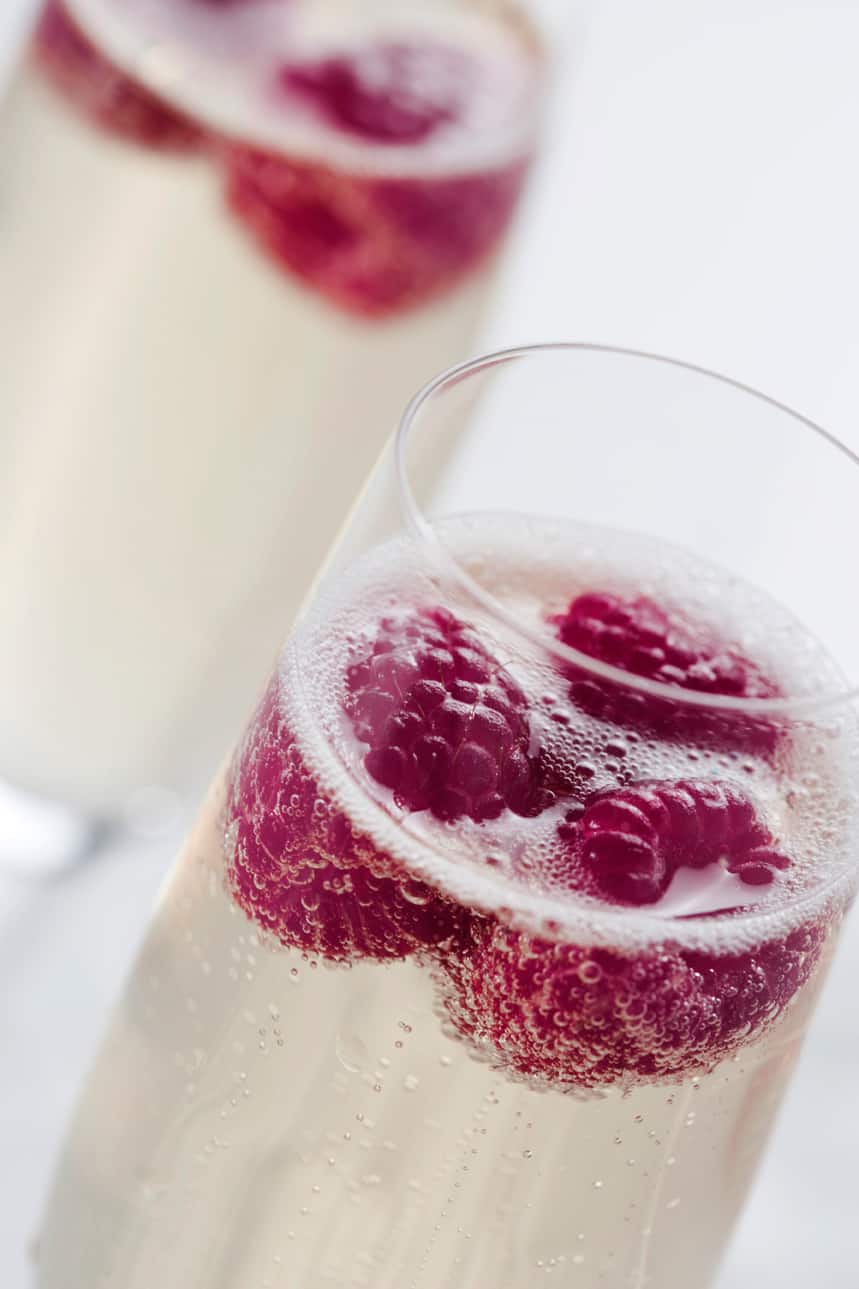 Elderflower Champagne Spritz Cocktail Recipe
When the weather warms up and it's time to gather with friends for a Sunday brunch in the backyard, elevate your cocktail game with a refreshing elderflower champagne cocktail. This cocktail stars St. Germain, a delicious elderflower liqueur that can be found at most liquor stores across the country. If you can't get your hands on the liqueur, don't worry, you can use elderflower cordial as a substitute. This cocktail is sure to impress your guests and perfectly complement your spring brunch spread.
Ingredients:
How To Prepare:
Fill a mixing glass with ice.
Pour the champagne and elderflower over the ice to chill.
Stir using a bar spoon for 10-15 seconds.
Using a cocktail strainer, strain into a chilled champagne flute.
Float the tonic water on the top, and garnish with a few fresh raspberries.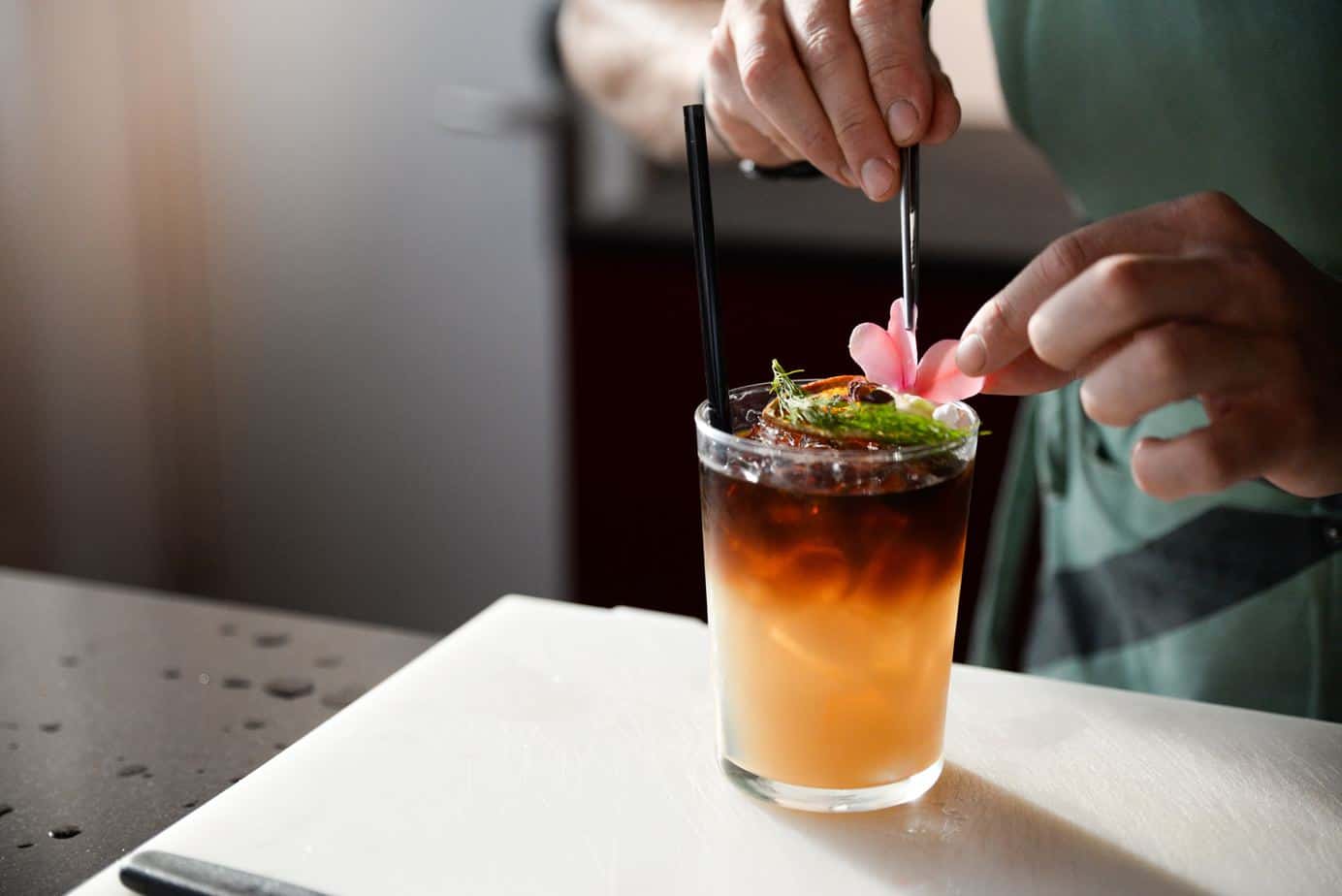 Caribbean Screwdriver Cocktail Recipe
Looking for a fruity and refreshing twist on the classic screwdriver cocktail? Look no further than this delicious rum-based cocktail recipe. Featuring freshly squeezed orange and key lime juices, as well as the unique flavors of vanilla and anise from Galliano liqueur, this cocktail will transport you back to your last warm tropical getaway with just one sip. Perfect for sipping on a hot summer day or enjoying at a pool party with friends.
Ingredients:
1.5 Ounces Fresh Squeezed Orange Juice
Juice of 2 Key Limes
1 Ounce White Rum
1 Ounce Dark Rum
1/2 Ounce Galliano Liqueur
Amarena Cherry (Garnish)
4 Drops Amarena Cherry Syrup
Sprig of Fresh Organic Mint, Dill or Edible Flowers (Garnish)
How to Prepare:
Using a handheld citrus press squeeze the key lime and orange juices.
Fill a cocktail shaker with ice.
Add in the white rum, orange juice, key lime juice, cherry syrup, and Galliano.
Shake well for 20-30 seconds.
Strain the cocktail into a rocks glass over fresh ice.
Top with the dark rum.
Garnish with the Amarena cherry and garnish.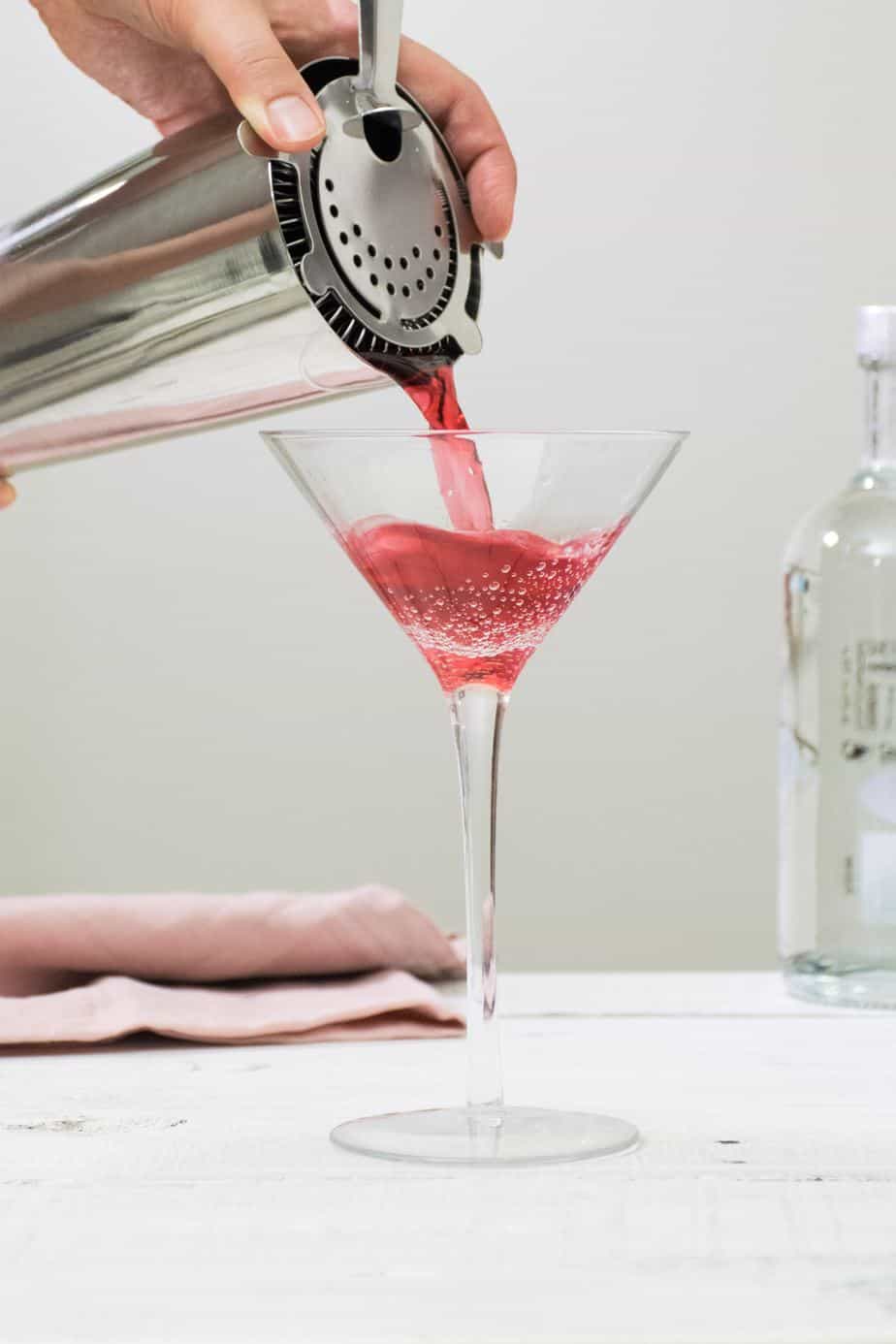 Spring Gin Kiss Cocktail Recipe
The spring gin kiss cocktail is a delightful twist on the classic gin martini. Unlike traditional dry gin martinis that can be quite sharp, this elevated cocktail features the subtle sweetness of grenadine, fresh citrus, and the unique infusion of apple brandy. The result is a wonderfully balanced and refreshing spring cocktail that is sure to impress your guests. For best results, serve the spring gin kiss in a well-chilled or frozen martini glass as an aperitif to welcome your guests to your home.
Ingredients:
1 Teaspoon Meyer Lemon Juice (fresh squeezed)
2 Ounces Bombay Sapphire Gin
1 Ounce Apricot Brandy
1/2 Teaspoon Grenadine
1 Ounce Noilly Pratt Extra Dry Vermouth
Amarena Cherry (to garnish)
How To Prepare:
Fill a cocktail shaker with ice.
Pour in the gin, brandy, vermouth, Meyer lemon juice, and grenadine.
Shake well for 15-20 seconds.
Strain into a chilled or frozen martini glass.
Garnish with an Amarena cherry.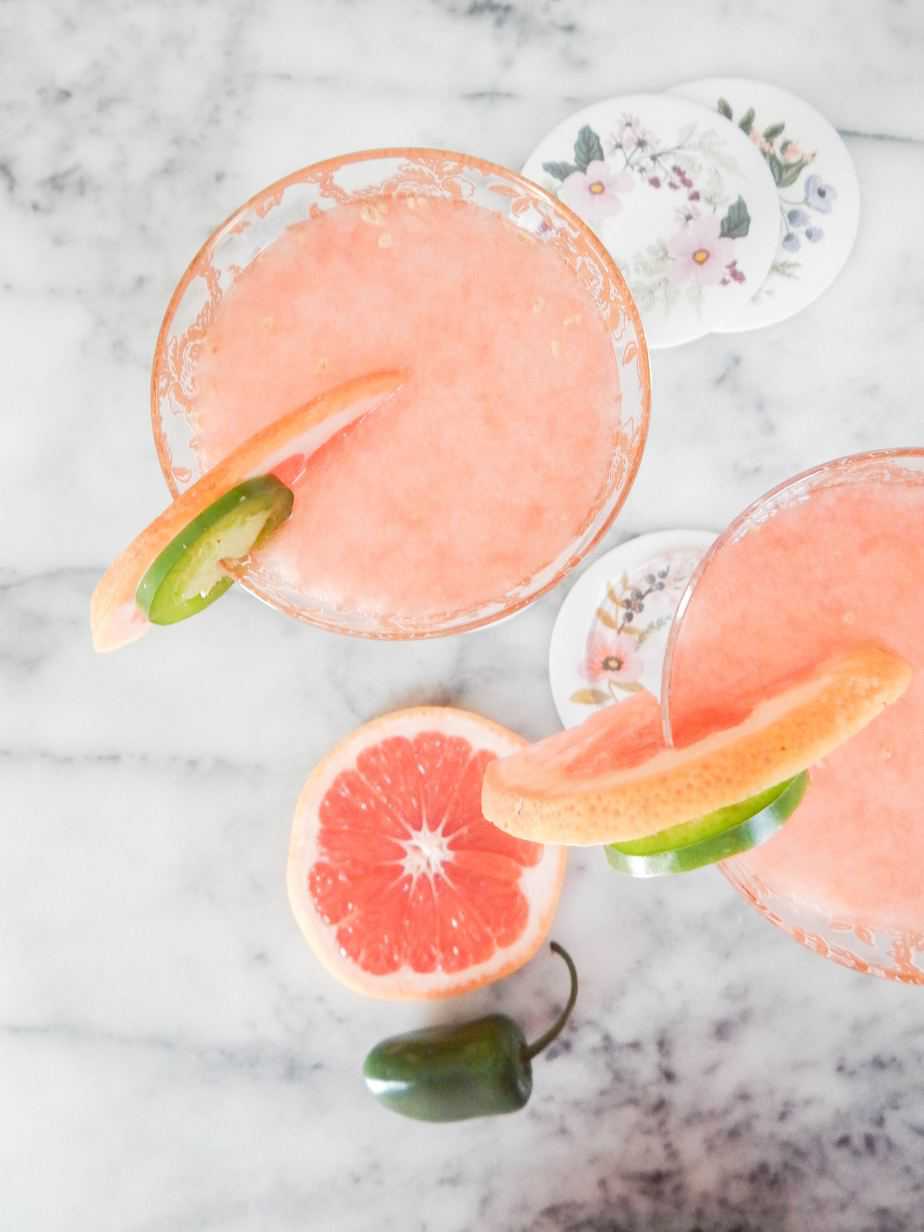 Little Hot Pink Dress Cocktail Recipe
The Little Hot Pink Dress cocktail is the perfect balance of sweet and spicy, with a unique blend of freshly squeezed pink grapefruit, reserve orange bitters, and organic jalapeno. It's a sassy and refreshing drink that will keep you coming back for more. Enjoy it on a warm spring day with friends or as a pre-dinner aperitif.
Ingredients:
How to Prepare:
Fill a double rocks glass half full with ice.
Pour in lime juice, grapefruit juice and agave nectar.
Add in Don Julio Blanco tequilla.
Stir Well.
Top with 2 dashes of the reserve orange bitters.
Garnish with a slice of pink grapefruit and thinly jalapeno wheel.
Optional: If you like your drinks a touch sweeter, rim the glass with a sugar & salt combination.
Conclusion:
No matter what cocktail you choose, step outside, relax and enjoy! Also, check out our tips below on other ways to enjoy spring outdoor living.
---
Check out other great recipes, and tips and tricks for Easy, Effortless Entertaining from AWG Private Chefs
About the Author:
Chef Sean Andrade is a Certified Master Chef, Sommelier, and Wine Educator who serves as the Executive Chef Owner of AWG Private Chefs, a leading private chef and catering company based in Northern California. With over 25 years of experience in the restaurant and hospitality industries, Chef Sean has worked in various countries worldwide, bringing a wealth of culinary expertise and knowledge to his craft.
AWG Private Chefs is renowned for its bespoke private chef dining experiences, personal chef services, and private event catering, operating in more than 30 countries worldwide. The company has been voted the best personal chefs and caterers in San Francisco and the #1 Private Chef company in California.