Last Updated:
May 8, 2021
How To Keep Berries Fresher Longer!
Summer berry season arrives, with the bountiful harvest of all of those delicious berries! A commonly asked question is how do we keep berries fresher the longest amount of time possible?
How Do I Keep Berries Fresher Longer?
Summer berries are probably one of my most favorite parts of the summer season produce growing bounty. So many delicious berries, in huge abundance at very affordable prices. But the inevitable always seems to happen.. you spend your sweet time picking out the most gorgeous berries you can find at the store. Bring them home, tuck them snuggly into the fridge, then the next day, you open the fridge door, and find this: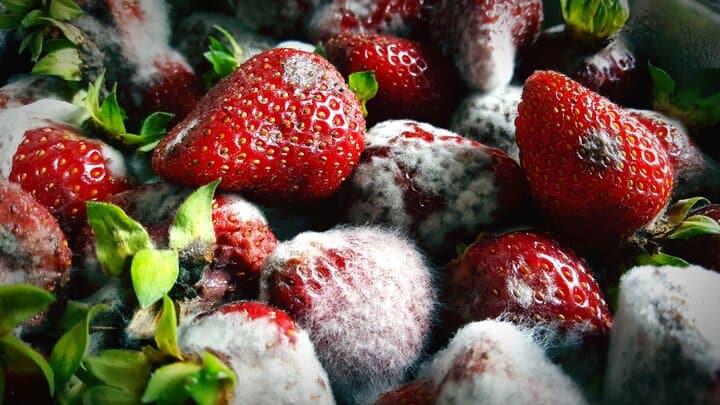 Your beautiful berries have grown the "ick" overnight... How could this happen? They were so perfect and mold free just yesterday.
How to Keep Berries Fresher Longer:
Here's a quick tip on how to keep those berries in beautiful shape, much longer. With just two simple ingredients, that you already have in your kitchen:
White Vinegar and Water
Once you bring your fresh berries home, the key to keeping them fresh is to simply kill any mold or bacteria spores that may exist on the fruit.
The pH of basic white vinegar does the job! Simply place the berries in a large bowl and wash them in a vinegar and water bath:
Ingredients:
1 cup of white vinegar
8 cups of cold water
Let the berries sit in the vinegar and water bath, gently moving them to help dislodge any dirt or grime and allows the vinegar to get to work killing those pesky mold spores and bacteria. Drain the berries in a colander, then thoroughly rinse the fruit to remove any traces of vinegar flavor.
Thicker-skinned fruit like strawberries or blueberries can be dried in a salad spinner. Delicate berries such as raspberries and blackberries should be dried on a clean tea towel, patting them dry gently.
Then store the washed and dried fruit in a sealed container that has been lined with paper towels to absorb any natural moisture that may occur.
Avoid using expensive chemical-laden fruit cleaners or fruit sprays that are on the market. Simple white vinegar will do the trick to preserve those beautiful summer berries for you!
Enjoy!
-Chef Sean
---
Check out our other recipes, tips & tricks for Easy, Effortless Entertaining from AWG Private Chefs!
About the Author:
Certified Master Chef Sean Andrade is the executive chef/owner of AWG Private Chefs, named the #1 Private Chef company in California. Chef Sean has worked in the restaurant and hospitality industries worldwide for more than 25 years. His company AWG Private Chefs offers highly custom-tailored, bespoke private chef dining experiences, and private event catering in over 30 countries around the globe.