Last Updated:
May 7, 2021
World's Best Salted Caramel Sauce Recipe
When two of my absolute favorite things in the world come together. It's a match made in pure culinary ecstasy. Sea salt, and caramel. Mmmm... So amazingly delicious.
This easy-to-make homemade caramel recipe is so amazingly flavorful, and decadent! Use the caramel sauce in your coffee, for the best salted caramel macchiato. Drizzle it over vanilla bean ice cream, fresh fruit, cheesecake, brownies, in your hot chocolate, or banana chocolate chip pancakes or some apple slices for a caramel apple twist!
Or just eat it gluttonously direct out of the glass jar with a spoon! One of our favorite nontraditional uses for this sauce is spread on the rim of a martini glass, for a salted caramel vodka dessert martini. Adults only, please.
You only need just a few minutes, just 6 ingredients, and a little bit of patience to create this deliciously addictive recipe for the world's best salted caramel sauce.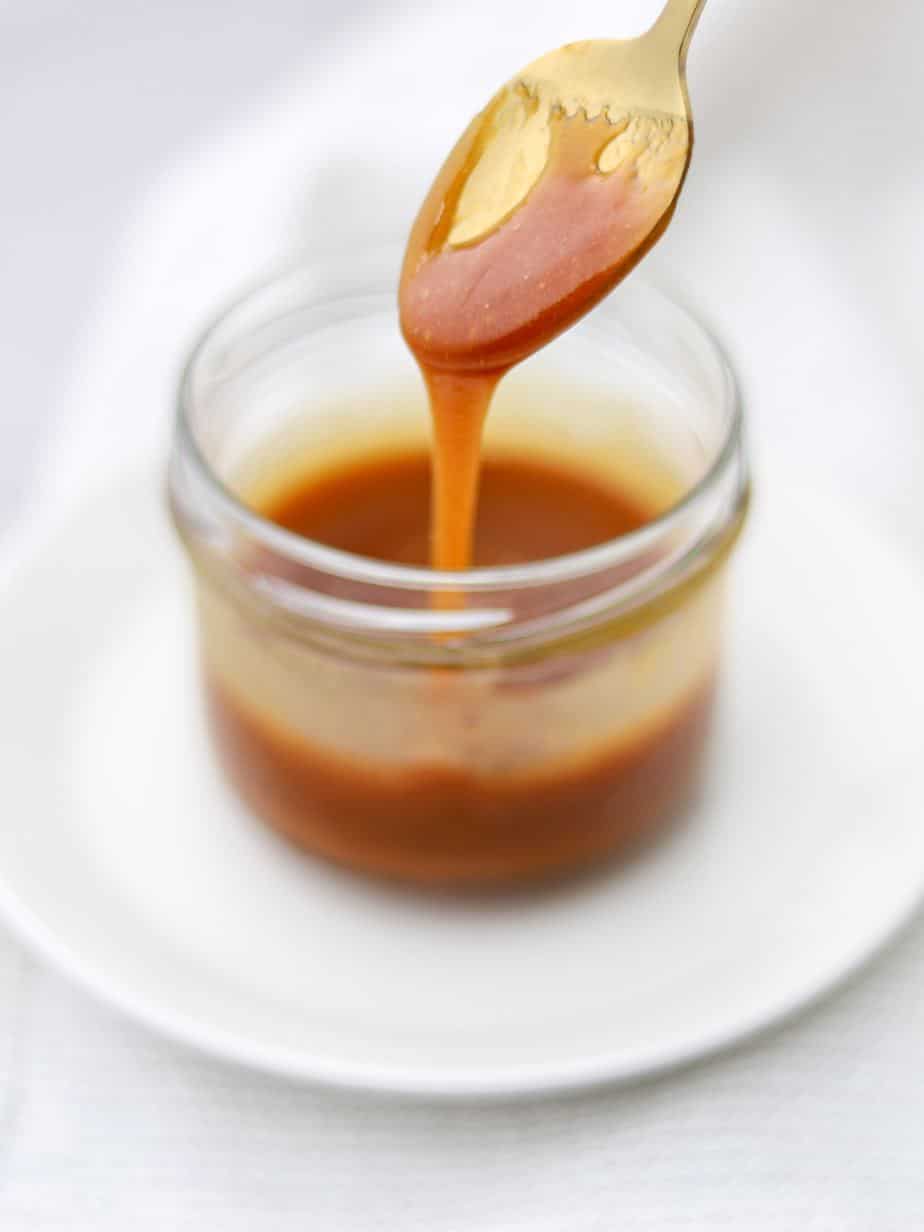 Ingredients for Salted Caramel Sauce:
1/2 Cup Heavy Whipping Cream (40% fat or above)
2 Tablespoons Unsalted Butter
1 Cup White Granulated Sugar
1/2 Teaspoon Madagascar Bourbon Pure Vanilla Extract
3/4 Teaspoon Sea Salt
1/4 Cup Water
How to Prepare Salted Caramel Sauce:
In a medium high sided saucepan, set over medium to medium-high heat, combine the sugar with 1/4 cup of water. Stir just until combined, and then let it cook without stirring until the sugar has achieved a deep golden amber color. This will prevent crystallization and take anywhere from 8-12 minutes depending on your stove's BTU heat output.
IMPORTANT: Do not walk away from the stove during this process, once the color starts changing it happens so incredibly rapidly! If the sugar becomes overly dark, it can take on a very off-putting burnt flavor! Literally, all it takes is just a couple of seconds to over brown the sugar and ruin the entire dish.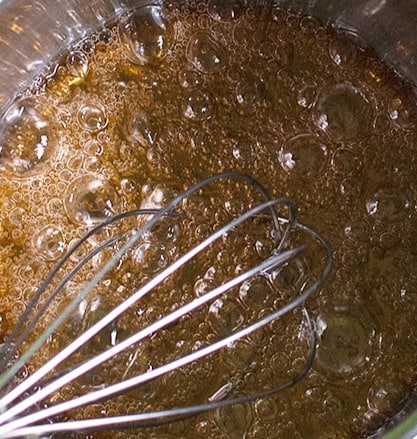 When the desired deep amber color has been achieved, turn off and remove from heat and quickly pour in the heavy cream and whisk the hot sugar and cream mixture to stop the cooking.
Chef's Note: The mixture will up bubble violently, and release quite a bit of steam!
Please be extra careful not to splash molten sugar as you whisk! Molten sugar can cause very serious burns! Whisking will almost immediately reduce the violent bubbling Continue to whisk for 2-3 minutes.
Next, add in the unsalted butter and sea salt, and continue whisking for another 2-3 minutes until the texture is completely smooth, and the butter and salt are fully incorporated.
Set aside to begin cooling. Whisk in the vanilla extract after 7 minutes of cooling.
Allow the caramel to cool to room temperature before placing it in an air-tight glass jar, and store your salted caramel in the refrigerator for up to two weeks.
If you like an extra "punch" of salt, sprinkle over large flaked sea salt on top of the caramel for an extra pop of flavor and crunch.
This recipe makes approximately 1 1/2 cups of salted caramel sauce. It can easily be scaled to make larger batches. When scaling the recipe up, add a touch more vanilla extract and salt to taste.
Variations On Salted Caramel:
(Our clients absolute favorite and most requested) Add in a tablespoon of your favorite Bourbon whiskey right after adding in the heavy cream to create salted caramel bourbon whiskey.
Not a fan of salt? Omit the salt completely and add 1/8 teaspoon extra vanilla for a traditional caramel recipe.
Take it French! Steep some fresh lavender in warm heavy cream for 15 minutes to create a lavender-infused salted caramel sauce.
---
Check out some other recipes & easy, effortless entertaining ideas from AWG Private Chefs!
About the Author:
Certified Master Chef Sean Andrade is Executive Chef/Owner of AWG Private Chefs, named the #1 Private Chef company in California. Chef Sean has worked in the restaurant and hospitality industry venues worldwide for more than 25 years. His company AWG Private Chefs offers highly custom tailored, bespoke private chef dining experiences, select location meal delivery, and event catering in over 30 countries around the globe.