Last Updated:
May 10, 2023
How To Host The Best Summer Party: Top 10 Tips & Ideas
Summer is here, and that means it's time to start planning outdoor gatherings and parties with friends and family. Whether you're hosting a backyard BBQ, pool party, or outdoor dinner, it's important to have a plan in place to ensure your guests have a great time while staying cool and comfortable in the summer heat. We've got some of the best summer entertaining ideas to help you plan the ultimate summer party.
From refreshing drink ideas to outdoor games and decor, we've got you covered with everything you need to make your summer party a success. So let's get started!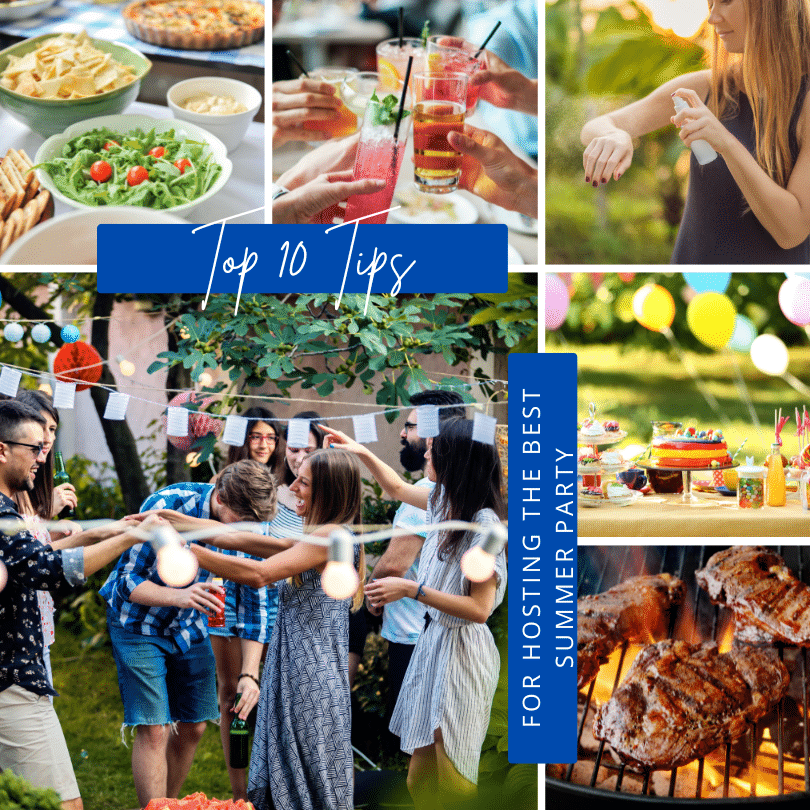 Impress Your Guests With These Top 10 Summer Hosting Tips:
1. Have Fun In The Sun: But Also Have Some Shade
It's important to remember to have a plan for those guests who perhaps may be on medication that makes them sensitive to the sun, are fair-skinned, or just don't want to be in the sun the full day. Consider renting an event tent or canopy to keep your guests shaded and cool. This will help you avoid any last-minute stress or confusion and ensure that your party runs smoothly regardless of your guests' sun sensitivities.
2. Set the Scene: Outdoor Decorations and Table Settings
Create a welcoming atmosphere with a few stylish outdoor decorations, and complete the look with a beautiful table setting. Consider using fresh seasonal flowers, candles, and outdoor string lights to create a warm and inviting ambiance. Don't forget to provide plenty of seating for your guests. Avoid having citronella candles anywhere near food, as well, as they can often change people's perception of flavors. Try using spinning fly fans instead.
3. Keep it Cool: Summer Menu Ideas
When thinking about what to serve on your summer party menu, keep the food light and refreshing, with plenty of seasonal fruits and delicious vegetables. Look to summer menu item favorites like grilled meats and seafood, tasty sauces to accompany are always a hit. Don't forget to include vegetarian, gluten free, and vegan options. Some of our most requested summer menu ideas include wild line caught grilled halibut with fresh & tangy pineapple salsa, grilled watermelon burrata salad, and chilled gazpacho shooters.
4. Mix it Up: Summer Cocktail Recipes
Keep your guests' thirst quenched with refreshingly delicious summer cocktails. Classic summer cocktails include watermelon margaritas, fresh mint mojitos, and of course summer sangria. Also look to batch cocktails that can easily be served to the masses like a delicious strawberry basil gin lemonade. Here are some more of our warm weather cocktail recipes that are sure to impress your guests.
Always encourage responsible consumption, and have plenty of non-alcoholic options, bottled water, and mocktails to round out your beverage menu choices.
5. Get Grilling: Summer Party BBQ Ideas
Summer is always the perfect time to fire up the grill and enjoy some delicious BBQ. Always serve at least two different meats, or a meat and fish option). Marinated grilled veggies are a delicious side dish to complement meat or fish on the grill. Some elevated casual entertaining summer BBQ menu ideas include wagyu burgers, artisanal sausages, grilled Mexican elotes street corn on the cob, and citrus & scallop kebabs.
6. Playtime: Fun Outdoor Games for Summer Parties
Keep your guests of all ages entertained with a variety fun outdoor games. Think fun summer outdoor games like cornhole, ladderball, horseshoes, and giant Jenga are always great choices. If you don't own them, contact your local party rentals company for affordable outdoor game rental options. You can also set up a volleyball net, croquet, or even something simple like a game of frisbee golf.
7. Keep the Mood: Background Music and Lighting
Set the mood with some background music and lighting. Create a lively and energetic summer playlist with upbeat and fun songs. Always make sure to have enough speakers to cover your outdoor space and keep the music at a volume that allows for guests to have conversations. For summer backyard lighting ideas, consider using outdoor string bistro lights, hurricane lanterns, or even arrays of floating candles scattered around the yard.
8. Don't Forget the Details: Essentials for Hosting an Outdoor Summer Party
Make sure not to forget the absolute essentials for hosting a successful outdoor party. These include bug spray, sunscreen, and a variety of seating options. You may also want to provide some additional shade options over the table like patio umbrellas, sun sails, or a pop up sun canopy.
9. Plan Ahead: Tips for a Stress-Free Summer Party
Plan ahead to make your summer party stress-free. Select a date at least 2-4 weeks in advance. Reconfirm any guest food allergies or dietary restrictions well in advance. Two days before your event, turn off your lawn sprinklers to allow time to dry, and to reduce insect annoyance. Set up tables and chairs the night before, but don't place table linens or flatware, etc. down until a couple of hours before the party. Always make sure to have plenty of ice on hand, you can pick up ice at your local warehouse store and store it in a cooler overnight to make things that much easier.
10. Say Thanks: Gracious Hosting Tips
Make sure to thank your guests for coming and being a part of your summer celebration. You can easily accomplish this by sending a simple thank you card or email, or even giving them a small party favor gift bag to take home. Remember to be gracious and welcoming throughout the entire event, and thank them for coming when they get ready to leave.
Conclusion:
In conclusion, hosting a summer party can be fun, interactive, and stress-free with these top 10 entertaining tips. Whether you're planning a backyard BBQ, casual catered pizza party, pool party, or alfresco outdoor gathering, make sure to keep your guests cool and entertained with delicious food, refreshing drinks, and fun games. Set the mood with stylish decorations, background music, and lighting, and don't forget to thank your guests for coming to your summer party.
For total stress free summer party hosting, leave everything to AWG Private Chefs! Our concierge and event planning teams can handle everything for you so that you won't have to lift a finger! Contact Us to plan the perfect summer party today!