Last Updated:
May 8, 2021
Easy Homemade Marshmallow Recipe
This deliciously pillowy, easy to prepare homemade marshmallow recipe is literally the only marshmallow you will ever want to eat going forward. This recipe for homemade marshmallows can easily be adapted to different flavors such as peppermint, root beer, chocolate, almond, lemon, lime, orange creamsicle, pumpkin spice, or basically any flavor you can dream of that there is an extract for. The sky is the limit! Have fun and explore new flavor profiles and combinations. One of my favorites right now is orange & cardamom flavored homemade marshmallows.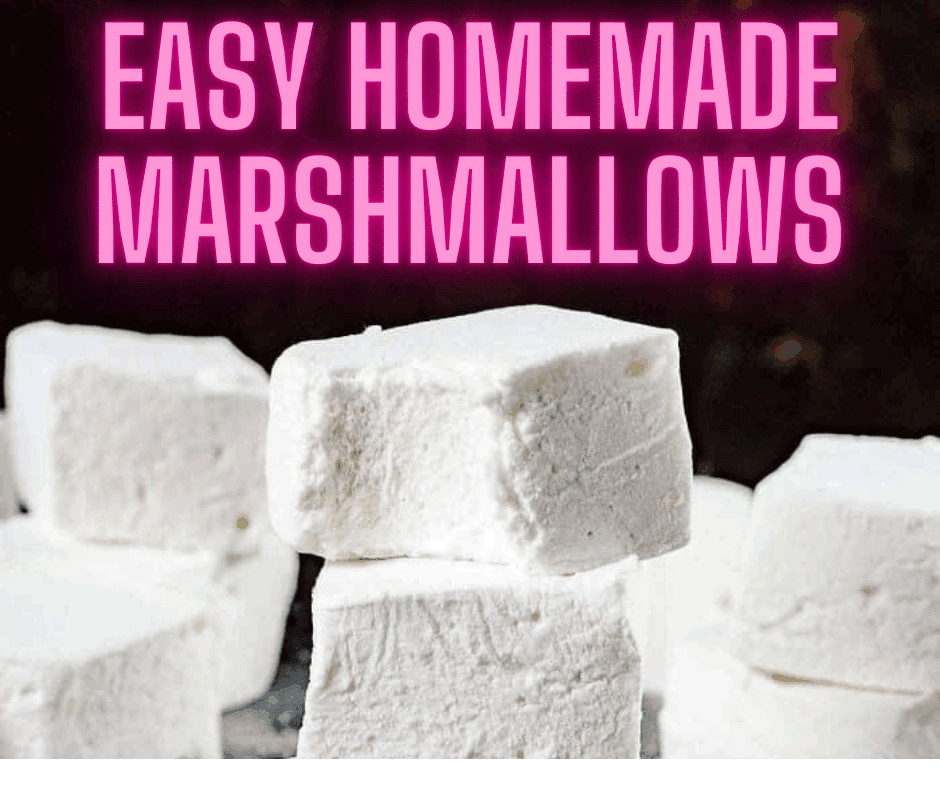 Unlike those bizarrely textured marshmallows you buy from the local grocery, where the outside is dry and hard, and the inside soft, a marshmallow should be light, airy, creamy, and have a pillowy soft texture that provides just enough structure so when you bite into the marshmallow, that it becomes creamy and melty almost instantly on your tongue.
There are two styles of homemade marshmallows, what I call the "purist" version, where the color of the marshmallow remains white. As opposed to the more modern version in which the color of the actual marshmallow matches its flavor. If you have kids, the more modern version of the homemade marshmallow is probably going to be more in line with what they will like. An orange-colored, orange-flavored marshmallow, a pink colored, peppermint-flavored marshmallow, etc.. you get my drift.
Is Making Homemade Marshmallows Hard?
Nope, it's actually super easy, as long as you have a durable stand mixer. This is not the recipe for you if you want to hand whisk or use a flimsy hand mixer for this. Bust out your old, heavy Kitchen Aid stand mixer and this will be your secret to the perfectly textured pillowy marshmallows you're seeking.
Other Uses for Homemade Marshmallows:
The world's most delectable s'mores!
Topping your favorite cup of hot chocolate that you've added a secret shot of peppermint schnapps too! (Adults only, please!)
Playing a round of everyone's favorite game of "chubby bunny"
Mixing them into your brownie batter for gooey deliciousness factor enhancement
Dip them in dark chocolate and roll them in sprinkles
Toss in dried fruit & nuts after the extract, for a crunchy flavor surprise
Drizzle chocolate & sprinkle them with crushed peppermint candies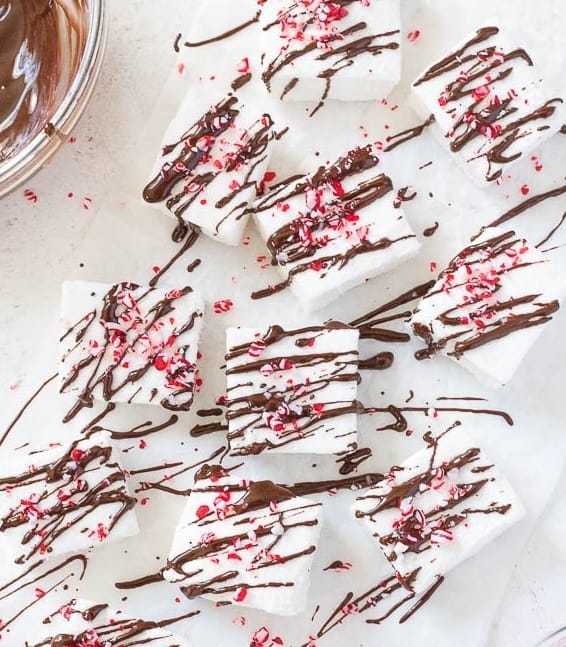 Homemade Marshmallow Recipe Ingredients: 
1lb bag of powdered confectioners sugar
3 sachets of unflavored Knox gelatine (0.75oz total)
1/2 cup cold water
1/4 teaspoon kosher salt
2 cups granulated sugar
2/3 cup Karo light corn syrup
1/4 cup room temperature water
1 & 1/2 tablespoons vanilla extract (or any other of your favorite flavored extracts)
Non stick vegetable cooking spray
How to make homemade marshmallows: 
Prepare a 9x9 glass baking dish by generously spraying with non-stick vegetable cooking spray (Pam), then set aside.
In the metal bowl of your stand mixer, fitted with the whisk attachment, add in the 1/2 cup cold water, and sprinkle over the 3 sachets of unflavored gelatine and gently combine using a spoon. It should take about 15 minutes before the gelatine is fully bloomed and ready for use.
While the gelatine is blooming, in a small saucepan combine, the room temperature water, light corn syrup, and sugar. Set over medium-high heat, and whisk together the mixture. Stop whisking as soon as the mixture is combined, and remove the whisk from the pan. Bring the sugar & water mixture to a full-motion boil. Once the mixture comes to a boil, set a 1-minute timer, and do not stir or swirl the pan. CAUTION: Hot sugar mixture can cause serious burns! Be very careful when working with it!
As soon as the 1-minute timer has elapsed, turn off the heat and remove the pan from the stove. Start your mixer on low speed, and slowly drizzle the molten sugar mixture into the gelatine & water. Again, be VERY careful to not splash hot sugar onto yourself. Gradually increase the mixer speed to high as you've completed adding in the molten sugar mixture to the gelatine. Add in the salt, and continue whisking for approximately 10-15 minutes, until the mixer bowl has cooled to almost room temperature. Slow mixer down to medium-low, add in your extract and continue to whisk on medium for another 60 seconds.
Spray a rubber spatula with the non-stick cooking spray. Spread the marshmallow mixture into the previously sprayed 9x9 pyrex, repeat spraying the spatula if the mixture sticks. Smooth with the spatula until the mixture is evenly distributed in the pan. Take a piece of plastic cling film, spray it with non-stick spray, and smooth it over the top of the marshmallow surface to effectively create a seal. The plastic wrap must be touching the entire surface of the marshmallows. This will effectively create a seal over them.
Let the marshmallows sit out at room temperature overnight before proceeding.
Next, sprinkle a large cutting board generously with approximately 1 cup of powdered sugar to create an even layer that is approximately 11" x 11" in size. Turn the marshmallows out of the baking pan onto the bed of powdered sugar. Dust the top with more powdered sugar. Using a sharp knife, cut the marshmallows into your desired size. Toss the cut marshmallows in additional powdered sugar until they are coated thoroughly on all sides. This will keep them from sticking together!
How do I store homemade marshmallows? 
Store your homemade marshmallows in an airtight container, lined with a paper towel for up to 2 weeks at room temperature. Do not refrigerate! If the marshmallows become too moist, simply re-toss them in fresh powdered sugar to prevent them from sticking.
Additional tips on preparing this recipe:
Safety is paramount! Pay special attention to never splash molten sugar! It can cause serious burns!
Do not double this recipe, as most household stand mixers do not have the bowl capacity to handle the volume after whipping.
If your sugar mixture crystalizes on you during the boiling process, throw it out and start over. No one wants to eat shards of crispy sugar bits.
Pay attention to stop whisking the sugar mixture as soon as it comes together and remove the whisk from the saucepan. Do not put it back in.. ever.
If you are looking for the more modern marshmallow, add 2-3 drops of food coloring at the time you add the extract to color the marshmallows. I find that gel food coloring works better for really vibrant colors.
Play around the amount of extract you use increasing in 1/2 teaspoon increments until you find the desired flavor profile you like. When I make vanilla homemade marshmallows, I always put in 2 TBSP of really good quality vanilla extra, or use two whole scraped vanilla beans to really pump up the flavor!
---
Check Out More Delicious Recipes and Entertaining Tips & Tricks from AWG Private Chefs:
About the Author: Certified Master Chef Sean Andrade is Executive Chef/Owner of AWG Private Chefs, named the #1 Private Chef company in California. Chef Sean has worked in the restaurant and hospitality industries worldwide for more than 25 years. His company AWG Private Chefs offers highly custom-tailored, bespoke private chef dining experiences, select location meal delivery, and event catering in over 30 countries around the globe.