Last Updated:
September 30, 2021
Easy & Delicious Red Wine Reduction Sauce Recipe
So, it's date night... and you want to wow your date with something delicious and "fancy" without it being too difficult, or too much work to prepare. Enter our recipe for this easy to make red wine reduction sauce. In just a few minutes, you will be ready to enjoy this delicious sauce as a great accompaniment to any meat or fish you might serve it with!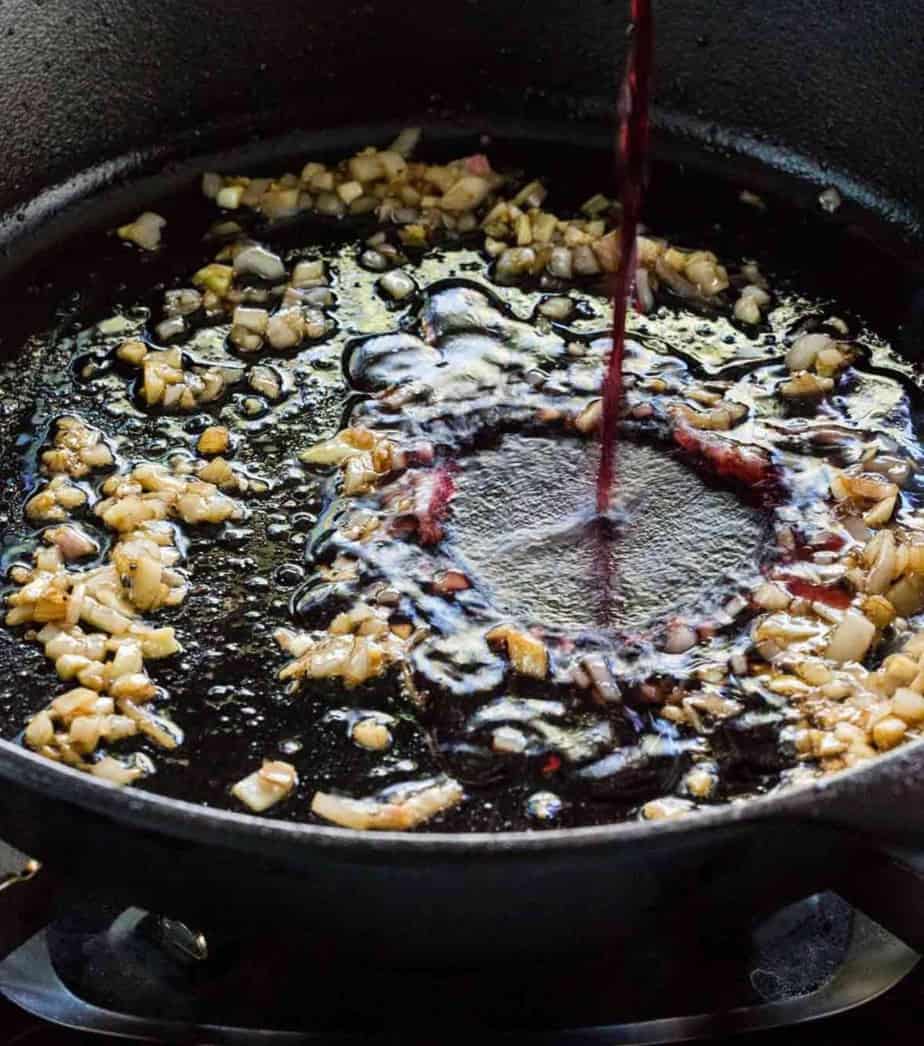 Ingredients for Red Wine Reduction Sauce:
1 Cup of your favorite dry red wine (Cabernet, Merlot, Zinfandel, Syrah)
1 Large Shallot, Medium Dice
2 Sprigs of Fresh Thyme
Kosher Salt
1 Tablespoon Organic Tomato Paste
Fresh Ground Black Pepper
2 Cups Low Sodium Chicken Stock or Low Sodium Chicken Bone Broth
1 3/4 Tablespoons Unsalted Butter, cubed
Cast Iron Skillet (Do not use non-stick!)
Important Notes Before You Begin Cooking:
Please make sure to only use a low sodium stock or bone broth when preparing this recipe. As the liquid reduces, the sodium levels intensify greatly. Using low sodium stock or broth will guarantee that your final product doesn't come out being way too salty. You can always increase the salt level to your taste right before serving this sauce if desired.
Always cook with a quality wine that you would drink. Using low-quality wine in this recipe may produce very off-putting flavors. Remember if you wouldn't drink it yourself, then please don't cook with it!
How to Prepare Red Wine Reduction Sauce:
In a small saucepan, bring the chicken stock to a boil over medium-high heat. Continue to boil for approximately 15-20 minutes until the stock reduces by 3/4ths, or to about 1/2 cup. Remove from heat and cover the pot with a lid to keep warm.
In the cast-iron skillet, over medium-high heat, add in the diced shallots, tomato paste, and red wine. Whisk together, and cook for approximately 10 minutes. Continue whisking often until the mixture has reduced to approximately 1/3 of a cup and the shallots have completely softened. Add the reduced chicken stock into the skillet, and bring to a boil over medium-high heat.
Cook for an additional 8-10 minutes or until the entire mixture reduces to approximately 2/3 of a cup. Remove from the heat. Add in a cube of cold butter one at a time, and whisk briskly until each cube melts completely. Ensure that all of the butter is fully incorporated. Season the red wine reduction sauce with kosher salt, and a good amount of fresh ground black pepper to taste. Serve the sauce hot spooned over your favorite meats such as pork tenderloin, steaks, chicken, fish, duck, venison, or wild boar.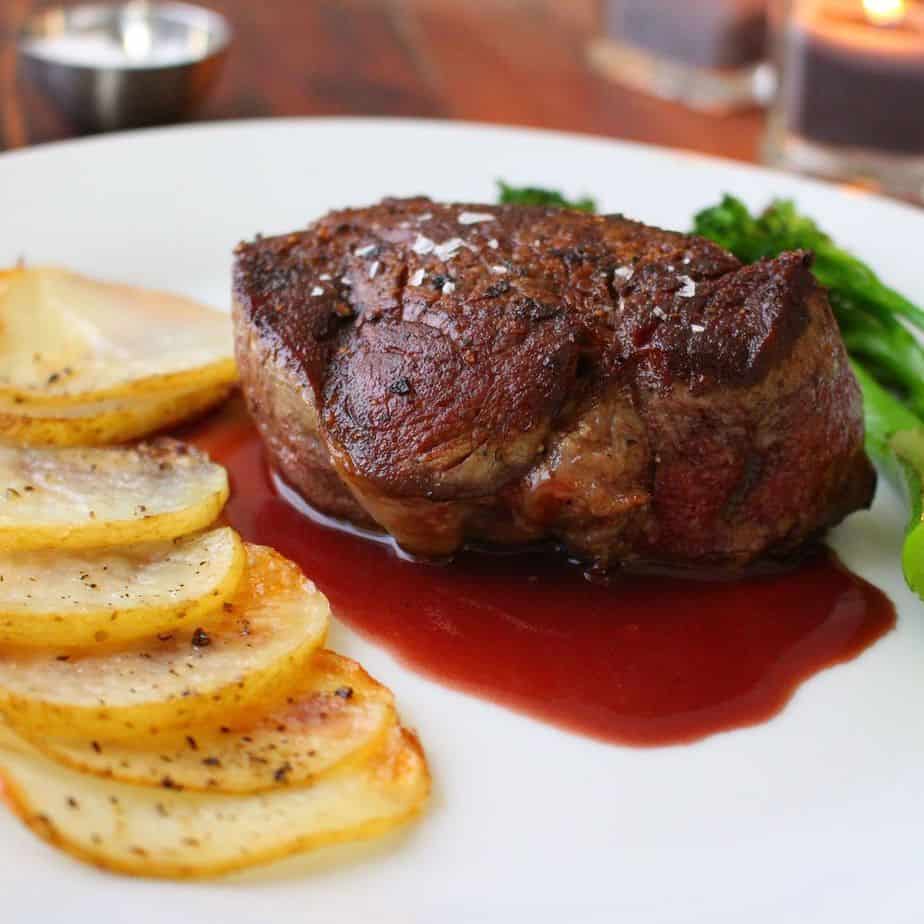 Variations on Basic Red Wine Reduction Sauce Recipe:
If you want to really enhance the depth of flavor, you can turn this sauce into a mouthwatering pan sauce for steak by searing your steaks in a cast iron pan (in place of the skillet). After searing, remove the steaks from the pan, and cover with a tent of heavy-duty aluminum foil to keep warm.
While your steaks are resting, add the stock to the hot cast iron pan and scrape all of those delicious loosened brown bits. This process is called deglazing the pan, continue making the recipe as directed above using the cast iron pan in lieu of the saucepan.
Chef's Tip: For a perfectly silky smooth sauce, pour your sauce through a fine-mesh strainer before serving to remove any particles. If you like a little bit of texture to the sauce, then straining isn't necessary.
For an Asian twist:
Toss in a 2-inch slice of peeled ginger, cut approximately 1/4" thick into the pan. Add one star anise to the chicken stock. This will add some nice notes of Asian spice and depth of flavor. Remove the ginger and star anise after approximately 5-10 minutes of cooking.
For a Mediterranean Flavor:
Toss in a handful of pomegranate seeds approximately 2 minutes before whisking in the butter. If you don't have pomegranate seeds, you can use a tablespoon of pomegranate molasses.
However, you choose to prepare this red wine reduction sauce, keep this recipe in your toolkit. This recipe is quick and easy that can easily be adapted to virtually any style of cuisine that you happen to be preparing.
From our kitchen to yours,
Happy Cooking!
---
Check out our other recipes, tips, tricks on the AWG Private Chefs Blog!
About the Author:
Certified Master Chef Sean Andrade is Executive Chef/Owner of AWG Private Chefs, named the #1 Private Chef Company in California and winner of the Best Personal Chef and Best Caterer in San Francisco for 2019, 2020, and 2021.
Chef Sean has worked in the restaurant and hospitality industries worldwide for more than 25 years. AWG Private Chefs offers highly custom-tailored, private chef dining experiences, and event catering in over 30 countries around the globe.