Last Updated:
May 6, 2021
9 Ways To Whole Roasted Cauliflower Recipe Splendor
How to transform this staple vegetable into the star of the center of your vegan or vegetarian dinner plate.
Some people often pass by cauliflower when they are in the produce section of their local grocery store, rarely giving it a second thought. Little do they know that with a few simple ingredients, you can transform this delicious vegetable into multiple different vegetarian or vegan main dishes, worthy of serving at a dinner party. With a few simple ingredients, you probably already have in your pantry or spice cupboard.
The instructions for how to roast a whole head of cauliflower are very easy and don't require a ton of kitchen skill either! Just a good pan, an oven, and a bit of time are all you will need!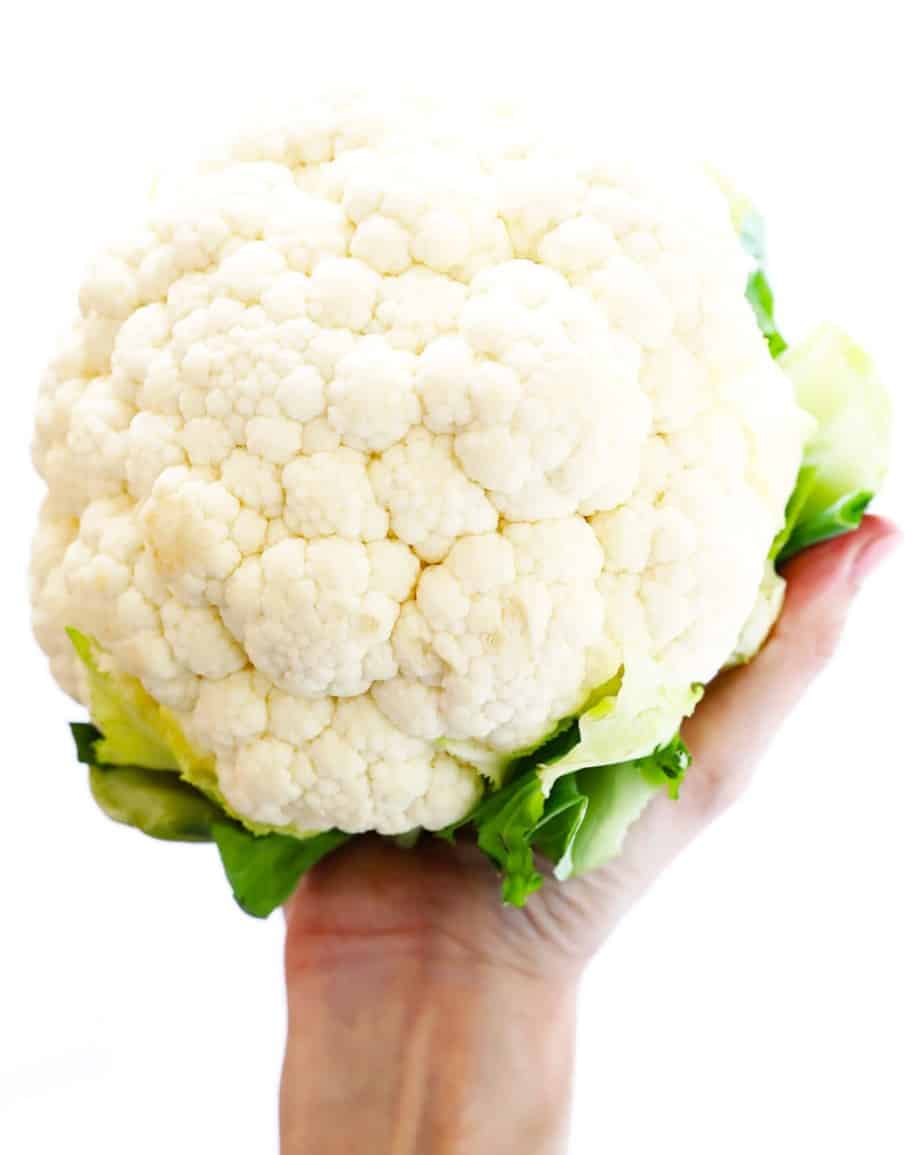 How to Roast a Whole Head of Cauliflower:
Ingredients:
1 Large Head of Cauliflower
Extra Virgin Olive Oil
Kosher or Sea Salt
Fresh Cracked Pepper
How to Prepare Whole Cauliflower: 
Step One: Preheat your oven to 375 degrees F conventional, 350 degrees convection.
Step Two: Peel away and compost the outer green leaves from the stem of the cauliflower. Carefully remove the center core using a sharp paring knife, leaving the stems and florets intact without cutting them.
Step Three: Under cold running water, give the cauliflower a good rinse, and then gently shake the vast majority of the water away, leaving it still damp, and place it on a clean work surface or cutting stem side facing up. Next, pour a tablespoon or two of olive oil into the center of the cauliflower, and use a silicone basting brush to brush all of the florets on the interior of the cauliflower. Season with a good amount of salt, and fresh cracked pepper. Pressing the seasoning into the olive oil to make it stick.
Step Four: Place the cauliflower stem side down, into a cast-iron skillet or oven-proof glass baking dish. Oil and season the dome side of the cauliflower as mentioned in step three. Place the cauliflower into the oven and cook until tender all the way to the center, when pierced with a sharp paring knife. Drizzle with additional olive oil every 20-25 minutes to increase browning if you like your cauliflower to have a nice golden brown semi crisp crust on the outside.
Total roasting time depends on the size and density of your particular cauliflower, with average large-sized heads of cauliflower taking 1-2 hours roasting time at 375 degrees conventional.
Step Five: After the oven roasting is complete. Remove from the pan, and transfer to a carving board, and slice into one-inch-thick cauliflower steaks for easy serving.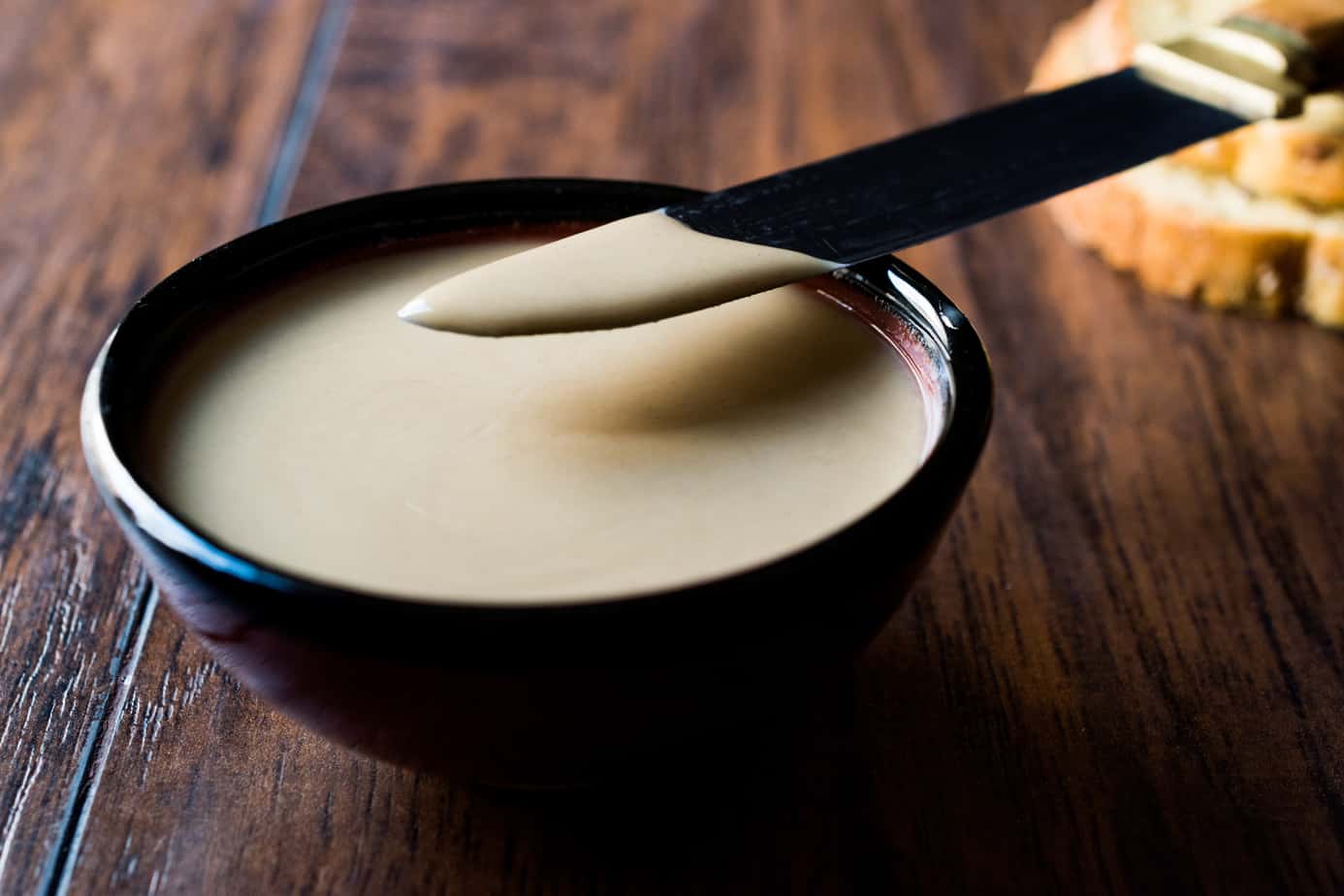 Sauces for Whole Roasted Cauliflower: 
Middle Eastern:
One of my favorite basic Middle Eastern sauces for a whole roasted cauliflower recipe is Tahini, a simple sauce made out of roasted then ground sesame seeds. Tahini sauce is rich, nutty, and pairs beautifully with the dish or any roasted vegetables. If you like things a bit spicier, a sprinkle of red chili flake or cayenne pepper can pump the volume way up.
Mediterranean:
Prepare a simple quick sauce of lemon juice, either chicken or vegetable stock, shallots, a touch of butter, and some capers for a cauliflower piccata recipe. The bright acidity of the lemon and vinegar easily cuts through the richness of the cauliflower. Serve it on a bed of rice, or with some pasta drizzled generously with the piccata sauce.
Asian:
After the first 30 minutes of roasting, begin basting the whole head of cauliflower with a mixture of hoisin sauce, Chinese five-spice, garlic, and grated fresh ginger. Baste with the Asian sauce mix approximately every 15-20 minutes during the cooking process to develop a sweet and sticky glaze. Finish with some fresh scallions sliced on a hard bias for a beautiful presentation and a pop of freshness.
Mexican:
After you've seasoned and oiled the cauliflower as above, sprinkle with cumin, onion powder, ancho chili powder. Toss in some sliced onions & bell peppers, and 4-5 garlic cloves into the pan the last 30 minutes of cooking for a great twist on vegan gluten-free fajitas! Squeeze over some fresh lime juice, or even sprinkle on some tequila during the cooking process for added depth of flavor.
Hawaiian:
Brush your cauliflower with a mixture of a teaspoon of liquid smoke, a cup of vegetable or pork stock, and a teaspoon of dark soy sauce. Serve it up with two scoops of rice for Kalua style vegan luau food.
Spanish:
Have plenty of Romesco sauce on the side to dip your cauliflower into. Romesco is a classic vegan Catalonian Spanish sauce, comprised of almonds, fire-roasted red peppers, sun-dried tomatoes, garlic, sherry wine vinegar, olive oil, and smoked paprika. Pour yourself a glass of Spanish Cava and enjoy!
German:
Zigeunersauce, also known as "Gypsy Sauce" is a festive condiment primarily served in fast-food restaurants in Germany. Zigeunersauce is made with onions, bell peppers, paprika, tomato paste, stock, lemon juice, and honey. The "Gypsy Sauce" can be used for dipping, or basting on your whole roasted cauliflower.
French:
Spoon over a Beurre Noisette (loosely translated to hazelnut butter). This classic French sauce is made from unsalted butter that is slowly melted over a low flame allowing the butter solids to sink to the bottom of the saucepan to brown into a lovely gentle hazelnut color which infuses the butter with a rich nutty flavor. You can use the Beurre Noisette for dipping and it's best served warm straight from the saucepan. Sprinkle with fresh parsley.
Indian:
Simply sprinkle the cauliflower with Garam Masala spice mix before roasting. Garam Masala is a staple Indian spice made from cumin, coriander, cloves, bay leaves, black pepper, chilis, cinnamon, cloves, cardamon, and sometimes nutmeg. Homemade Garam Masala is always best, but if you don't have any handy, you can always use store-bought as well. Serve with some warm naan bread.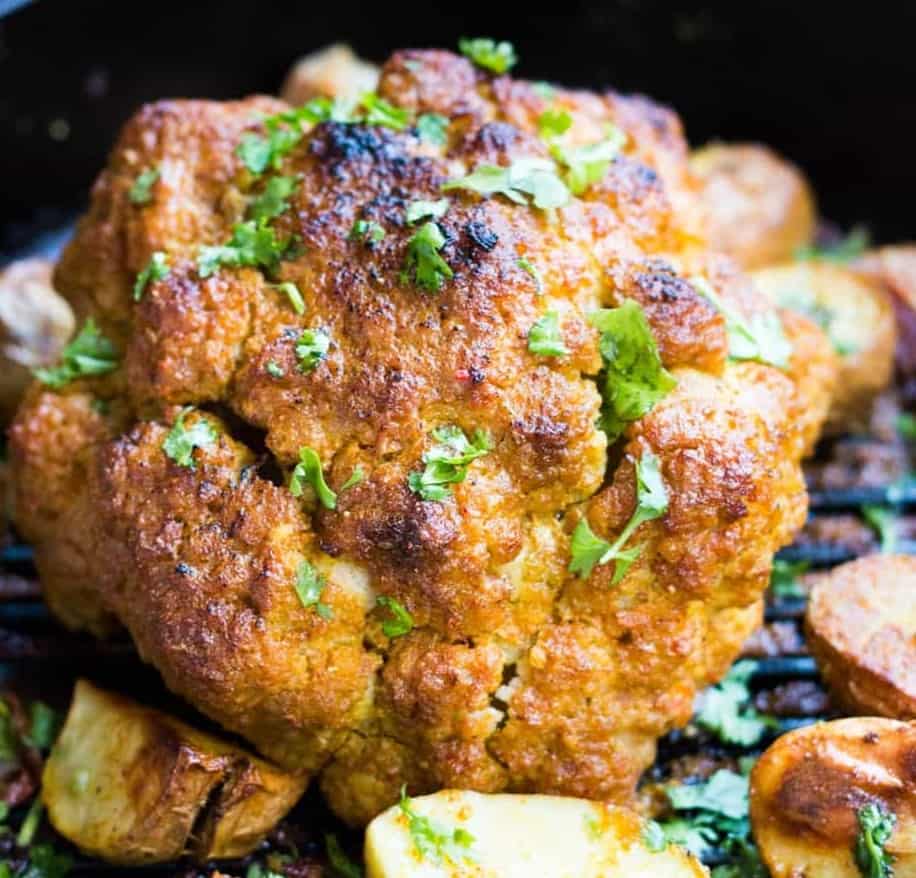 Which one of these recipes for oven-roasted cauliflower are you going to try next?
---
Check out other recipes, tips & tricks for Easy, Effortless Entertaining from AWG Private Chefs!
About the Author: Certified Master Chef, Sommelier & Wine Educator, Sean Andrade is the executive chef/owner of AWG Private Chefs, named the #1 Private Chef Company in California. Chef Sean has worked in the restaurant and hospitality industries worldwide for more than 25 years. His company AWG Private Chefs offers highly custom-tailored, bespoke private chef dining experiences, and private event catering in over 30 countries around the globe.