Why Should I Hire A Private Chef?
Private Chef & Personal Chef Service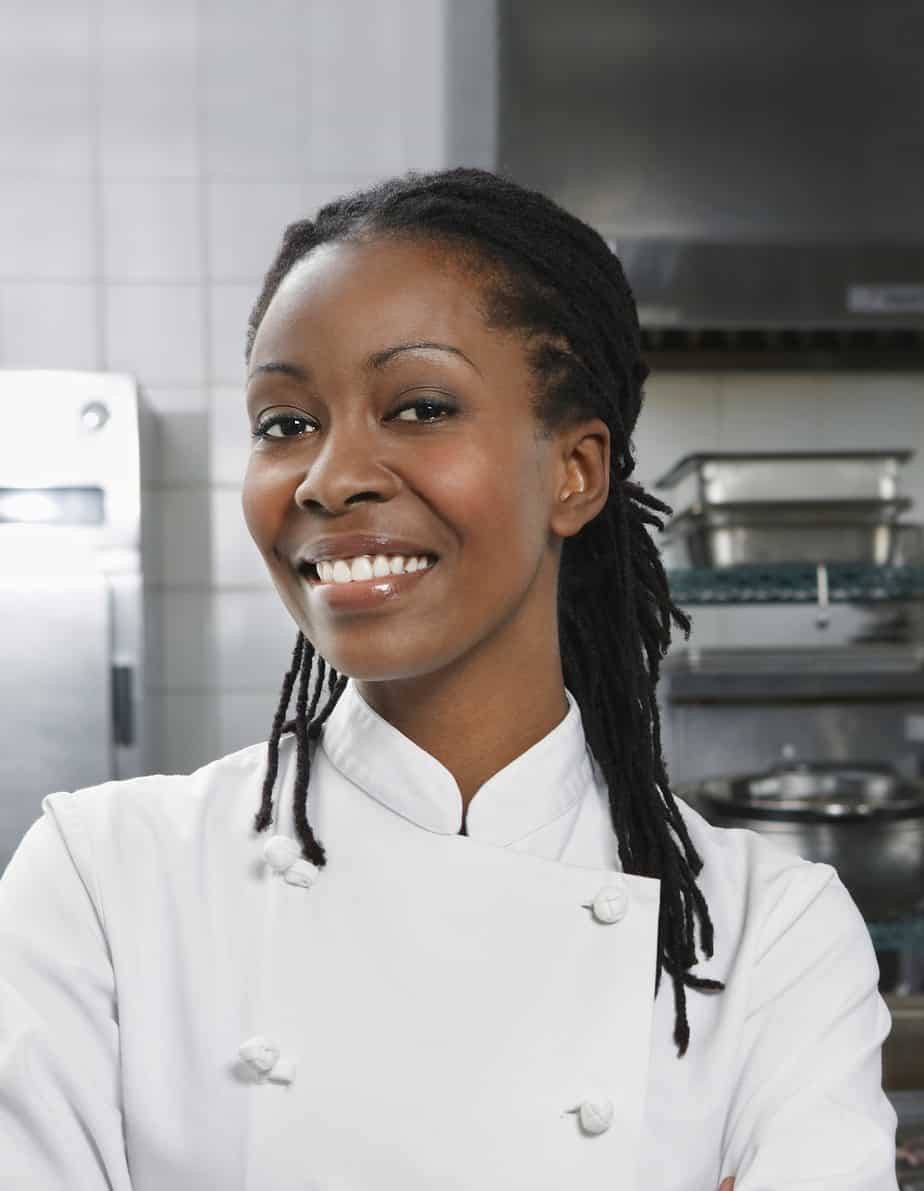 What Are The Benefits Of Using A Private Chef Service?

​
A Private Chef Service is the perfect solution for your home or business when you're looking for a superior level of quality, service, unlimited menu options, and personalization in your meals when compared to a traditional caterer.  Private Chef service and Personal Chef service by AWG Private Chefs provides you with inventive, delicious, healthy fully custom-tailored menus curated by our Certified Master Chefs in the comfort of your home.  Your AWG Private Chef service team handles all of the menu pre-planning, grocery shopping, preparation, cooking, service, and most importantly the sanitization and clean-up of your kitchen at the end of your meal.  ​
​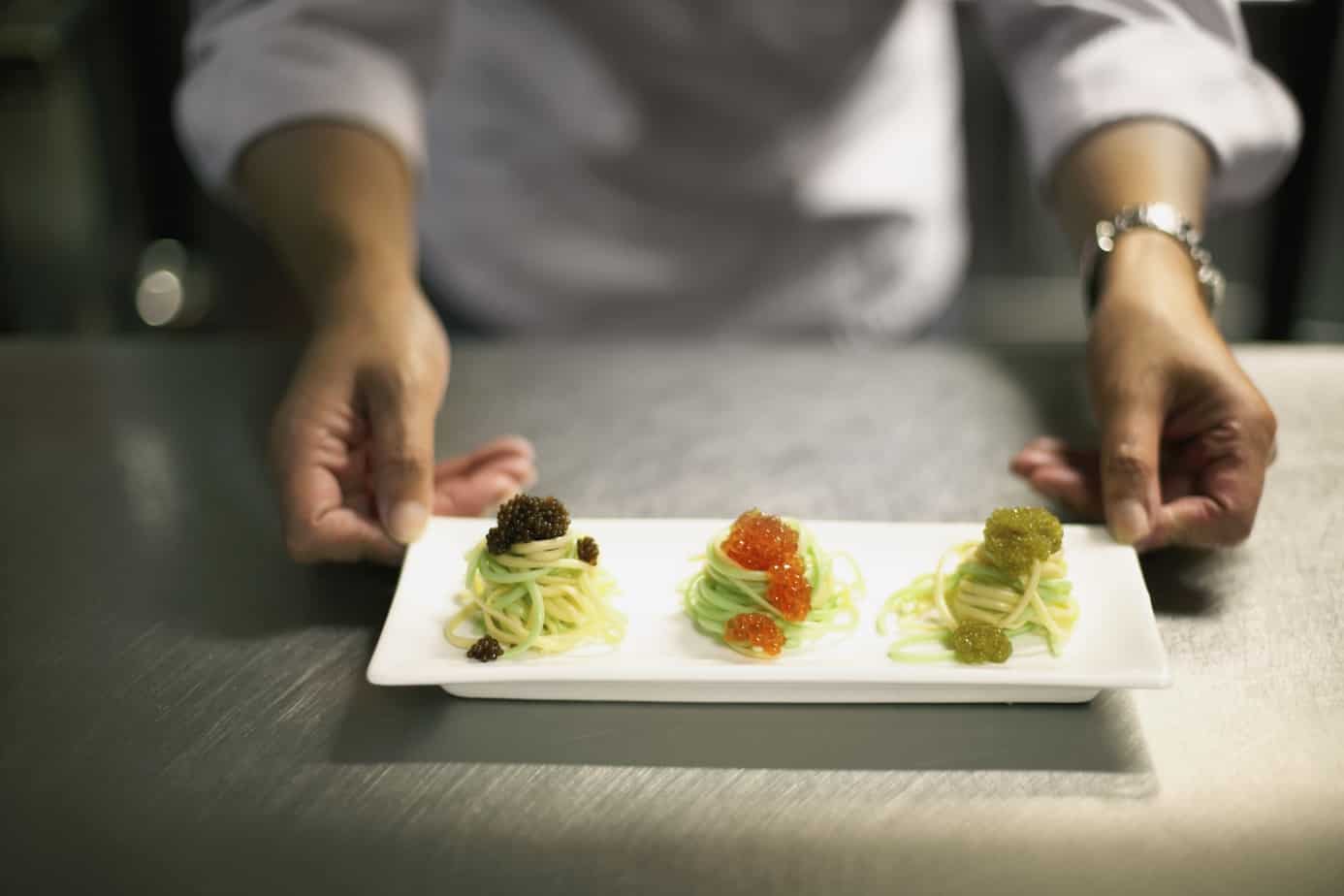 Fully Customized Menu Planning & Design

​
Do you love your food prepared to your exact specification?  Spicier? Food Allergies? Extra Sauce?
AWG Private Chef service is designed exactly for you.  We provide you with a preference sheet questionnaire to complete prior to designing any menus. We use your questionnaire answer data to personalize your menus to your exact individual preferences, style, and tastes.  If you have favorite dishes, preparation styles, or specific ingredient requests, just let us know!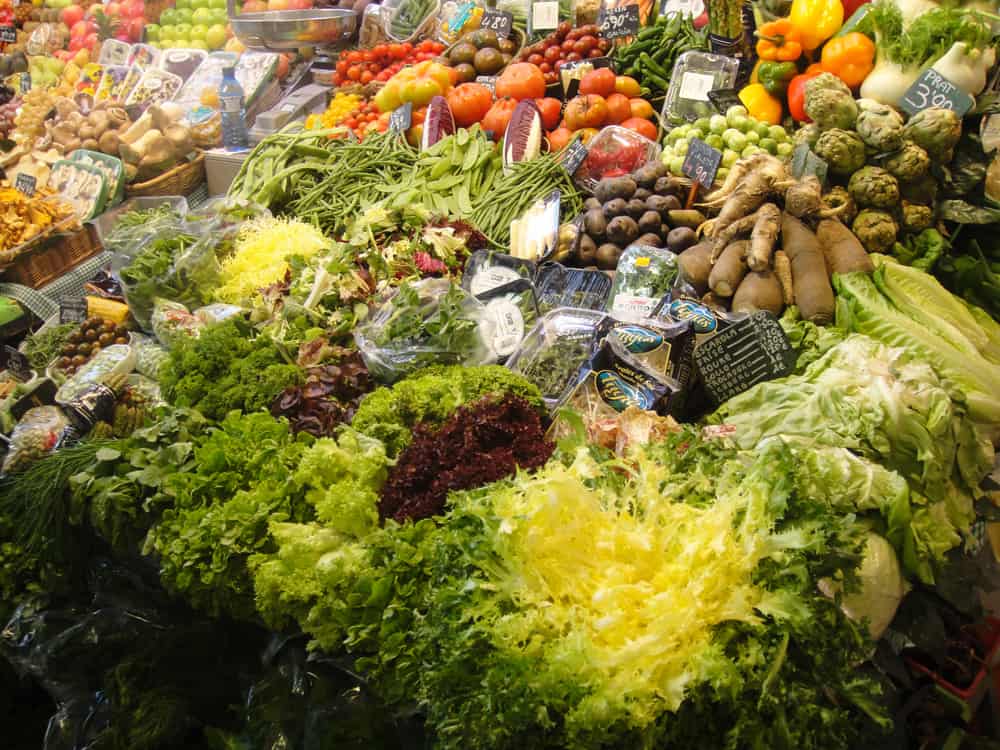 Ingredient Sourcing and Grocery Shopping

​
You will never have to stand in line at the grocery store again! ​
All grocery shopping and ingredient sourcing are included with your personal chef service.  We utilize the high quality, freshest, organic, sustainable, and GMO-Free ingredients sourced exclusively from small family-owned, fair trade, and fair wage farms to prepare your meals. 
With AWG Private Chefs, you always enjoy full editorial control of your entire menu, down to the ingredient level.  This guarantees that all of your favorite ingredients are used in every dish.
In-Home Meal Preparation and Cooking

​
Enjoy Private Chef restaurant-quality dining experiences at home!
Your private chef will arrive at your home approximately 90 to 120 minutes prior to your desired time to sit down to begin your meal.  All your private chef will need to complete the cooking of your meal is a sink, stove, and some refrigerator and counter space. 
Your chef will arrive with any specialized equipment necessary to complete any complex menu items.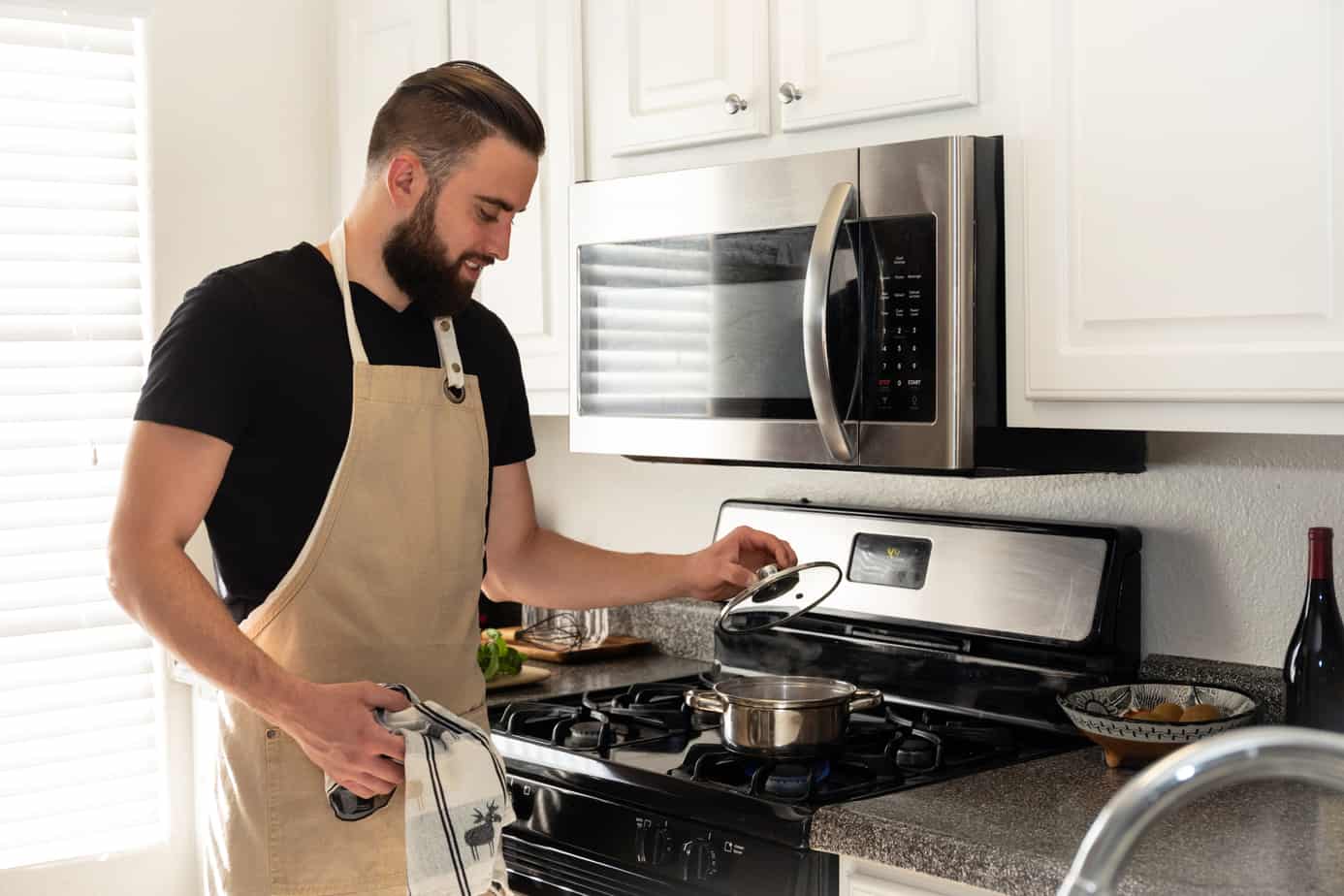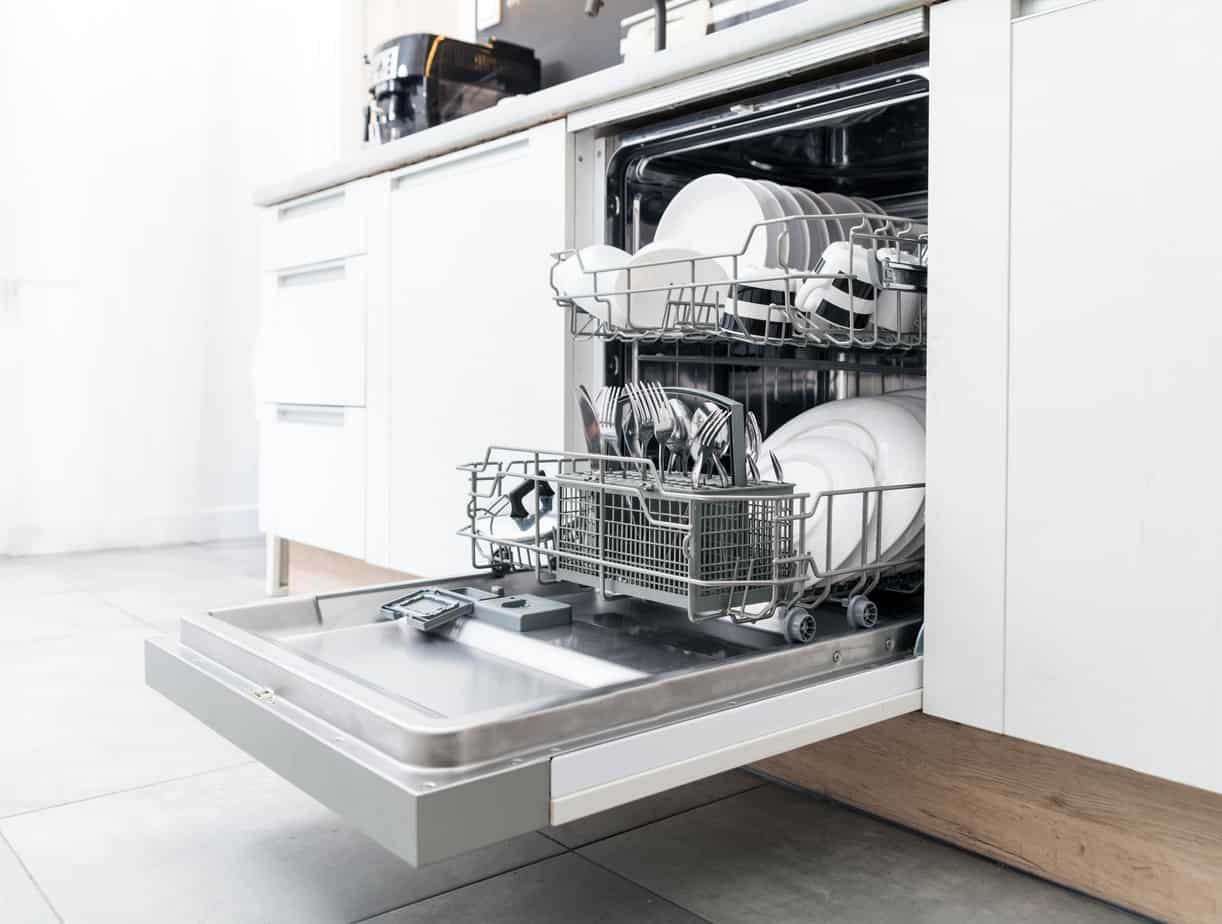 Cleanup Is Always Included

​
You'll never have to wash dishes or clean up your kitchen!
Once your personal chef has completed the cooking of your meal, any leftovers are yours to enjoy and will be packed in your food storage containers and placed in your refrigerator or freezer.
All dishes will then be rinsed and loaded into your dishwasher, and all kitchen counter surfaces cleaned and sanitized.  Your service team even empties the trash when they're finished serving you!
Benefits of Private Chef Service:
​
Do you enjoy the great tasting food of restaurants, healthier food choices, and never having to worry about delivery or doing the dishes?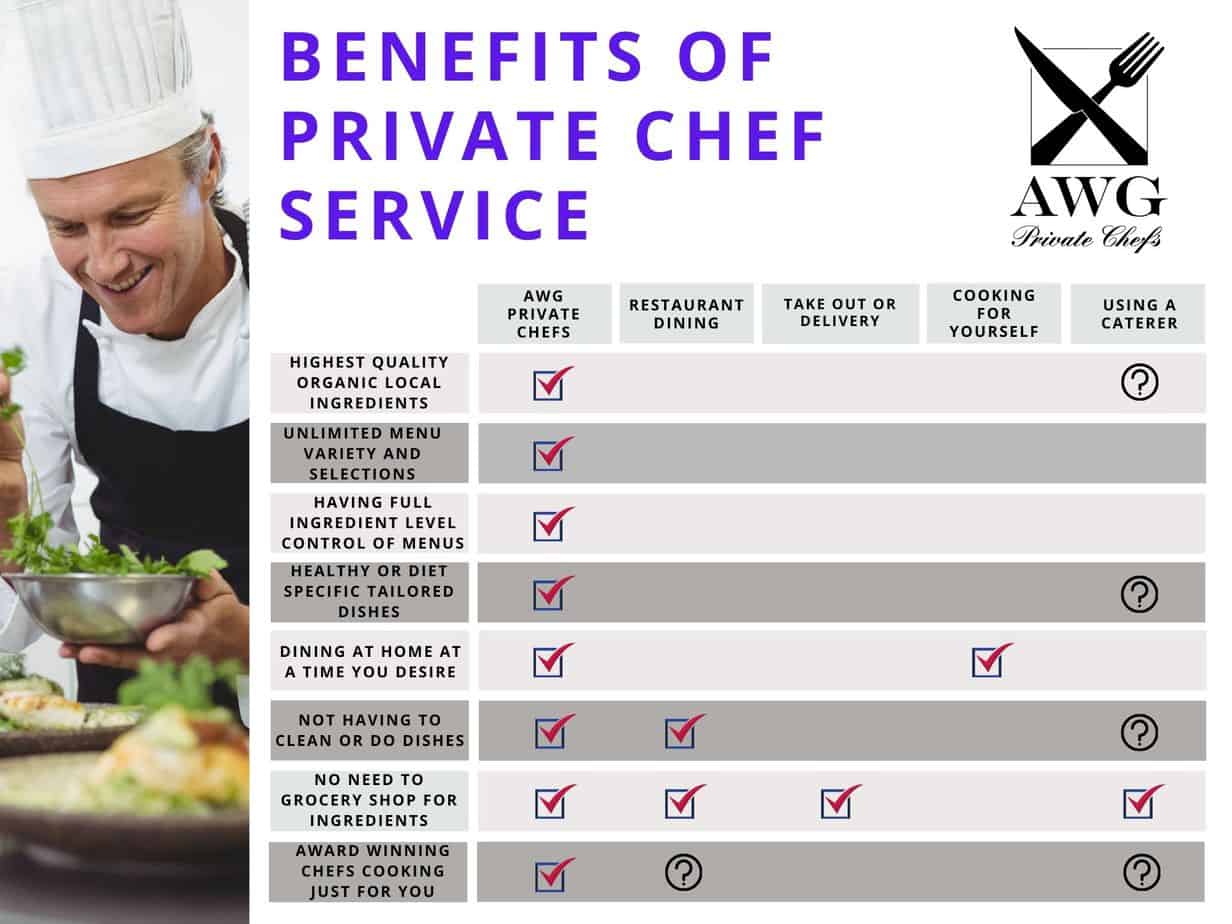 Save Time By Hiring A Private Chef:

​
Before your scheduled chef arrival time, all ingredient selection and shopping will be finalized.  Saving you by not having to make trips to multiple stores to source ingredients for your menu items. Simply let your chef know your preferences or dietary restrictions you may have, and we will design your custom-tailored menu around them. ​
Relax, Be A Guest At Your Own Table:
By using a private chef service you won't spend hours in the kitchen before and during your booking. Spend quality time with your guests and family while our service team handles every last detail for you.  No more worrying about what to prepare or how to create a menu that everyone at the table will enjoy. ​
Save Money By Hiring A Private Chef:

​
AWG Private Chefs is extremely cost-effective and will save you money.  How much of your money is spent on ingredient shopping, decor, etc? How much of your time would you spend designing a menu for your family or guests, multiple shopping trips just to source ingredients, hours of preparation and cooking in the kitchen, then the cleanup of the kitchen?  How many times have you hosted a dinner party, or cocktail party and spent the entire evening in the kitchen cooking or running around checking on guests, refilling drinks, cleaning up, etc?  ​
Enjoy Easy, Effortless Entertaining:

​
Clients of AWG Private Chefs have been enjoying our signature Easy, Effortless Entertaining services since 2001.  Our unmatched and uniquely custom-tailored level of service is what makes your next meal so special. Our attention to detail of every aspect of pre-planning, coordination, preparation, cooking, service, and clean up of your event allows our hosts and hostesses the ability to just sit back, relax, and enjoy their private dining experience in the comfort and convenience of their own home, or wherever they might need us.  
​
Who Hires A Private Chef At Home?

​
Anyone who appreciates amazing fully custom-tailored service, world-class variety in menus from casual to formal, or anything you can imagine.  Hosts and Hostesses are hiring personal chefs because they desire more free time to spend with their guests. Personal Chef dining experiences create lasting special memories that enhance your meal, dinner party, or celebration. Active families and busy professionals who enjoy the ability to dine on a wide variety of styles of cuisine. Hire a Personal Chef service to provide those individuals who have unique special diets, food allergies, or physician-prescribed dietary restrictions with the ability to enjoy cuisine from all over the world.