Last Updated:
May 28, 2023
Best Creamed Spinach Recipe: Steakhouse Favorite
Creamed spinach, chock full of creamy, cheesy deliciousness. Probably one of the best ways to get your kids to "eat their greens". You will never want to look at leafy greens in the same way, ever again! You'll enjoy our creamed spinach recipe.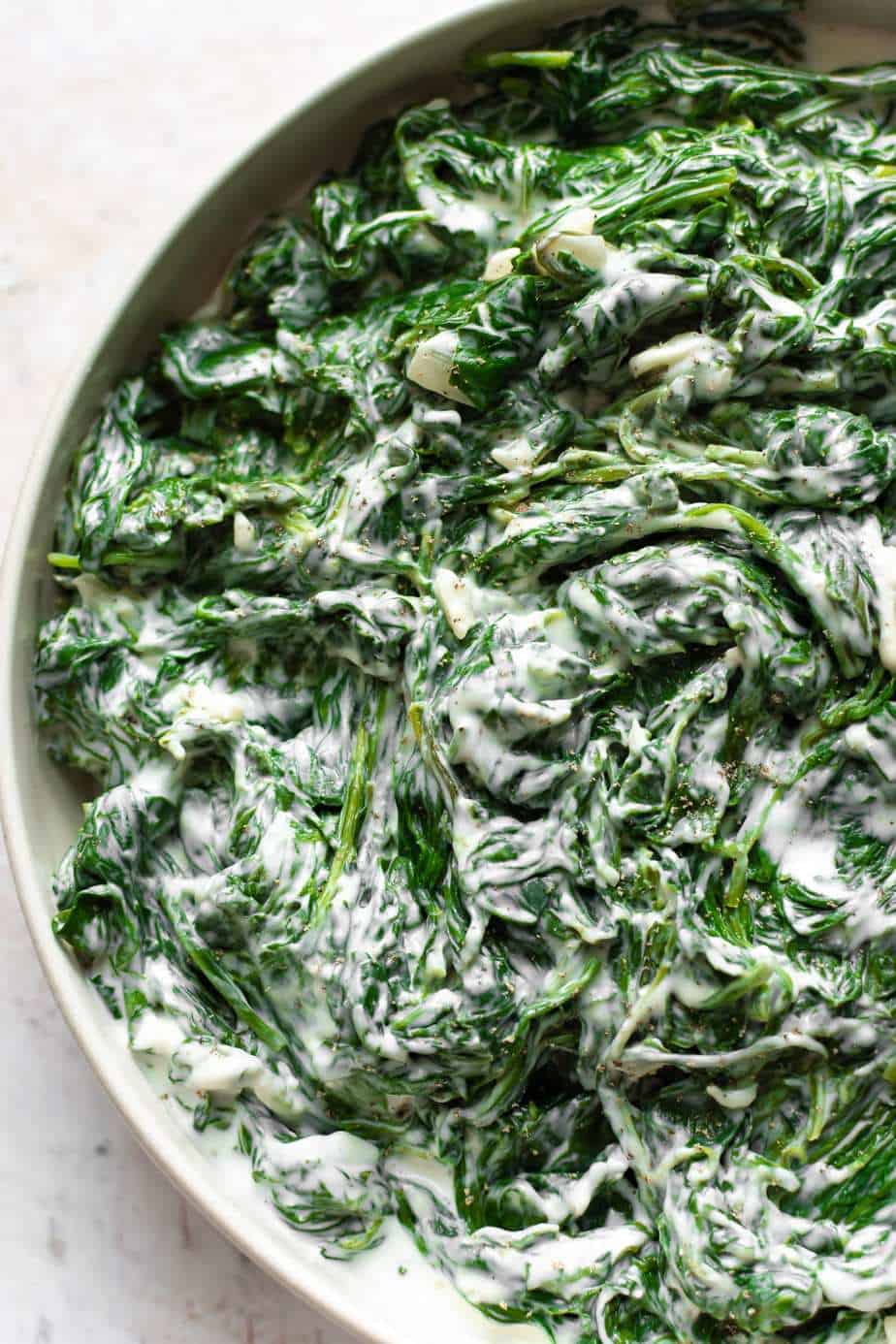 The best recipe for creamed spinach doesn't have to come from a restaurant. This flavor-packed favorite side dish is easy, quick, and delicious to make. The recipe for creamed spinach can be easily scaled up or down to create the portion that is just right for your needs. It also reheats beautifully for the next day as leftovers as well.
The dish itself may sound fancy, or you only see it on menus at those fancy white tablecloth premium price steakhouses. Why not make it at home instead? This recipe isn't made just to be served next to a hunk of Wagyu steak or butter-poached lobster.. instead it can be served as a delicious gourmet side dish any time you wish without the insanely high price of going out to eat.
Probably the world's best creamed spinach recipe. A melange of flavors creamy, rich, and one of the most requested side dishes by those picky eaters who "hate spinach". One bite of this tasty cheesy masterpiece and they will be converted into instant spinach lovers.
Can I use frozen or fresh spinach?
Absolutely! You can substitute fresh or frozen spinach leaves. Just remember that if you are using frozen spinach, that you must thaw it and really squeeze all of the water out of it.. You don't want watery creamed spinach!
How creamy is creamy?
Very creamy! This is not the time to skimp or get all "diety" on this recipe. Please use full fat heavy cream. If you substitute half and half, or skim milk, etc.. this will give you a watery, soupy mess.
Steakhouse Classic Creamed Spinach Recipe
Ingredients For Creamed Spinach:
1/4 cup grated fresh parmesan Reggiano cheese (no green bottle shaker cheese please!)
1/2 teaspoon sea salt
1/2 coarse freshly ground black pepper
1/4 cup unsalted butter
1 cup heavy cream (40%+ fat)
4 large cloves of garlic, minced fine
2 ounces Philadelphia Cream Cheese
1/4 cup all purpose flour (you can also use Bob's Red Mill 1 to 1 Gluten Free)
1/8 teaspoon freshly ground nutmeg
1/4 of a lemon (1 wedge)
1 teaspoon of Extra Virgin Olive Oil
1 pound of fresh organic baby spinach leaves, washed (you may also substitute in 1/3 of a pound of baby kale in exchange for removing 1/3 pound of the spinach leaves)
How to Make Creamed Spinach:
In a large skillet or heavy-bottomed dutch oven, with a lid, over medium to medium-low heat, add in your butter and olive oil, melt the butter gently watching that you don't brown the butter.
Add in the spinach (or spinach and kale) leaves and cover. Allow 5-6 minutes for the leaves to wilt and become more tender.
Once the leaves are wilted, add in minced garlic, and flour. Let the flour cook for a full 2-3 minutes, stirring non-stop.
Stir in the heavy cream, and adjust your heat to bring the mixture to a simmer. You will notice that upon adding the heavy cream, the mixture will thicken quickly as you stir.
Switch off the heat now, and add in the salt, pepper, and nutmeg. Slowly stir in the parmesan & cream cheeses until it's melted and incorporated. Taste for seasoning, and add additional salt or pepper as desired. Squeeze in the lemon juice. Stir, then serve immediately, and top with a little bit more parmesan cheese on the top.
Alternate Ways To Make Creamed Spinach:
Top a chicken breast with the creamed spinach mixture, add a slice of mozzarella or provolone cheese over the top, and broil for 2 minutes to lightly brown.
Add an additional cup of cream cheese and 2 TBSP of white wine, and a package of chopped and well-drained artichoke hearts, to create the most delicious warm spinach artichoke dip recipe you've ever had!
---
Check out some of our other tasty recipe ideas, tips and tricks for "Easy, Effortless Entertaining" with AWG Private Chefs
---
About the Author:
Certified Master Chef Sean Andrade is Executive Chef/Owner of AWG Private Chefs, named the #1 Private Chef company in California. Chef Sean has worked in the restaurant and hospitality industries worldwide for more than 25 years. His company AWG Private Chefs offers highly custom tailored, private chef dining experiences, select location meal delivery, and event catering in over 30 countries around the globe.