Last Updated:
May 28, 2023
Spiced Cranberry Apple Cider Recipe
One of my favorite holiday drink recipes Spiced Cranberry Apple Cider, will make your taste buds jump for joy. This easy to prepare mulled cider recipe can be made either on the stovetop, or in your slow cooker or crock pot. This is one of the best apple cider recipes to make on those chilly fall and winter days.
Who needs potpourri when you have a batch of spiced cranberry apple cider in your slow cooker all day?
Now that the cooler weather is finally upon us, why not cozy up with your favorite person, a cozy blanket, and with a warm mug of delicious hot spiced apple cider?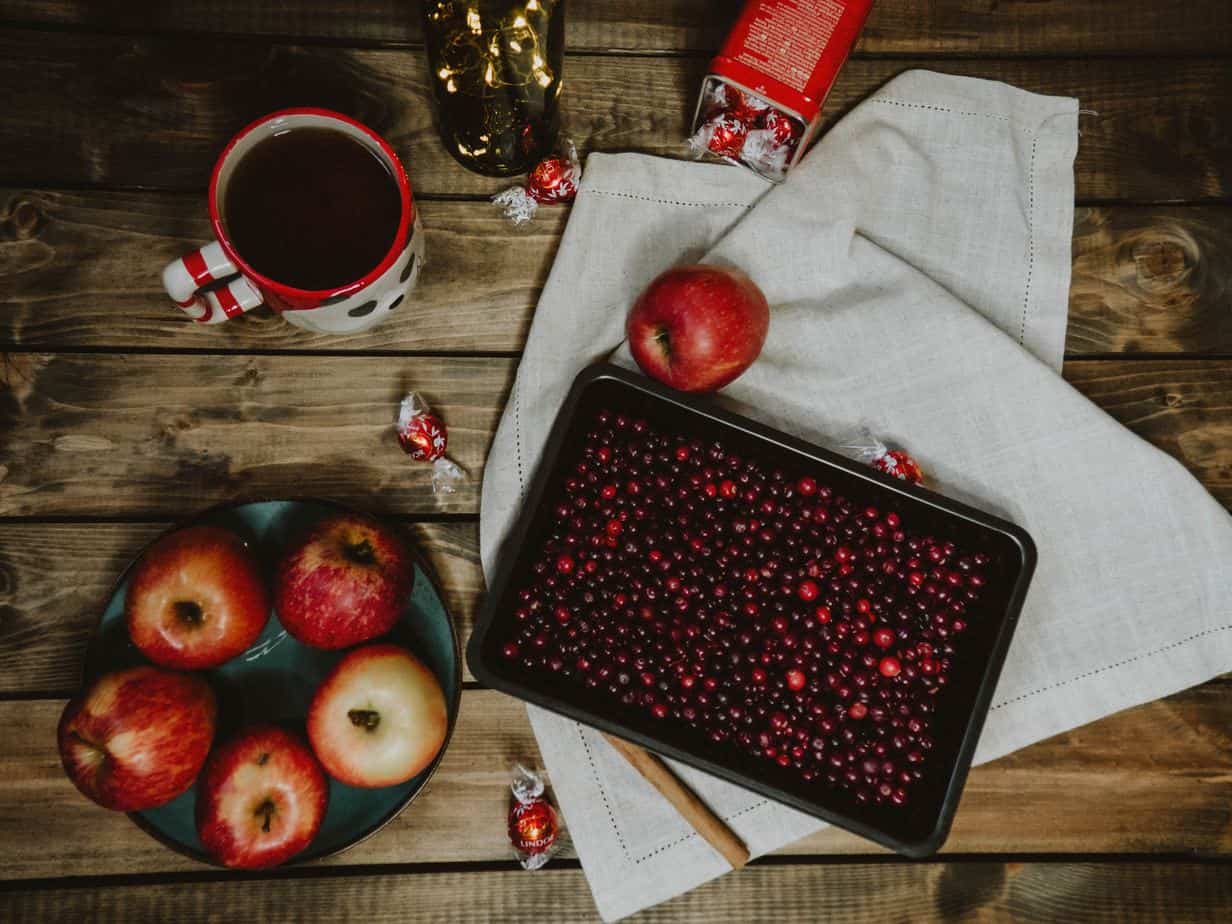 Spiced Cranberry Apple Cider Recipe
Ingredients: (Serves 10-12)
1 & 1/4 teaspoons whole cloves
3/4 teaspoon whole allspice
1/4 cup white sugar
1/3 cup light brown sugar, firmly packed
4 cinnamon sticks
2.5 quarts premium apple cider (unfiltered is always a great choice!)
1 quart low sugar or no sugar added 100% pure cranberry juice (do not use cranberry juice cocktail)
1 Granny Smith apple, sliced & deseeded
1 3 inch long strip of orange zest
1 cup of fresh cranberries (optional)
Gather the spices and orange peel together, and tie them loosely in some cheesecloth to form a sachet. If you don't have a piece of cheesecloth laying around, don't fret! You can simply just strain everything out when you're ready to serve the warm spiced apple cider!
---
Chef Tip: Always use fresh spices! If your spices have been hiding in the back of your cabinet since the dark ages (more than 6 months) it's time to replace them! Using fresh spices will always give you pure flavors that aren't muted or muddy.
How To Prepare Spiced Cranberry Apple Cider:
In a large heavy bottomed pot (or in the pot of your slow cooker), add the white and brown sugar, spice sachet, apple cider, cranberry juice and the optional fresh cranberries. Over medium high heat, bring the ingredients to a slow boil. Stir occasionally to insure that all of the sugar has dissolved and the flavors can begin to meld. Next, reduce to a very low simmer, add in the apple slices, and cover with a lid to control evaporation.
If you are cooking your spiced cranberry apple cider in a slow cooker or crockpot, simply bring turn to high for 90 minutes, add in the apples, then down to warm for at least 4 hours, or until ready to serve.
When you're ready to serve, simply remove and discard the spice sachet, or you can easily strain your hot cranberry apple cider using a fine mesh strainer, or even pour slowly through a coffee filter.
Garnish with a fresh cinnamon stick or a piece of fresh or candied orange peel, float some of the mulled cranberries on top, or not. If you'd like to get super indulgent, try garnishing with some of our Maple & Mascarpone Whipped Cream and a sprinkle of freshly grated nutmeg or cinnamon over the top to turn your spiced cranberry apple cider creamy and even that much more decadent! Cozy up with this hot drink recipe tonight, it's a perfect addition to your holiday menu ideas!
This mulled apple cider recipe can be easily adapted to suit your own individual taste to be sweeter or more tart by simply increasing or scaling back the amount of sugar used to your liking. When adjusting sugar levels, add in a tablespoon or so at a time, stir until completely dissolved and re-taste. If you accidentally made it too sweet, no problem! Simply add a bit more cranberry juice to increase the tartness again.
How do you prefer your mulled cider? Sweet or tart? Let us know!
---
Check out some other delicious recipes and tips & tricks from the Certified Master Chefs at AWG Private Chefs!
---
About the Author:
Certified Master Chef Sean Andrade is Executive Chef/Owner of AWG Private Chefs, named the #1 Private Chef company in California. Chef Sean has worked in the restaurant and hospitality industries worldwide for more than 25 years. His company AWG Private Chefs offers highly custom tailored, private chef dining experiences, select location meal delivery, and event catering in over 30 countries around the globe.