Last Updated:
May 20, 2023
Passport Menus: Exploring Flavors from Around the World
Dining at home should always be an experience that rivals the finest restaurants worldwide. One of the ways we like to elevate your private chef prepared menus is to bring our passport menu global cuisine dining experience to your kitchen. Our in home private chefs love to share flavors from around the world and create dishes that transport you to different countries with every bite.
These uniquely different and highly memorable dining experiences offer a sense of discovery and heightened culinary adventure. Each dish is like a little surprise, and diners never know what to expect next. There's a sense of excitement and anticipation that comes with trying new dishes and flavors, and the journey around the world through food is an experience that can be shared and enjoyed with others.
As private chefs, we take pride in creating passport menus that highlight the unique characteristics of different cuisines and regions, and we love seeing diners' reactions when they try a new dish that they've never had before. Passport menu private dining experiences offer a unique and exciting way to explore the world through food.
What is a passport menu?
An international passport dining menu is one of AWG Private Chefs multi-course private dining concept service offerings that bring together flavors and dishes from around the world, allowing you and your guests to embark on a global culinary journey without ever leaving their table. This type of menu features a variety of dishes inspired by different countries, allowing diners to explore the unique and diverse flavors of each cuisine.
From regional Italian dishes to the exotic flavors of Thai food, Mexican spices to a smoky Spanish paella, an international passport menu offers something for every palate. Each dish is carefully crafted to highlight the distinct flavors and ingredients of the cuisine which it represents and can be paired with a selection of wines or hand crafted artisanal cocktails to enhance your total dining experience. Whether you're a world traveler or a homebody, an international passport dining menu is the perfect way to explore new flavors and expand your culinary horizons.
How does the menu creation process work?
When curating a passport menu, our Certified Master Chefs take into consideration a variety of factors in order to create a cohesive and exciting private dining experience for you. The first step is to choose a variety of cuisines that will be represented on the menu, taking into account your cuisine, ingredient, and allergen preference data provided to us in your pre-event questionnaire. Your chef will then research and curate a list of traditional or modern fusion style dishes and flavors of each requested cuisine, ensuring that each dish is either authentic and true to its origins or a fun, fresh, fusion of multiple flavors and styles.
A draft passport menu will be emailed to you, once the initial dishes have been chosen by your chef. We always consider the availability of ingredients and the seasonality of certain dishes and ingredients, to ensure that your fully custom-tailored menu is both delicious and able to be executed.
Share the concept menu with your guests. If there are any revisions necessary, we're happy to revise until the menu is perfect for you & your guests. The end result will be a passport menu that takes you on a culinary journey around the world, featuring sights, smells, and flavors that transport you to different countries with every bite.
How many courses can we enjoy?
One of the great things about a passport menu dining experience is that there are virtually no limits to the number of courses or types of cuisine you can enjoy. Unlike a traditional dinner party, which typically consists of a few courses, a passport dining menu can feature a wide variety of dishes from different regions of the world. Each course may highlight different ingredients, flavors, and cooking techniques, offering a unique culinary journey for the diners.
This type of dining experience allows for maximum exploration and experimentation with different cuisines and dishes, as there are no rules or limitations on the number of courses that can be served. Whether you want to try a dozen small plates from different countries or indulge in a more traditional style multi-course meal that takes you on a culinary journey around the world, a passport dining experience can offer a truly unique and unforgettable dining experience.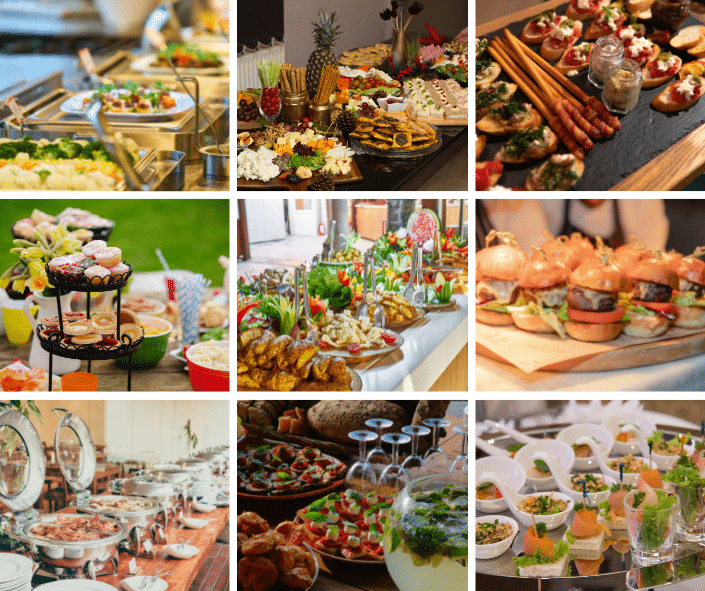 Can we do a passport menu as a cocktail party as well?
Absolutely! Hosting an international food and cocktail pairing party is a great way to bring people together and enjoy an exciting and memorable dining experience. Guests can try new dishes and flavors that they may not have been exposed to before. The variety of cuisines also ensures that there is something for everyone, no matter their dietary preferences or restrictions.
Furthermore, a passport menu food and cocktail pairing party is a unique experience that differs from a traditional dinner party. Instead of simply serving a few courses, each dish is carefully crafted to complement a specific cocktail. This broadens flavor horizons by encouraging people to get out of their usual cocktail and food consumption routines and creates a more interactive and engaging dining experience.
Also perfect for a corporate or networking style of event, diners will discuss and compare the flavors and how they complement each other. It also allows guests to learn more about different cocktails, ingredients, and how they can be paired with different dishes. Overall, hosting an international food and cocktail pairing party is a great way to bring people together, try new things, and enjoy a memorable and unique dining experience.
Join in the fun!
Whether you're a foodie looking to try new dishes or someone who enjoys socializing and trying new experiences with friends and family, a passport dining experience is a great choice. So why not book your passport dining experience now and embark on an unforgettable culinary adventure? Whether you're looking to celebrate a special occasion or simply enjoy a night out with friends, a passport dining experience is the perfect choice for those seeking something out of the ordinary.