Last Updated:
October 4, 2021
5 Delicious Pasta Sauce Recipes That Aren't Boring Red Sauce!
Give that boring red pasta sauce recipe a long vacation! It's time to liven up your pasta with five easy-to-prepare homemade recipes for pasta sauces that aren't that same old boring bowl of red glop!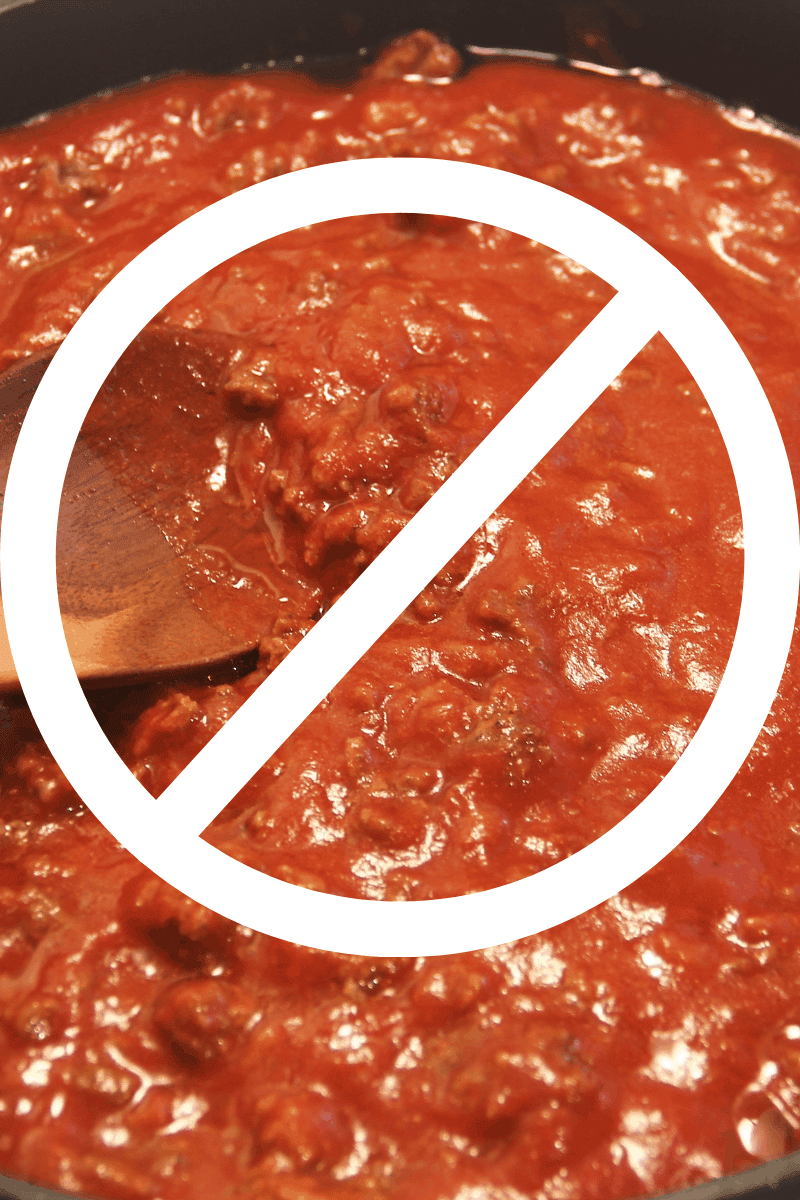 Creamy White Pistachio Pesto Pasta Sauce

Recipe:
Ingredients for Pistachio Pesto Sauce:
Kosher Salt
Freshly Ground Black Pepper
2 teaspoons finely chopped fresh organic oregano (3/4 heaping teaspoon dried)
Zest of one large organic Meyer lemon
1 & 1/2 cups freshly grated parmesan cheese (do not use the shaker cheese please!)
2 cloves of garlic, put thru a garlic press
4 oz fresh whole milk ricotta cheese
1/2 cup pistachio nuts, toasted
1/2 cup reserved pasta cooking water (if needed)
How to Prepare White Pistachio Pesto Pasta Sauce Recipe:
To Prepare The Pistachios: Preheat the oven to 325 degrees. Toast the pistachios on a rimmed sheet tray, stirring once for approximately 4-6 minutes. Once toasted, remove from sheet pan immediately and let cool to room temperature.
To Prepare The Sauce: In the bowl of your food processor, add the pistachios, Meyer lemon zest, garlic, ricotta cheese, oregano, and 1 cup of parmesan cheese. pulse until combined, while slowly drizzling in the olive oil, a tablespoon or so at a time. Season with salt and generous amounts of black pepper to taste. In a large mixing bowl combine the sauce and your freshly cooked and well-drained pasta, toss with tongs. Top your favorite pasta with the remaining parmesan cheese right before serving. If the sauce is a little too thick, add in a tablespoon at a time of pasta water.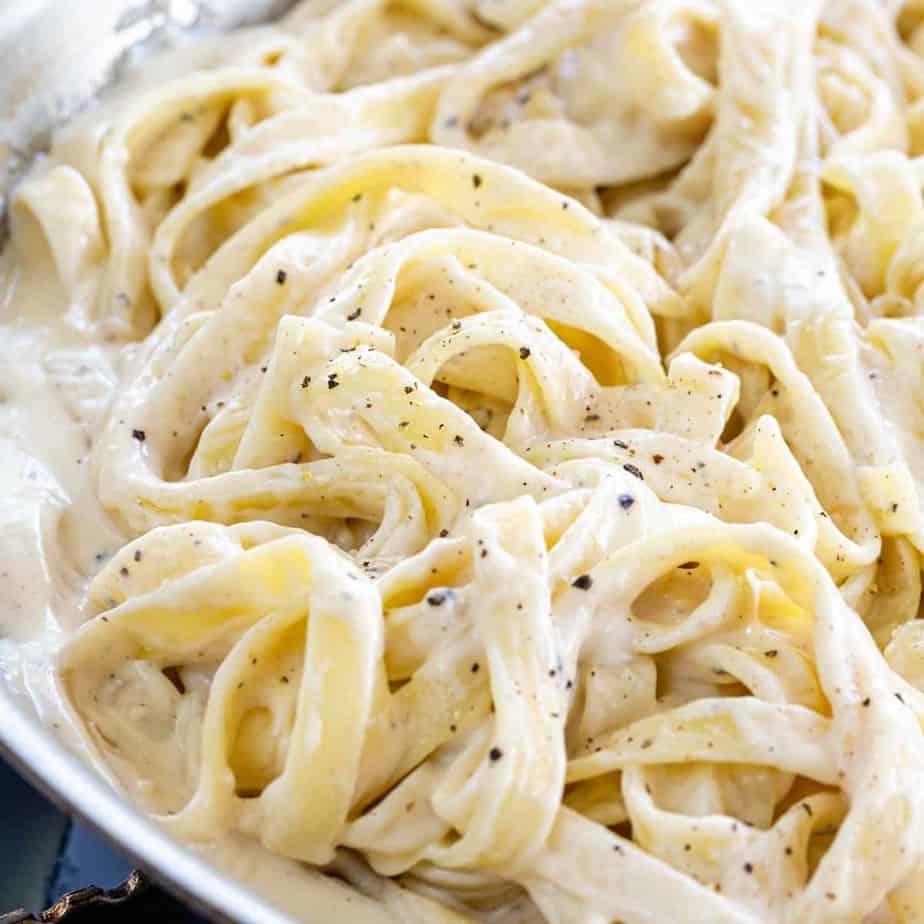 Guanciale & Sage Butternut Squash Carbonara Pasta Sauce Recipe:
Ingredients for Guanciale and Sage Butternut Squash Carbonara Sauce

:
5 ounces of smoked Guanciale also known as Italian Pork Cheek Bacon (you can also substitute apple wood smoked bacon), chopped

2 Large cloves of garlic, chopped finely or pressed

2 cups low sodium chicken stock

2 & 1/2 tablespoons Stella Cadente "Everyday" Extra Virgin Olive Oil
2.5 cups Organic butternut squash, seeded and peeled, cut into 1/2" pieces
1 small organic yellow onion, in 1/4" dice
1 tablespoon fresh organic sage, chopped finely
1/4 cup Pecorino Romano cheese
Kosher salt
Freshly ground black pepper
1/2 cup reserved pasta water (if needed)
How to Prepare Butternut Squash Carbonara Pasta Sauce Recipe:
In a large skillet over medium heat, add the olive oil, and render the Guanciale. Cook until crisp. Remove from heat, and toss in the sage and toss to coat in rendered Guanciale fat. Use a slotted spoon or spider, and transfer Guanciale and sage to a small heatproof bowl, and set aside.
Add in the onion, garlic, & butternut squash to the skillet and season with kosher salt & pepper, and cook for 5-7 minutes over medium heat, stirring occasionally onion is translucent, but not brown. Add in low sodium chicken stock and bring to a boil, then reduce to a simmer and cook for 12-18 minutes or until the liquid is reduced by half and the squash is tender.
Add the hot, well-drained pasta to the skillet, and add in Pecorino cheese, sage, Guanciale, salt, and pepper to taste. Stir to combine until creamy. Shave more cheese on top for an extra cheesy boost. Add pasta cooking water to thin the sauce out if it gets too thick.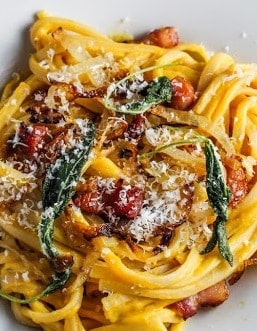 Sweet Corn Cacio e Pepe Pasta Sauce Recipe:
Ingredients for Sweet Corn Cacio e Pepe Sauce:
3 large ears of corn (or 3 cups of frozen corn kernels)

Kosher Salt

Freshly Ground Black Pepper

8 oz. Pecorino Romano or Granna Padano, finely grated, plus more for serving

1 Cup of reserved pasta water

Pinch of red chili flakes
How to Prepare Sweet Corn Cacio e Pepe Pasta Sauce Recipe:
Prepare your pasta. Reserve 1 cup of pasta cooking water. While the pasta is cooking, in a bowl, combine the cheese, 2 teaspoons of black pepper, red chili flake, 1/3 cup cold water, mixing with a fork into a thick paste. Continue stirring with a fork until the consistency of Boursin or whipped cream cheese. If things are too thick, add a tablespoon of additional cold water at a time and continue mixing until it comes together properly.
Add the cheese mixture to your well-drained pasta, add in the corn. Use a rubber spatula to stir the hot pasta to coat the pasta and melt the cheese. Add reserved hot pasta water, to continue melting the cheese, two tablespoons at a time until the desired sauce consistency.
Serve the pasta while hot, top with additional cheese and black pepper to taste.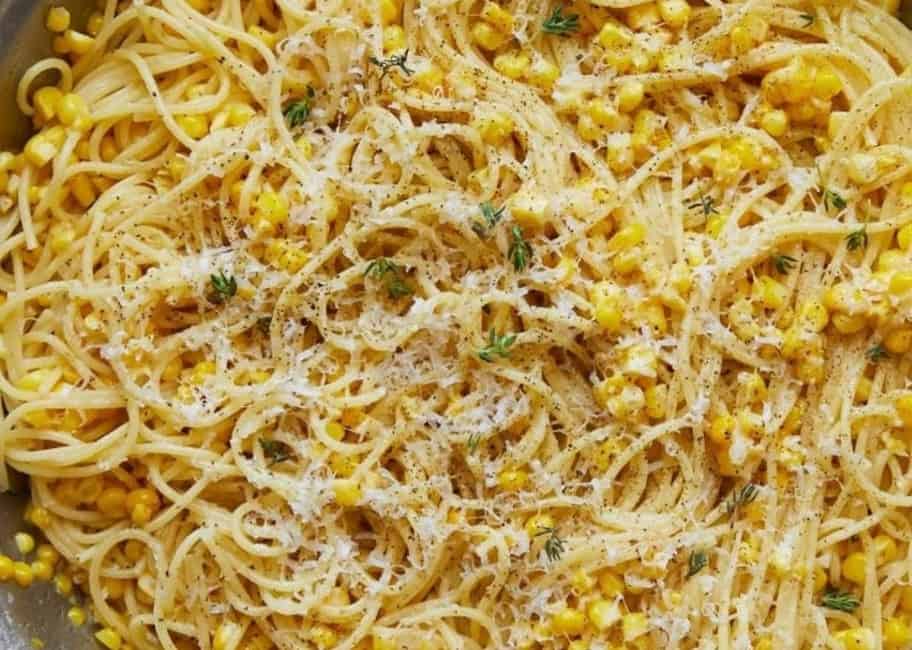 Easy Cauliflower Alfredo Pasta Sauce Recipe:
Ingredients for Cauliflower Alfredo Sauce:
6 Cups Organic Cauliflower Florets & Stems, Chopped
2 Tablespoons Butter (or Vegan Butter)
1.5 Tablespoons Garlic (Minced)
7 Cups Water
1/2 Teaspoon Worcestershire Sauce
Kosher Salt to Taste
Fresh Cracked Black Pepper to Taste
1/8 Teaspoon Red Chili Flakes
1/2 Cup Whole Milk
1 Cup Parmesan Cheese (Freshly grated, no canned or shaker bottle cheese)
How to prepare Cauliflower Alfredo Pasta Sauce Recipe:
In a large heavy bottomed pot, bring the water to a boil. Add in the cauliflower and cook, covered, for 7-9 minutes or until fork tender.
In a large saute pan, over medium heat, add the garlic, worcershire, and red chili flake and butter, cook together for 60 seconds. Then remove from the heat.
After the cauliflower is cooked, drain in a colander, reserving 1.5 cups of the cooking water.
Transfer the cauliflower to a blender, adding a cup of the cooking water, and the garlic, milk, butter and chili. Remove the center plug of the blender to allow for steam to vent. Cover the hole with a clean tea towel and blend until smooth and creamy.
Transfer the sauce back into the large sautee pan, and place over medium low heat. Add in the parmesan cheese, stirring frequently to combine and melt the cheese. Season to taste with salt and pepper, serving immediately over hot zoodles or pasta.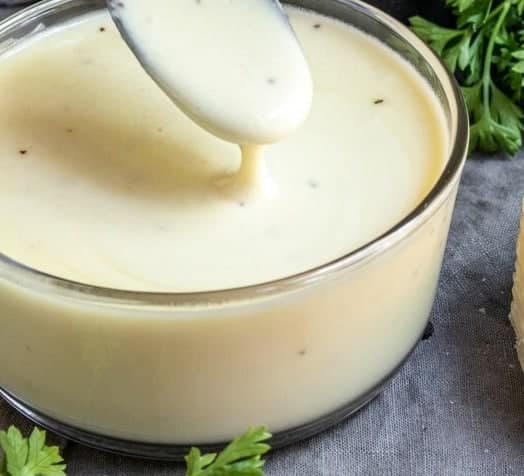 Spinach Avocado Pasta Pasta Sauce Recipe:
Ingredients for Spinach Avocado Sauce:
Black Pepper to Taste
Kosher Salt To Taste
1 Cup Pasta Cooking Water
1/4 Cup Fresh Basil Leaves (Packed)
1/2 Cup Toasted Pecans or Walnuts
1 Cup Fresh Spinach Leaves (Packed)
1 Large Ripe Avocado
1 Teaspoon Lemon Zest
2 Cloves Garlic
1/4 Cup Parmesan Cheese (Fresh Grated)
1.5 Tablespoons Fresh Squeezed Lemon Juice
How to Prepare Spinach Avocado Pasta Sauce Recipe:
In a blender, combine all of the ingredients except for the pasta water, salt and pepper.
With the blender running on puree speed, remove the plug from the center of the top of the blender pitcher.
Slowly drizzle in up to a cup of pasta water until the sauce comes together and is smooth in texture.
Serve immediately over hot buttered noodles or zucchini noodles.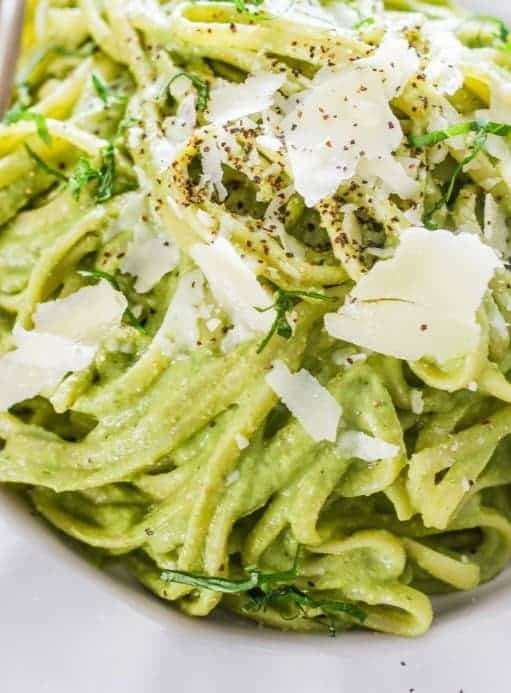 ---
Check out other tips & tricks for Easy Effortless Entertaining, along with recipes from AWG Private Chefs
About the Author:
Certified Master Chef Sean Andrade is Executive Chef/Owner of AWG Private Chefs, named the #1 Private Chef company in California. Chef Sean has worked in the restaurant and hospitality industries worldwide for more than 25 years. His company AWG Private Chefs offers highly custom tailored, private chef dining experiences, select location meal delivery, and event catering in over 30 countries around the globe.